Enter TU's Sweepstakes for a shot at a Montana fishing vacation & a host of other prizes
We've all taken chances out on the water… like a risky long cast to the opposite bank under an overhanging tree limb…
So why not try your luck and win the ultimate Montana fishing adventure?
Enter the 2022 TU Sweepstakes for your chance to win!
What is the winner in for?
Read this note from Mike and Anh Wen, winners of the 2017 TU Sweepstakes, who stayed at the cozy Yaak Valley Log Cabin for five nights and spent four days on the river with the Linehan Outfitting Company learning how to fly fish and experiencing the great fishing and genuine hospitality Montana has to offer.
---
We looked at the prize as our first vacation away by ourselves in almost 20 years and a belated anniversary excursion. As rote beginners, however, we were in need of basic lessons and seasoned insights. This was our chance to learn from the experts.
The Yaak Valley Log Cabin, meticulously maintained by Tim and Joanne Linehan, was a picturesque home-away-from-home.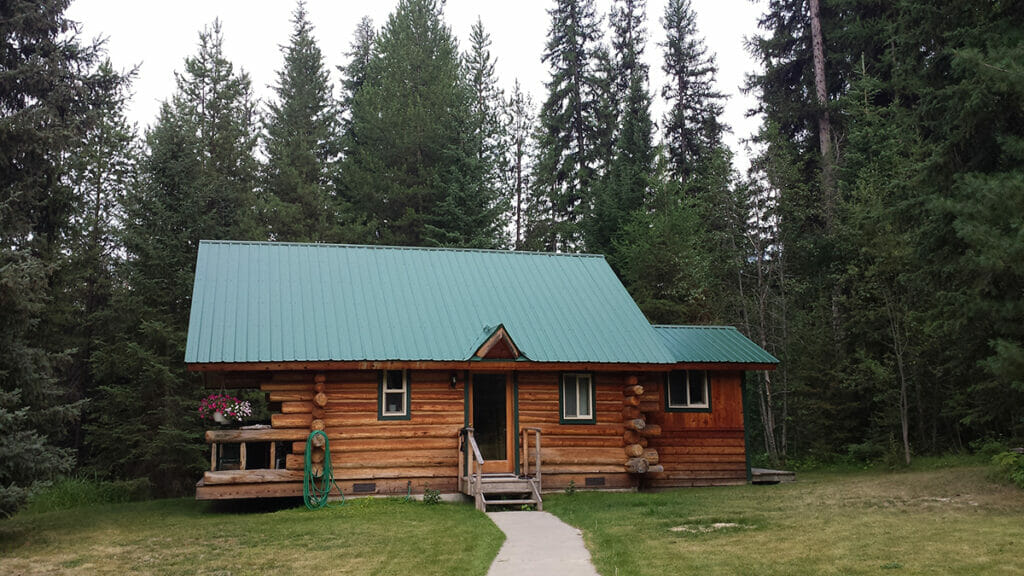 The following morning, we made our way to Troy to meet our first guide, Lucas Jones. We thought we would be early arriving at 8 a.m. for an 8:30 meet up—until we were reminded by the amiable locals about the time change. But Lucas was unfazed.
Lucas was a great first-day guide for our level of inexperience. He introduced us to dry fly fishing, nymphing, and even let me try out his self-tied streamer. He explained the geology of the river and had us get out of the boat to look under rocks, so we could learn how to identify the various insects in the river and what the fish would be eating. It was an incredibly comprehensive study.
I told Lucas that I would be happy with just one fish, which was soon caught. After that it was hard to keep track so we stopped counting and enjoyed the river, while listening for dolphins (a bit of a joke to catching more fish).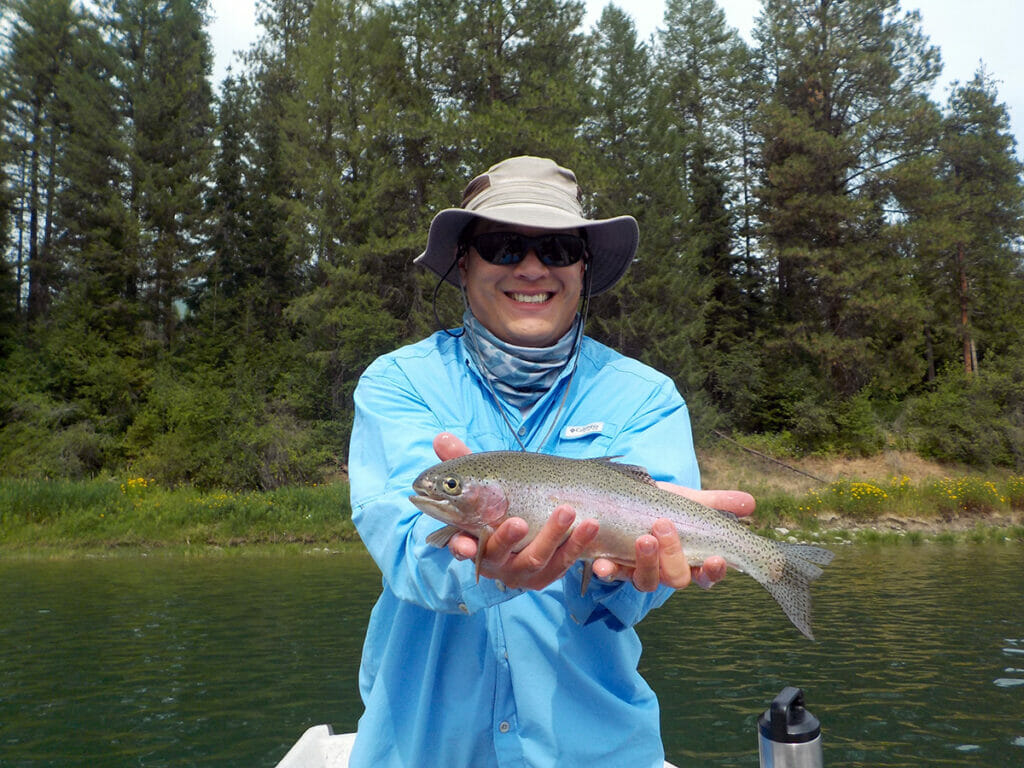 Our second day was based out of Libby. Steve Shaw, also known as "The Professor," was our guide of the day. It was easy to see how he earned his nickname. His experience provided a wealth of information, and his keen eye was able to hone in on the inexperienced flaws in our techniques. This would prove to be valuable in the following days, as we both kept his teachings in mind whenever we went out again.
Casting, drifting, letting out line, mending, setting the hook, casting into the wind. . . almost every topic was covered. So much so, I almost forgot to take photos!
As with every day, we pretty much had the entire stretch of river to ourselves.
Our third day was guided by Sean McAfee, a local whose dad first hired Tim on the Kootenai. If Sean carries on the tradition, people will be able to continue to partake in a remarkable adventure unbroken from multiple generations. Sean combined his lifetime experience with his quick wit and limitless energy, tirelessly rowing upstream many times to hit spots he knew fish were hiding. He was never wrong.
If we could not cast to the right spot, he would quietly maneuver the drift boat, using my wife's fly as a target to get where the fish were. He was a little too good at it, as our ongoing joke was that whenever I caught a decent sized trout; my wife would simultaneously catch a bigger one. This happened so many times, that he continued the teachings that Steve started, adding instruction like letting the fish run and angling the rod to land the big ones.
His infectious laughter and obvious joy at my wife's ability to constantly upstage me made for a most enjoyable day.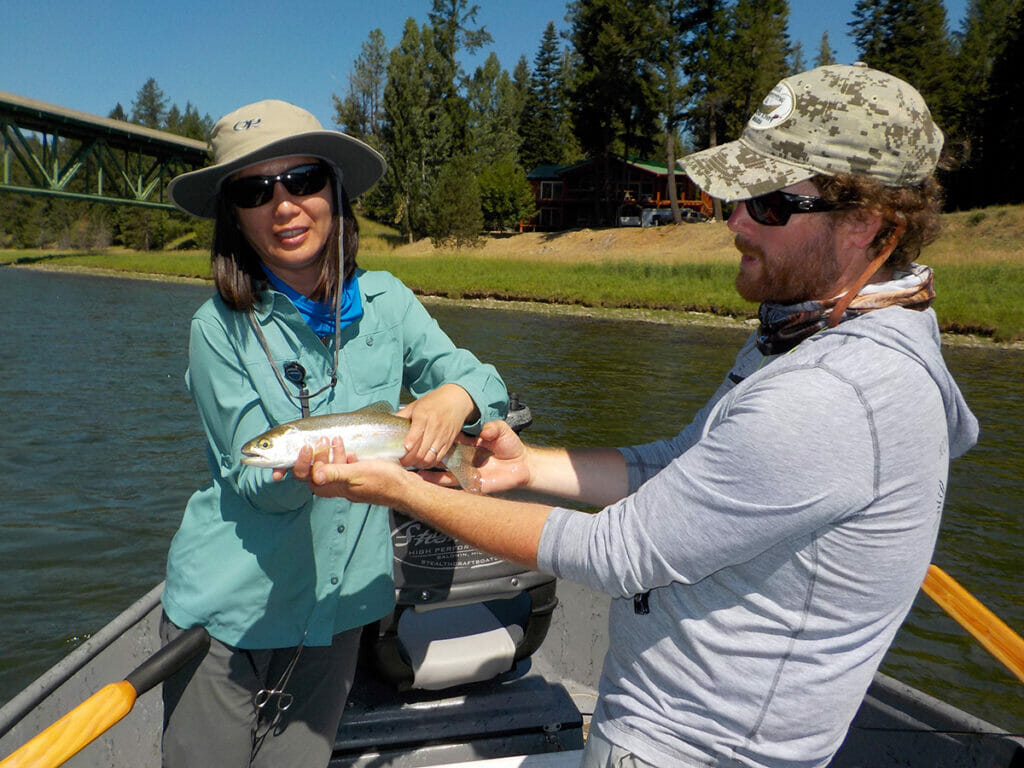 Our final day arrived too quickly, but the best was saved for last. Tim himself took us out on the first overcast day of our trip to a private put in near Troy. It was as if Tim could even command the weather. The fish were immediately biting. By noon, Tim was pretty sure that one if not both of us had been getting hits at least every 15 minutes since we had set off in the morning.
Tim was the whole package. He provided lessons on the history of the region, built on the teachings of others, and seemed to talk to the trout. "Okay, cast over to the right where those rocks drop off. . . try again about two feet further to the shore. . . great cast, there's one right there that will take that fly. . ."
And 10 seconds later, boom, there was a strike!
It was the perfect culmination to an unforgettable learning experience.