Tom Doxey caught this Yellowstone cutthroat in northwestern Utah to complete his Utah Cutthroat Slam. Courtesy photo.
By Tom Doxey
My quest for the Utah Cutthroat Slam began in April 2016 when the program was
introduced at the Wasatch Fly Tying and Fly Fishing Expo. I was lucky enough to be the high bidder on an auction item that would provide registration form No. 1 for this program. The proceeds raised would go to projects that help to restore cutthroat trout to their native habitat in different drainages and regions throughout the state, and I was more than willing to contribute to these projects.
Along with my wife (and favorite fishing companion) Renae, we set out on our journey to complete the slam.
First, we went after the Bonneville cutthroat and were able to find a few in the Weber River close to our home in Eden. With the help of close friend Derick Roskelley, we were able to fish some new water (to me) that has a pretty good number of Bonnevilles and we were successful.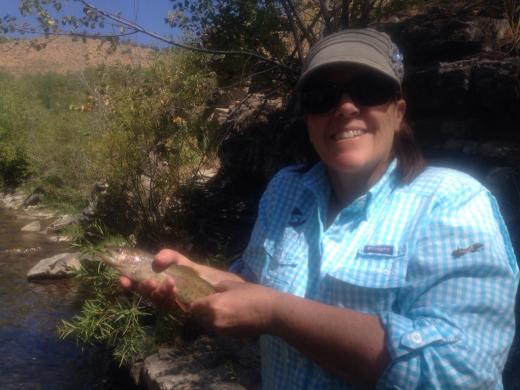 alt="" title="" />
Renae Doxey with a Bonneville cutthroat trout. Courtesy photo.
Then we moved on to the Colorado River cutthroat. We spent the day with a few friends at a small lake near Duchesne. It was a very long day with a bit of frustration, it was one of those "you should have been here last week" scenarios. With a lot of persistence and a few prayers on Renae's part, we were able to connect with a some of those most beautiful Colorado cutts. What a day!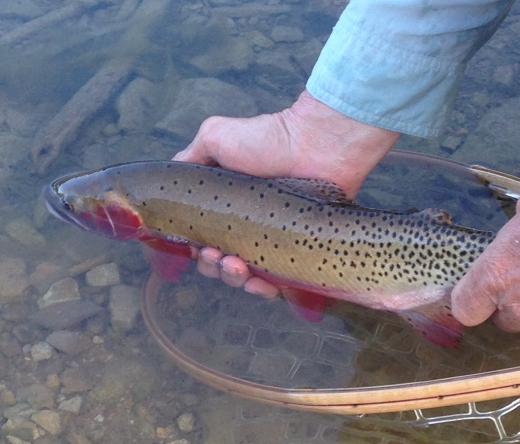 alt="" title="" />
Tom Doxey crossed the Colorado River cutthroat trout off of his Utah Cutthroat Slam list with this fish. Courtesy photo.
Next, we went for the Bear River cutthroat. I took a day and went with a young man in my neighborhood and spent the day on the East Fork of the Bear in the Uinta Mountains. I truly enjoy sharing the sport of fly fishing with the younger generation and we were not disappointed. We didn't catch a great number of fish, but spending the day with a new up-and-coming fly fisherman and watching him be successful is always worth it. And, yes I did catch a few Bear River cutts myself.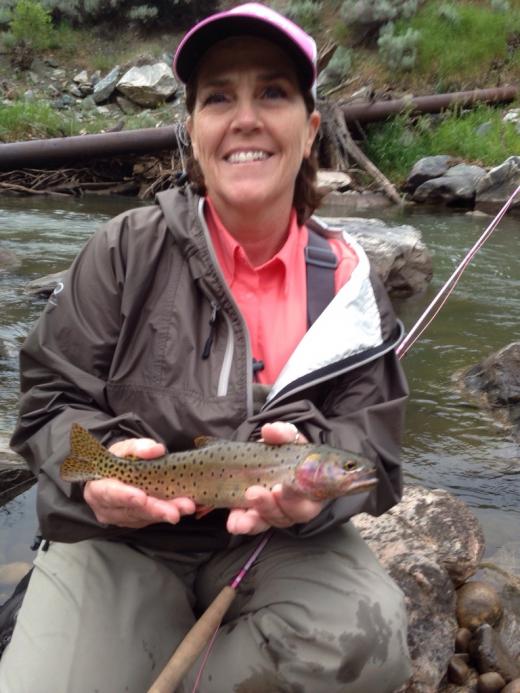 alt="" title="" />
Renae Doxey with a Bear River cutthroat trout. This fish proved challenging to catch. Courtesy photo.
Getting a Bear River cutt for Renae was different story. We fished the Logan River a couple of times without much success. High water and uncooperative fish made it so that we had to go a third time, but it was the charmer. After a few swings and misses, Renae was able to hook and land a few of feisty cutts.
Three down and one to go. Jim DeRito, a Trout Unlimited Fisheries Restoration Coordinator out of Providence, Utah, joined us for an adventure to the Raft River Mountains in the northwestern corner of the state – the only historic range of Yellowstone cutthroat in the Beehive State.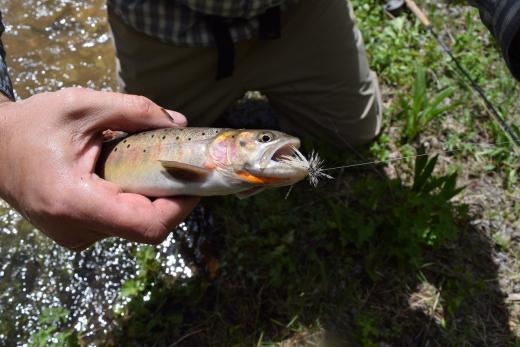 alt="" title="" />
Yellowstone cutthroat trout ike this one have a limited native range in Utah. Courtesy photo.
After a 2.5-hour drive into windy and cold conditions we were able to make it happen. On a small stream that could be stepped across just about anywhere, we figured it out.
Dry flies were out of the question, so I tried a small black ant with a bit of split shot and put it in a likely spot along an undercut bank. To my surprise and amazement the leader straightened out and I lifted, attached to the other end was a beautiful Yellowstone cutthroat about 13-inches long. What a thrill, my slam was complete.
Now to help Renae. With the same setup things started to happen. One nice corner hole produced half a dozen hookups without one in the net, but Renae is not one to give up. At the next likely spot she finally landed one and it was finally done. The expression of joy on her face was amazing. We did it, together, but that isn't the end of the story. Jim said that there was another group who had fished the same area a couple of days earlier and at one particular hole they were able to produce 5 nice cuts among 3 people. Not to be outdone, Renae said she was going to catch 5 herself out of that same spot. So while Jim and I watched, eating our lunch, she managed to not only catch 5 to match the others, but she proceeded to get one more which totaled 6 from one hole, all by herself. Way to go Renae. An adventure to remember.
Thanks to the Utah Division of Wildlife Resources and Trout Unlimited for creating the Utah Cutthroat Slam. Besides being fun, it is a great way to raise money for important conservation projects and promote knowledge of the native cutthroat trout of Utah.
My journey with the slam is not over. I plan to help others start their own adventure in an attempt to complete the slam.
Tom Doxey is a member of the Weber Basin Anglers Chapter of Trout Unlimited. He is an original inductee into the Utah Fly Fishing Hall of Fame.