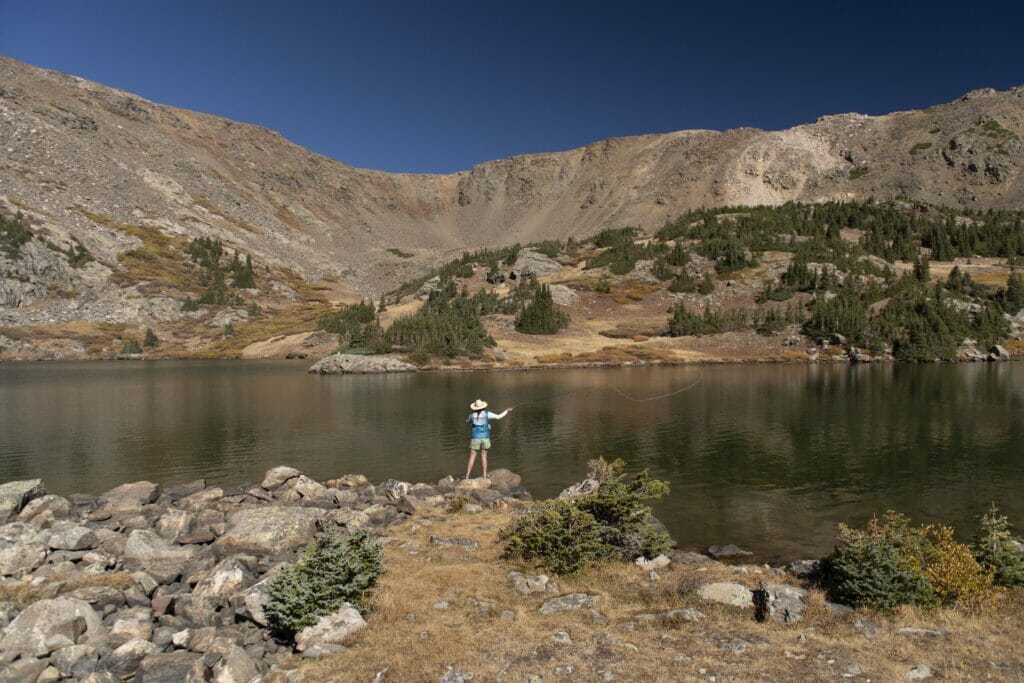 Trout Unlimited is known for its rock-rolling work where we are often found wearing waders and making rivers and streams better for trout and salmon, and of course, anglers. But we also spend plenty of time in our finest attire in the halls of state and federal legislative buildings advocating for smart water policies, protecting public lands and funding allocations to continue our on-the-ground efforts.  
With Colorado's legislative session about to ramp up, here is a look at some of the bills we are watching in the Centennial State and how we'll play both offense and defense to advance our goals of conserving, protecting and restoring our coldwater fisheries and their watersheds.  
Extend Colorado's Healthy Rivers Fund — This successful funding mechanism is set to expire, but we are looking to extend it for another 10 years. This is financed by the Colorado tax check-off program, which provides taxpayers the opportunity to contribute a portion of their tax refund or to make a donation on their state income tax return. These funds assist Colorado Trout Unlimited and other watershed-based groups in efforts to protect our land and water resources. It is administered through the Colorado Water Conservation Board in association with the Water Quality Control Division and the Colorado Watershed Assembly. Since 2003, this fund has raised over $1.1 million to fund more than 80 local watershed projects.  
The bill will be introduced by Sen. Cleave Simpson and Rep. Donald Valdez. Colorado Trout Unlimited does not want to see this fund expire, so we are asking that it be approved for 10 more years.  
State parks funding — Amidst the many restrictions over the past challenging year, we've seen more and more people turn to outdoor recreation as a safe outlet for enjoyment and to benefit their mental and physical health. While a growing appreciation for our outdoors means more allies in its defense, it also means growing pressure on public lands, including our state parks. To rise to that challenge, Colorado Parks and Wildlife is looking to expand its funding base to help support sustainable recreation management and development of new parks and opportunities to serve the growing demand. 
Drawing from an example already in place in Montana with a 75 percent participation rate, legislation will be introduced to fold an annual state parks pass into vehicle registrations in Colorado. Those who don't want the pass can opt-out, while the proposed fee level will be significantly less than the current annual pass rates for those who do obtain the pass. Parks passes for out of state visitors or those who decide to purchase after registering their vehicle will still be available for the current standard fee. While the per-pass revenue will be less, CPW anticipates a significant revenue boost due to a much larger volume of pass sales facilitated by the convenience of having passes folded into annual vehicle registration. CPW's priorities for the funding include maintenance and expansion of state parks, search and rescue/outdoor education programs, and wildlife management both within and outside of state parks, with an emphasis on non-game species. CTU is supporting this effort as the new dollars will help meet our state's growing demand for hiking, camping, fishing, and other outdoor recreation at Colorado's 42 (with more to come!) state parks. 
Recreational in-channel diversion — There will be a bill to streamline the RICD process to avoid the necessity of significant in-river construction for smaller projects and to broaden the definition of whom can apply for these diversions.  
We will be watching this bill and helping our partners determine the best language to ensure a positive outcome for our constituents.
Budget defense — With the current pandemic, state budgets across the country have been pushed to the brink, and that is certainly no different in Colorado. While creative measures to find funds for imperative state needs must be pursued, CTU will defend against redirecting funds that are specifically dedicated to natural resources, such as those earned under Proposition DD from sports betting to help fund the Colorado Water Plan. Likewise, we will defend against budget cuts and furloughs at important state agencies like Colorado Parks and Wildlife that manage fish, wildlife and habitat programs critical to our mission. 
Of course, we'll keep you updated throughout the course of the Colorado's legislative session. If any of these particular items need assistance in terms of advocacy efforts like calling, emailing or Tweeting your elected official, we'll be in touch.