More than 180 non-native species have been introduced to the Great Lakes region, and many of them have been categorized as invasive, causing potential threat to native ecosystems and their populations.
One relative newcomer is causing concerns about its potential risks to the region's trout streams.
The New Zealand mud snail (Potamopyrgus antipodarum) is an aquatic invasive that has appeared in Great Lakes streams only recently.
These aquatic mollusks are native to streams and lakes of New Zealand and have been making their way across the globe, establishing populations throughout five continents. In North America, New Zealand mud snails were first discovered in the Snake River of Idaho in 1987. Since, they have been rapidly expanding their range across the American West and into the eastern part of the country.
New Zealand mud snails have been found in the Great Lakes (proper) for more than two decades, first documented in Lake Ontario in 1991. Only very recently have they been detected in inland streams and rivers.
In Michigan rivers, New Zealand mud snails were first discovered in 2015. This secondary invasion is troubling given their observed impacts in western states.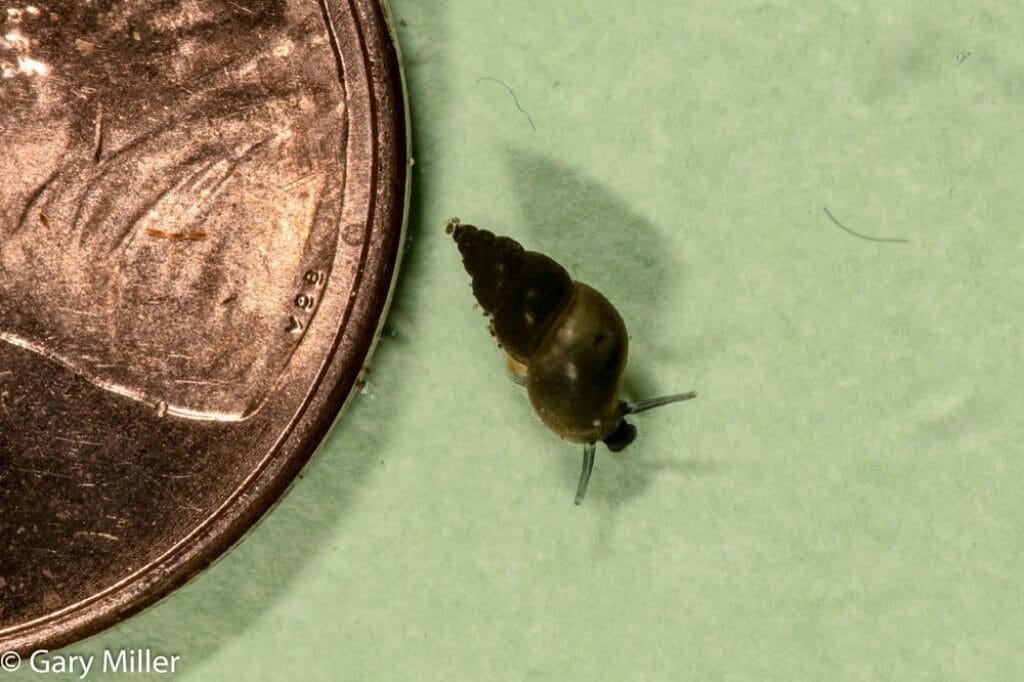 For example, in the Greater Yellowstone area, New Zealand mud snails have been found to achieve extremely high densities in the rivers they colonize. These high densities, coupled with rapid growth rates, mean that New Zealand mud snails monopolize a bulk percentage of available food resources.
This can have consequences to the overall ecosystem and native communities, including invertebrates and fish. Other studies in the Western U.S. and elsewhere have documented significant changes in benthic-invertebrate community structure after NZMS invasion, and impacts to trout health in invaded streams, with evidence of NZMS remaining alive while passing through the digestive system of trout that consumed them.
Given their relatively small size (averaging about 1/8 of an inch at adulthood), and subtilty in a river (light-dark brown in color), New Zealand mud snails can easily be overlooked and underestimated. Despite this, New Zealand mud snails possess advantageous characteristics that give them capability of becoming a highly successful and impactful invasive species.
One of these characteristics is their ability to achieve exceptionally high densities in a relatively short time-span. This, in part, is due to their early reproductive maturity and sexual reproduction strategy in invaded ranges, where individual females can produce hundreds of clonal offspring asexually — with male counterparts not necessary — in a single year.
This gives them the aptitude to outcompete and displace other important native invertebrates, namely ones that occupy similar habitat and overlap in feeding strategies, such as grazing caddisflies and mayflies.
This also, in theory, means that a single individual mud snail can potentially start a new population in uninvaded waters.
New Zealand mud snails occupy a wide-range of habitats, anywhere from freshwater streams and lakes to brackish waters such as estuaries. Because of their physiology they can also tolerate many environmental stressors such as desiccation. Studies have shown New Zealand mud snails can survive in damp and non-freezing conditions for up to 50 days, making them easy to transport to new locations.
These characteristics make them an invasive species of great concern with potential to impact Michigan cold-water streams and the trout that reside in them.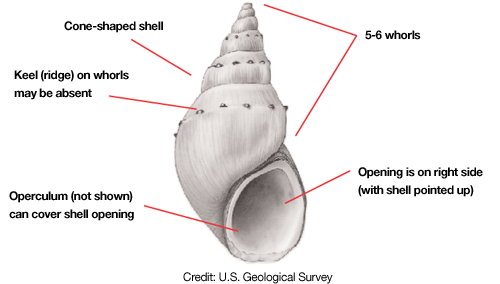 Trout Unlimited, along with partner groups such as Oakland University, Grand Valley State University, Michigan State University, the Michigan Department of Natural Resources, Department of Environmental Quality, and other state/regional stakeholders are workings toward improving understanding on the potential impacts New Zealand mud snails can have in Michigan waterways.
TU is also leading a regional approach for New Zealand mud snail management, supported by the Great Lakes Restoration Initiative, by establishing the Great Lakes New Zealand Mud Snail Collaborative.
The Collaborative consists of a region-wide working group to help improve knowledge on the potential impacts of mud snails, to minimize spread, to better inform management activities, and to raise public awareness in the Great Lakes.
With support from a Michigan Invasive Species Grant Program awarded to Oakland University and partnering with TU, volunteers are helping to monitor and track New Zealand mud snails spread across the state.
Several trainings on how to sample rivers for New Zealand mud snails have been held during the past year and additional trainings will be conducted in 2019.
To-date, growing New Zealand mud snails populations have been found in the Au Sable River and tributaries, which include the East Branch and North Branch. Other rivers where New Zealand mud snails have been detected are the Pere-Marquette, the Upper Manistee, the Boardman and near the Tippy dam impoundment/Pine river area.
In addition to New Zealand mud snails population tracking, other investigations are being conducted to examine the effects of New Zealand mud snails on invaded streams and native communities, such as the occurrence of trout that feed on the invasive species and the potential effects of New Zealand mud snails consumption. While studies are still ongoing, preliminary results indicate that resident trout feed on New Zealand mud snails in invaded waterways, but whether it is impacting their health remains undetermined.
Readers may have also seen a recently released online public survey being conducted by TU and OU. This survey aims to gather information on general awareness of New Zealand mud snails in Michigan and the Great Lakes region and help determine best ways to minimize the spread of New Zealand Mud snails through fishing gear decontamination practices.
Many responses have come in, representing TU members and chapters across the state. Survey responses are currently being analyzed and will be used to further advance strategies to help prevent the spread of New Zealand mud snails through human transport/fishing gear.
In the meantime, strategies an angler or river recreationist can take to help prevent spread of New Zealand mud snails is to follow recommended best management practices such as "Clean, Drain and Dry equipment that has been exposed to invaded waterbodies or being transferred to more than one water.
In addition, there have been a few recommended techniques to decontaminate fishing gear for New Zealand mud snails using heated water, freezing or chemical agents.
Recent results from a study conducted by OU showed that the common household cleaner, Formula 409, is effective at killing New Zealand mud snails. Visual inspection of all gear that contacted invaded waters, the removal of mud and other organic debris (by stomping and brushing), followed by soaking or spraying fishing gear (with an exposure time of 20 minutes) with the easily obtainable cleaner can be an effective way to help prevent New Zealand mud snails spread.
For more information about New Zealand mud snails, upcoming volunteer trainings and questions, contact Jeremy Geist: jgeist@tu.org