Thanks for writing, calling and posting. Your efforts paid off in the protection of our public lands … for now.
Last night on his Instagram account, Utah Republican Congressman Jason Chaffetz announced that he w
as abandoning a bill to sell some 3.3 million acres of public land in the West. The reason? He'd heard a lot from sportsmen and women around the country and he realized this wasn't in their best interest. And good for him. It's not.
But, more importantly, good for America's anglers and hunters who depend on public lands to pursue their passions. We weren't shy about calling and writing our federal lawmakers, gathering for rallies and protests and taking to social media to oppose this horrible idea. This fight isn't over—it's very likely that in statehouses around the West, lawmakers are going to once again try and get legislation passed this winter seeking the transfer of public lands to the states for eventual disposal. As people who understand that most of the West's great rivers begin as trickles that morph into freely accessible trout water on public lands, we must remain diligent and make sure we pass down our uniquely American legacy to coming generations.
Speaking of uniquely American heritage, let's talk about beards. OK, maybe not the best segue.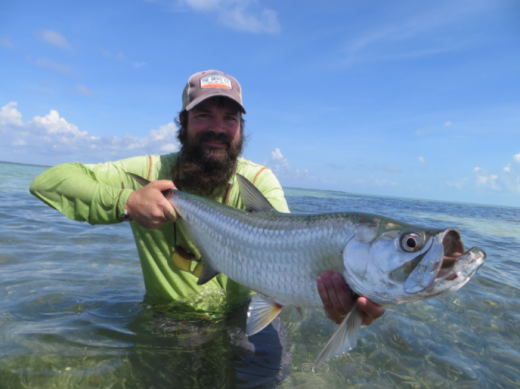 alt="" title="" />
Dan Davala of Orvis sporting the beard … and the appropriately creased cap!
Last summer, a handful of well-known bearded anglers were featured in the Amberjack Journal, and I saw a resurrection of that post on social media the other day. It's a classic, and features some of the better-know fly fishing stars of the film and guide variety. I'm sure, 20 years from now, when all the guides are clean-shaven and still clinging to that "so-2014" straight-brimmed cap look, they'll look back on all these shaggy critters and giggle. That's another interesting style statement, by the way. To crease or not to crease (I'm in the fomer camp). That is the question.
Finally, one of my favorite fly fishing writers, Jim Baab, is slated to speak at the George's River Chapter of Trout Unlimited in Maine later this month. Now, while it would be wonderful if we could all hop on a flight to see Jim in person, it's more realistic to actually get your hands on his latest book, "Fish Won't Let Me Sleep." Jim is the author of my favorite fly-fishing book of all time, "River Music." I picked it up a dozen years ago or so, and I reread it often. He's also a former editor at Gray's Sporting Journal and a John Gierach contemporary—both good things for lovers of good writing.
— Chris Hunt