Dogs have their place on a boat, period.
Pardon my preference to the canine companions we all love so much but it's true. When you bring a dog on a boat, or in our case a barge sized raft loaded to the gills with camping equipment, you often spend your day receiving smiles and waves from complete strangers. Who doesn't love that?
Dogs also come complete with adding to the stories. I'm almost too embarrassed to explain this particular story but I'm a sucker for ridicule so here goes.
His name is Trigger. To be clear he came with that name when we got him at four years old. I desperately wanted a dog that could go anywhere with me while being great with our two young kids as well. Trigger happens to be somewhat abnormally tall for a German Shorthaired Pointer which makes him a little top heavy on a boat. He also has a knack for being quiet and sneaky from time to time.
Last year we put in below the Flaming Gorge dam on the Green river in eastern Utah for an overnight trip we've done several times with friends. Typically, we wait until Labor Day to do this particular float as a way to close out another fantastic summer season on the water. I was introduced to the area through work that I've done with Trout Unlimited to protect it from a proposed pipeline which would have been used to feed thirsty metro areas like Denver. A bad choice indeed but Trout Unlimited, along with countless others, stepped up to stop it from happening.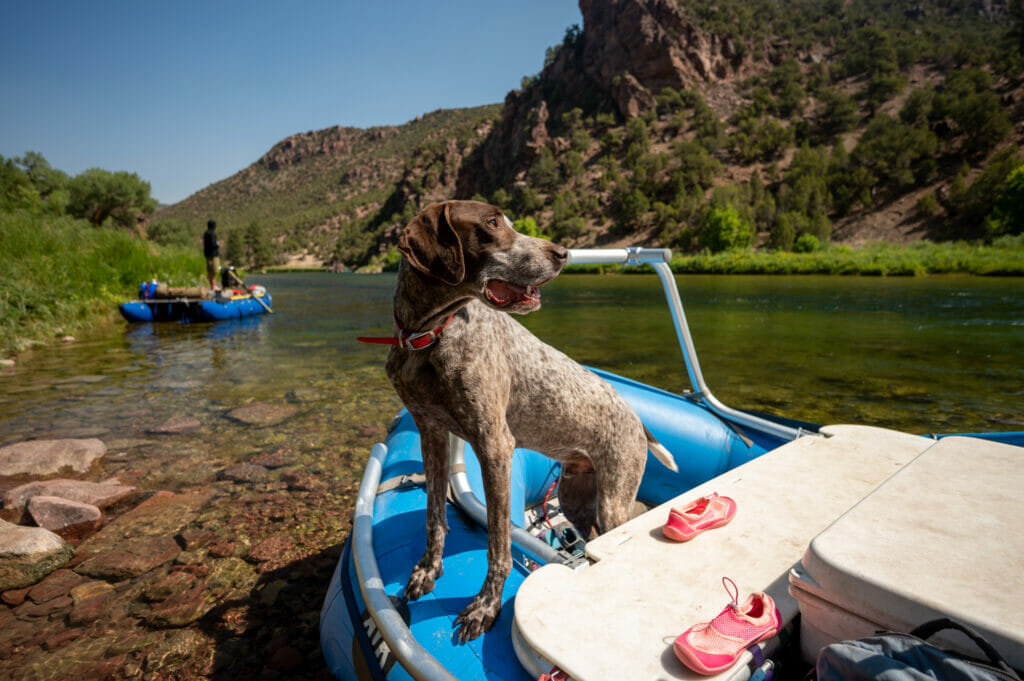 This particular trip was no different than the many others we had done in previous years with one exception. On day two we packed the boats up to move down river to our favorite site. The water below camp was mellow so we floated close by our friends and shared stories in the morning sunshine. One story led to another when someone mentioned a book they'd recently read about what would happen to the earth if we all disappeared. Particularly, they mentioned what would happen to dogs if the earth started to revert without humans.
That's when the look came my direction from my wife.
"Where's Trigger?" she said quickly.
"Well, he's not on our boat." I answered.
I still cannot believe it to this day, but we had managed to get roughly a half mile down river only to find out we left our dog at camp. I won't go into making excuses but those of you that float with small children will understand my distraction when loading the boat up for the afternoon. Regardless, we parked the boats and started swiftly wading upstream against the current to walk back to our camp only to find him sitting on the beach quietly looking around for his family. I also managed to hitch a ride with a couple nice people who were happy enough to have us sit on the back of their boat to meet up with our group allowing me just enough time to focus on the fact that I'd been a terrible dog owner.
Life moves on and I will continue to make a lot of mistakes and perhaps be the butt of a lot of jokes, but I'll guarantee that I won't forget my dog at camp ever again.
I've shared my embarrassing story now it's time to share yours. I want to hear it all. Tag us on social or leave a comment here so I can redeem myself.