Fishing for steelhead on the North Umpqua River is often described as a PhD-level challenge that will test the mettle of even the most dedicated anglers.
Unlike other legendary steelhead waters, with their gentle gradient and long even runs, fishing on The North involves deep wades over treacherous bedrock to reach casting "stations," which are often one specific rock that provides the angler with the ideal position to cover a pool through increasingly long and difficult casts that sometimes stretch beyond 100 feet.  No two-step, cast, repeat monotony here. The North demands an expert's grasp of spey or single-hand casting, intimate knowledge of each pool, and a deep respect for the history and culture that steeps from every square inch of the basin.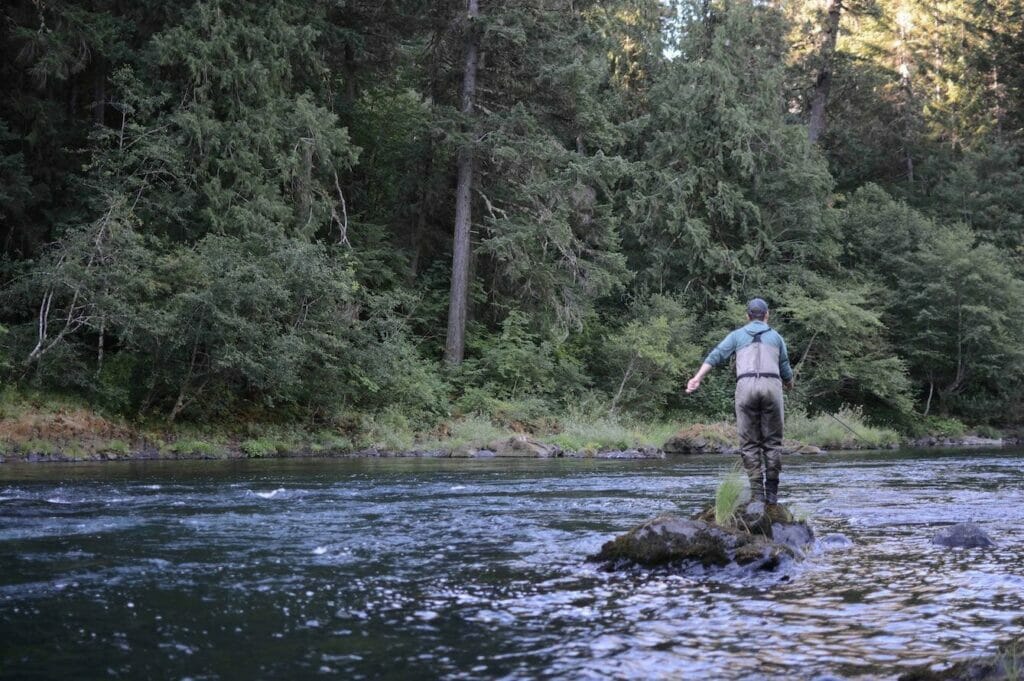 The North Umpqua "fly water," which covers roughly 30 miles from Rock Creek, near the town of Glide, upstream to the Soda Springs dam, is as legendary in the hearts and minds of steelheaders as any stretch of river in the world. Regulations allow only artificial flies and prohibit weighted flies during summer months. Home to both winter- and summer-run steelhead, the summer run is most popular among fly casters, offering the chance to wet-wade the North's legendary waters in t-shirt and shorts, often using a muddler or skater to temp a fish to rise to the surface in what can only be described as the most addicting steelhead eat in the world.
Two-handed rods are popular on the North, but single-handers have been the preferred method for decades, with legends like Major Mott, Vic O'Bern, Clarence Gordon and Zane Grey pursuing the summer steelhead with single-hand rods. Regardless of your chosen method, the North presents challengeing wading and even more challenging casting. To catch a North Umpqua summer steelhead should be a bucket-list achievement for any serious angler.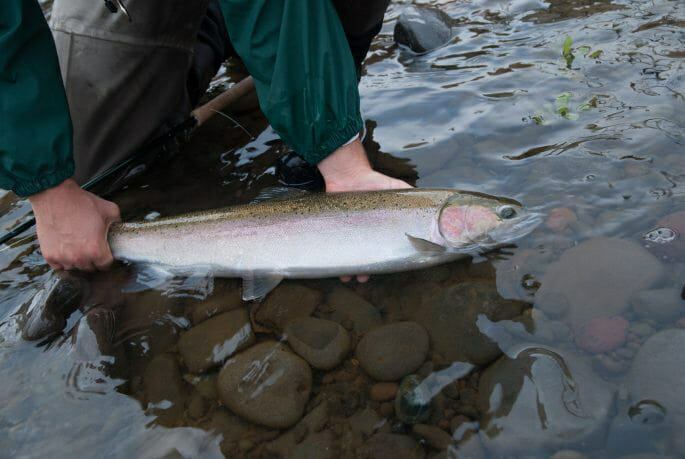 Trout Unlimited's Angler Conservation Project Northwest Director Dean Finnerty worked as a guide on the fly water for over 20 years before turning his professional efforts to a career in conservation. During his long career guiding the North Umpqua, he developed a lasting friendship with two of the river's most dedicated stewards, Frank and Jeanne Moore. Frank, a WWII veteran that landed on the beaches of Normandy during the infamous D-Day invasion of France, and Jeanne, a dedicated botanist and conservation hero in her own right, have lived along the North Umpqua since Frank returned from his military service, and have spent their lives working to protect and conserve the river and the fish that call it home.
Finnerty's background and deep ties to the North Umpqua proved pivotal when efforts to protect Steamboat Creek, a critical summer steelhead spawning tributary, took shape. Finnerty worked tireless to protect not only a run of fish, but also to honor his lifelong friends. In late 2019, President Trump signed the John D. Dingell Conservation, Management, and Recreation Act (S. 47) into law, and with it, designated over 100,000 acres on Steamboat Creek as the Frank and Jeanne Moore Wild Steelhead Special Management Area.
Anglers on the North can rest a little more soundly, knowing that the Moores' place in history is memorialized up Steamboat Creek, and that the summer steelhead that have brought both frustration and joy to so many will continue to find refuge in the headwaters of the North Umpqua Basin.   
For more projects that define TU's legacy of protection, check out our new report here.