A restored channel below Abiquiu Dam reinvents a New Mexico trout stream
In the first "Rocky" movie, the title character dreams of being a prizefighter, yet understands that he will never rise above being a heart-of-gold jaw breaker for a small-time Philadelphia mobster. The Rio Chama below Abiquiu dam can relate; like Rocky Balboa, Abiquiu's flood control and water storage day job is far from sexy. During irrigation season, the river below the dam runs extremely high, the rusty color of caliche clay and the walls of the canyon through which it flows. 
The late fall, when the water drops and clears, is when the Chama indulges fantasies as a big time urban fishery (a shortish drive from Santa Fe and Albuquerque, it's the only game in town when it comes to winter day trips). The Chama's gorgeous, produces some big browns, but due to an overwide channel and the silt it accumulates, the fishery has been dependent on the hatchery truck. In spite of flashes of brilliance, it's been easy to view the Abiquiu stretch as a palooka.
Several years ago, a young Army Corps of Engineers employee named Austin Kuhlman envisioned a different kind of Chama, one that could meet its water-delivery obligations while providing much improved fishing during the winter months. He began reaching out to stakeholders — agencies like the Forest Service, BLM, and the New Mexico Game and Fish, a local acequia association, and fish and wildlife groups like Trout Unlimited — and formed a work group to plan, fund and implement the restoration approximately one mile of the Chama's channel and riparian area immediately below the dam.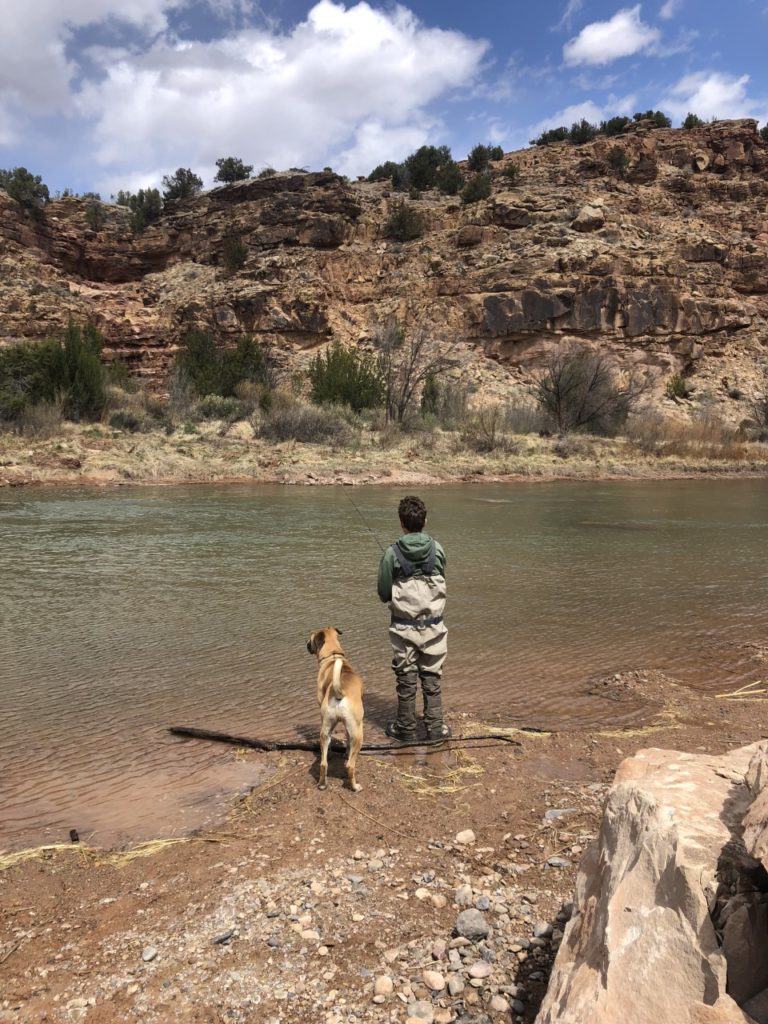 Completed just last week, the project has created a functioning low-flow channel, fish migration connectivity, waterfowl habita and the suspension-destroying road that runs along the river. My son and I fished it this weekend, and it was beautiful. 
Eric Frey, sportfish program manager from the New Mexico Department of Game and Fish, asserts that the project has been a great success. Frey, who directed the restoration and whose agency raised 1.3 million dollars in funding, says, "The project has increased riparian health and function, angler access, and the quantity and complexity of fish and wildlife habitat. This project will increase angling opportunity in this popular reach of the Rio Chama." 
Thanks to Kuhlman and Frey's work, it appears the Chama below Abiquiu will get its shot at Apollo Creed. So says my friend Tommy Boylan, who fished the restored section as the work was wrapping up. By virtue of his propane delivery rout through the heart of Rio Arriba County, Tommy is the source for the hottest fishing intel in northwest New Mexico; he's also a great fisherman, so his word is solid gold. 
"Already, new Abiquiu is worlds better than old Abiquiu," he says. "It's phenomenal now, but I'm really looking forward to the coming fall and winter, you know what I mean?"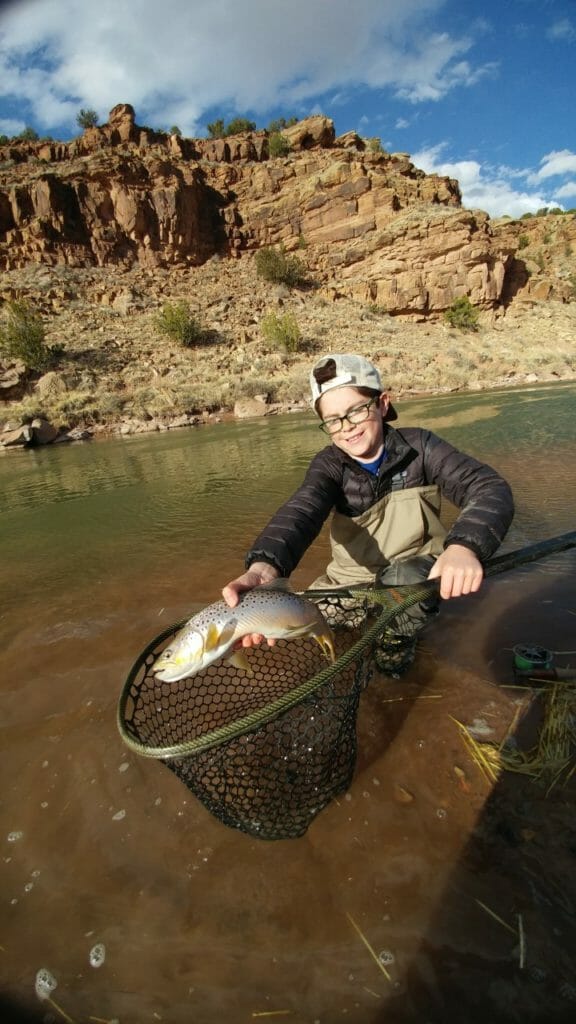 Ivan Valdez, owner of The Reel Life fly shop in Santa Fe, has been social distancing the heck out of Abiquiu with his son Vince recently, doing well on his signature Master Yoda blue winged olive nymph. Valdez has fished at Abiquiu since boyhood and marvels at how much new habitat has been created.
"I bet the spawn will be a whole lot better too. So many new runs and riffles," Ivan says.
Independently, each of these friends stressed the same concern about the Abiquiu project, that its true value will be determined by how well it is cared for, by Game and Fish and, more importantly, sportsmen.
Says Tommy Boylan, "This project is going to generate a lot of traffic. You can't invest that much money and let people get away with abusing it."
As a vendor of fishing tackle and services, and thus a cog in New Mexico's outdoor economy, Valdez echoes, "We need to step up patrols and come down hard on poachers. Fines need to go up and licenses need to be suspended."
Boylan and Valdez represent an increasingly vocal segment of New Mexico anglers who are frustrated with an angling community that expects good fishing to come only from the Game and Fish Department — hatcheries, to be exact — and not its own attitudes toward the resource. During autumn below Abiquiu, for example, it is common to see anglers regularly flouting bag limits, overharvesting stockers and large spawning brown trout. 
Part of this problem lies with Game and Fish enforcement, the fact that scofflaws know that wardens will be patrolling elk hunts instead of Abiquiu and other brown trout spawning sites. Another part lies with the New Mexico Legislature and, to be blunt, New Mexico sportsmen and women, who should begin collaborating immediately to fund better management of the state's fishing resources. 
Toner Mitchell is TU's water and habitat coordinator for New Mexico. He lives and works in Santa Fe.