By Josh Duplechian
This is hands down the coldest my feet have ever been. Honestly.
Remind me, why am I here again?
Yes, that's right for the annual sufferfest tradition we call fishing for steelhead off of Lake Erie. Sliding out of the warmth of the local breakfast joint and into our snow-filled parking spot, the first thing I immediately notice is five guys, mostly older, standing feet apart from one another wearing every conceivable layer of cold-weather camouflage and neoprene. Upon closer inspection they've each got stringer full of dead fish floating next to them that will, in theory, soon be traded in at a local bait shop for smoked fish.
I light a cheap cigar and slink slowly upstream behind uncle Keith, my brother-in-law and the rest of the cousins.
It's family tradition, I repeat in my head. While many break bread with friends and family over the holiday in the warmth of a heated home, I'll be breaking ice with an uncle and the rest of the family.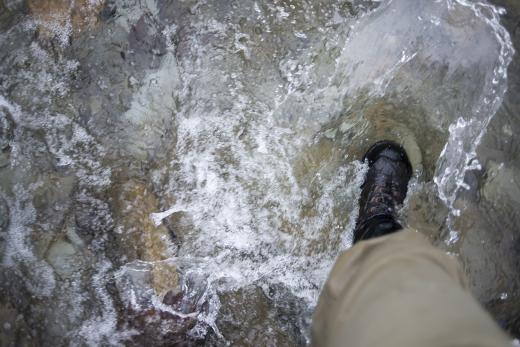 alt="" title="" />
Five minutes into the day and my boots are as ice-covered as the guides on my 6-weight fly rod. It goes without saying that uncle Keith will remain the first one to catch one of these lake-run beasts.
I've tried and tried to understand why it's always him and not one of us that consistently lands the first fish of the day. The answer is simple: He's more persistent, methodical and patient than his younger counterparts, despite the frigid northern Pennsylvania winter. Typically I'm the one fumbling around trying to tie on a tiny egg pattern with frozen fingers that feel as if they're going to break in the relentless cold and wind.
Throughout the afternoon we each make casts in every feasible holding spot for these elusive fish. With little to show for hours of casting I march upstream admiring the sheer quiet surrounding the slate bottomed stream in this part of the country.
And as the time honored tradition of fishing with the family would have it, I round the last corner to find him hooked up to a nice fish in the last spot before we return to the warmth and the sound of the car's heater cranked up as high as it can possibly go.
Twenty minutes into defrosting and I remind myself that I am thankful for this family tradition. Deeply thankful for a family that appreciates the fish, the habitat and the amount of effort it takes to pack five grown men into a car for a day on the water breaking ice with family. No amount of ice and cold will ever undo this tradition.
Josh Duplechian is TU's creative director. He lives and works in the Denver area.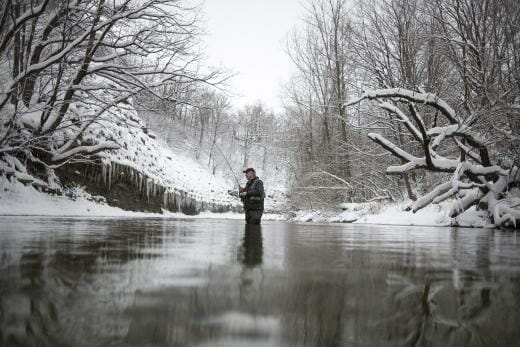 alt="" title="" />