The home away from home on the Ruby River, Montana. Public lands.
by Chris Hunt
Last spring, as I prepared for a lengthy summer trip to the Arctic, I marched myself into my local RV dealership and signed away a significant chunk of change for a brand new camper.
The trip was amazing—I crisscrossed Idaho and Montana and ventured up through Canada to Alaska and back over about 10 weeks. It was the adventure of a lifetime, and I'm glad I had my little camper, complete with its cramped RV shower and it's cushioned queen-sized bed. I never thought I'd be the "RV guy," but going to sleep along Montana's Bitterroot River, windows open to the sound of the river coursing by and a flush toilet at the ready has its advantages.
Yeah. Maybe I'm a bit of a princess. I can live with that.
Oh, and I also bought a small generator, the "Sportsman," that helped charge batteries and, on a few nights, while I camped alone on public lands in Idaho, helped me run the microwave and a small TV so I could watch a movie. OK. Yes. I'm a total princess.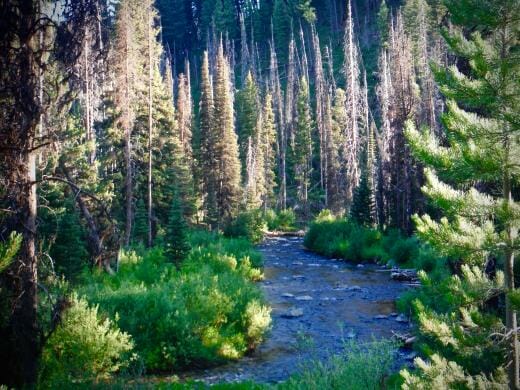 alt="" title="" />
East Fork of the Bitterroot River, Montana. Public lands.
Oh, it doesn't stop there. A good friend of mine bought me a couple of heavy-duty camp chairs from a local retailer, and I bought a big mat that stretches out in front of the camper and a small foldable table from the RV store. With the push of a button, an awning stretches out over the mat, the chairs and the table. Throw in a couple of solar bug-zappers (another gift from a friend) and the perfect gin and tonic, and I was "camping" in style. In the middle of nowhere. On land that I own alongside every other American. On my trip last summer, I didn't have to ask permission. I didn't have to tell anyone where I was, where I'd been … or where I'd be.
Nope. Still not done. Of course I had to equip myself with a couple of new fly rods and reels. I bought an honest-to-God machete to cut downed firewood. And bear spray. And a filet knife for southeast Alaskan silvers. A new rain jacket. I probably tied 200 flies, for which I needed to buy materials. Camp cooking gear … that was new last year.
Honestly, it was quite the endeavor, and it wasn't cheap. But I look at it today as an investment. I'll use the camper for years, maybe decades. And the fly rods? My kids will eventually get those as I get new ones. So long as there are out-of-the-way places where I can squeeze into with my little home on wheels, I'll probably be spending a ton of money to get there. Gas. Groceries. Propane. Gin. You know, the necessities.
This year, as I file my taxes, I'm looking at hybrid bikes that are capable of both road and trail riding—I like to camp at trailheads and wander into the backcountry. This year, I'm going to try to find single-track trails along trout streams—on public lands, of course—and pedal into the backcountry to fish. I don't know if you've looked lately, but good bikes aren't cheap. The guys at my local bike shop are pretty diligent, though. They're helping me decide on the right model, but no matter what, I'm going to hand over several hundred dollars.
I live where I live for a reason, and that reason is stretched out around me for hundreds of miles in nearly any direction. I have, at my fingertips, hundreds of destinations where I can take my investment (you know I pay for that camper every month, with interest, to my local credit union, right?) and enjoy the things I love to do. I can take my thousands of dollars worth of gear, my SUV, my camper, my friends and family and all the food, fuel and booze we'll need to survive a weekend in style and just … disappear.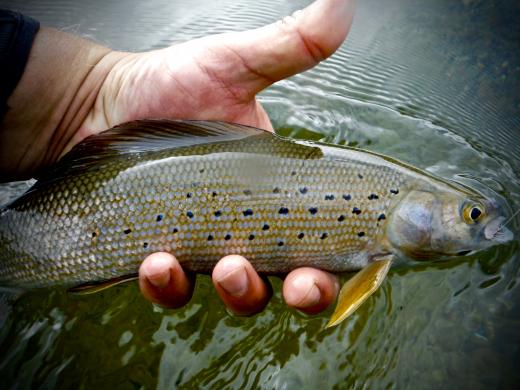 alt="" title="" />
Arctic grayling from the Tangle River, Alaska. Public lands.
But recently, a few members of Congress did something that scared the hell out of me. They introduced a bill in the House that would have directed the Department of Interior to sell off more than 3 million acres of public land, mostly in the West, including 110,000 acres in my home state of Idaho and several thousand acres of land within a day's drive of me and my camper.
Not transfer. Sell. Outright. To the highest bidder. I'm not down with that.
And I would hope the companies I worked with to purchase and finance my investment that I use almost solely on public lands would share a similar disdain for this horrible idea. I'm just one guy, and I've pumped tens of thousands of dollars into my local economy in just the last year because of public lands. And I'm going to spend thousands more this year. There are millions like me, and most of us oppose the idea of selling our birthright.
Thankfully, after a tsunami of opposition from the sporting community and others in the outdoor recreation arena, the main sponsor in the House of Representatives killed the bill. But I doubt this issue is going to just go away, which leaves me and others like me scratching our heads.
Outdoor recreation contributes almost $650 billion every year to the American economy, and was just recognized by the government as major contributor to the U.S. gross domestic product. That puts it ahead of, or on par with, more traditional industries, like mining and oil and gas extraction. It has a significant economic impact on the country and on rural communities like mine that benefit from public lands nearly every single day.
Keeping these lands intact isn't just a favor to folks who like fish, hunt, camp, hike and climb. Keeping these lands public and accessible is vital to our future, both culturally and economically. When that sinks in, maybe these wrong-headed attacks on our uniquely American heritage will stop.
Until then, it's up to us continually remind our elected officials just how important the places are… to us and to our future.
Chris Hunt is the national editorial director for Trout Media. He lives and works in Idaho Falls, Idaho. Join him and millions of others who use public lands and tell Congress to keep America's birthright intact.