One would think my fishing addiction would be at least partially hereditary, and this is true, insofar as my father's family fell in love with New Mexico upon first laying eyes on the mountains around the Moreno Valley. My grandfather and his sons couldn't get enough of fishing those creeks, the Cimarron, Rio Chiquito and Pot Creek, by worm, spinner or fly.
By sons, I mean my two uncles. As for my father, my grandmother told me he preferred to stay at home with his head buried in the engine works of the family station wagon. In truth, he had a different thing with mountains. He liked them under snow, didn't care about its melted form or how many trout it would sustain. Like my parents did with me, his required him to attend college back east, and he chose the school in the wintriest and most mountainous area he could find. His objective, of course, was skiing.
Fast forward a decade, he found himself back in New Mexico, a partner in my grandfather's law firm with a new Taos ski mountain as his client. My skiing father wouldn't be the one to teach me how to fish. That would have been my grandfather's job if the timing had worked out, though in a way — specifically, the day of his funeral and my instant fascination at the scatter of fishing gear around his bedroom — my grandfather is the progenitor of my fishing.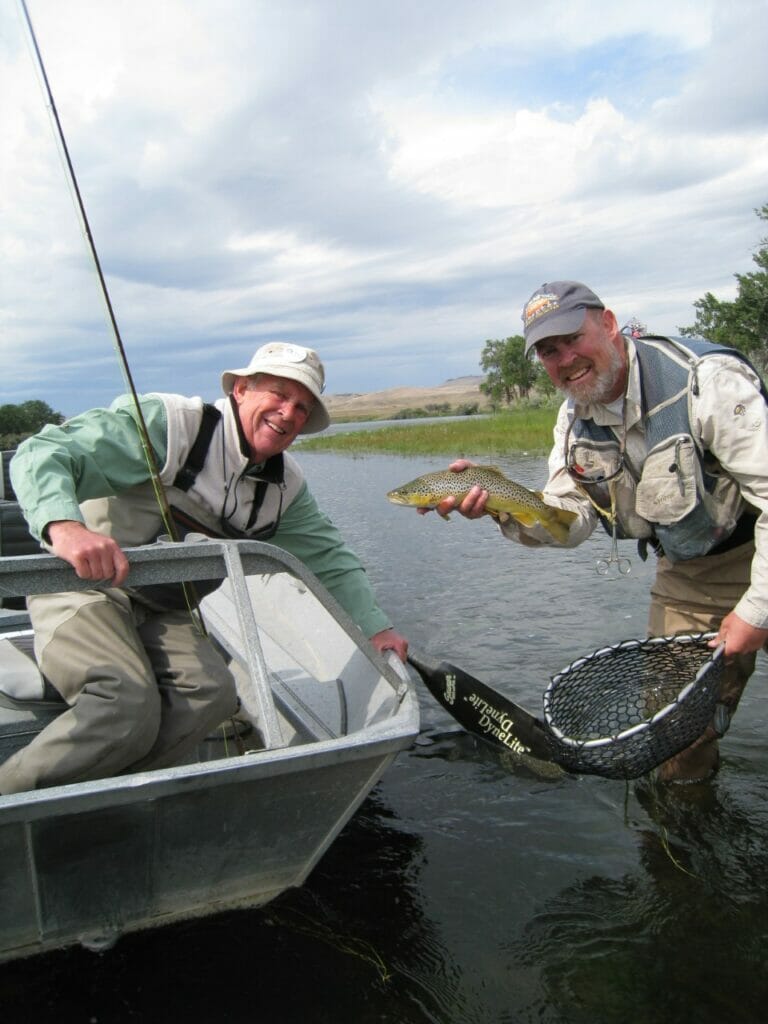 Which was probably for the best. Though a gorgeous skier, my father was ugly at teaching it. Not that I and my siblings didn't learn anything. We did, but the experience of doing so was more like boot camp than a thrilling outdoor adventure. Dad seemed to view teaching us as a prison sentence, and when his impatience got the best of him, he'd often take us down one of Taos Ski Valley's famously steep runs. Our cheeks were always wet by the time we reached the bottom, partly from sliding on our faces the whole way, but mostly from tears.
If Dad had caught the family fishing gene, I might not have become a fisherman, which scares me to this day. I shudder at the thought of him yelling at my casting mistakes like some stereotypical nun with a ruler in her fist.
Basically, he would have been like me when, after his failing lungs reduced his skiing to a mere fraction, my father asked me to teach him fishing. I was a guide at the time, and teaching people fishing was something I was supposedly good at. But not when it came to my father. Though he was no less proficient than a million of my previous clients, I showed him neither patience nor respect.
I don't know why it's so difficult to teach a student you love deeply, but I suspect it has to do with each person's different definition of sharing.

Toner Mitchell
Somehow I'd forgotten that it was he who had stoked my fishing career at the most perfect moments. He took me on a horsepack trip to Yellowstone National Park at age 13, and gave me a Sage at my high school graduation. Yet on one unseasonably cold Montana day, I literally wagged my finger at him for forgetting his raincoat. I scolded him about his poor circulation, as though he wasn't infinitely more aware than I that this condition could be the death of him, as indeed it ultimately was.
I don't know why it's so difficult to teach a student you love deeply, but I suspect it has to do with each person's different definition of sharing. The teacher wants to share a passion, which the student, through incompetence, seemingly refuses to accept. Of course the teacher takes it personally regardless of how the student actually feels. Once slapped out of it — for me it was the realization that, in addition to my father, both my wife nor my son had expressed a palpable unenthusiasm about how I taught fishing — the teacher remembers that sharing is not just about what you're doing but who you're doing it with and in what spirit.
Things changed for the best when I began hiring guides to teach my dad, which allowed me to revel in his success and take pictures of the fish he caught. I learned that my wife simply doesn't like fishing, and that's OK. And my son fishes better when he's focused on the river and not the quality of his drift, on the time we're having and not my voice.
For the record, the time eventually came when skiing came easy to me and I became a powder hound like Dad. When winter clouds rolled in at bedtime, and I wasn't surprised the following morning when he came in to wake me.
"We got dumped on last night," was how he might have put it, the smell of bacon already filling the house. "Get your stuff and let's go."
Toner Mitchell is TU's New Mexico water and habitat coordinator. He lives and works in Santa Fe.