A father and his daughter work to plant willows along the Esther Simplot Park in Boise, Idaho. David Garman photo.
By Kira Finkler
Some say families that get dirty together stay together. If that is indeed the case my family will be a tight-knit bunch for a long time.
On a recent cool and cloudy Saturday morning, about 30 volunteers descended upon Esther Simplot Park to help the city of Boise repair degraded bank shores and enhance wildlife habitat around a well-loved pond.
Trout Unlimited members had harvested willow poles in December 2017 and the starts had overwintered at Lucky Peak Nursery. Spring had arrived in the Treasure Valley and it was time to get those willows in the ground.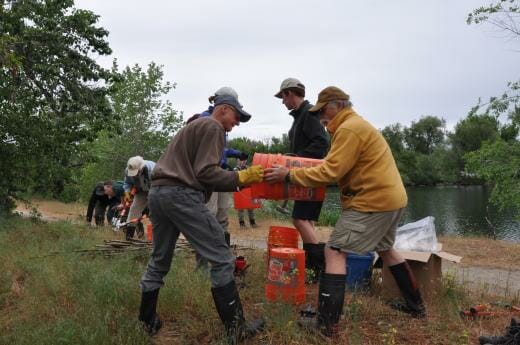 Volunteers prepare to start planing willows at the Esther Simplot Park pond in Boise, Idaho. David Garman photo.
Our merry band included a wide range of ages and experience. My own family of five, ranging in age from 13 to 60, was among the group. As we gathered at the designated meeting spot and politely waited for further instructions, I admittedly felt nervous about my lack of experience planting riparian vegetation. Could I truly provide meaningful assistance to help the city officials achieve the results they were seeking?
My concerns began to dissipate as our fearless leader, Martha Brabec, started speaking. Martha is the Foothills Restoration Specialist with the City's Department of Parks and Restoration. She enthusiastically welcomed everyone and then explained the tasks that we would be focusing on and their purposes. Specifically, planting willows and wetland plugs in the stream bank line, as well as removing invasive species on the shoreline, would not only stabilize the pond's banks but also improve the water quality.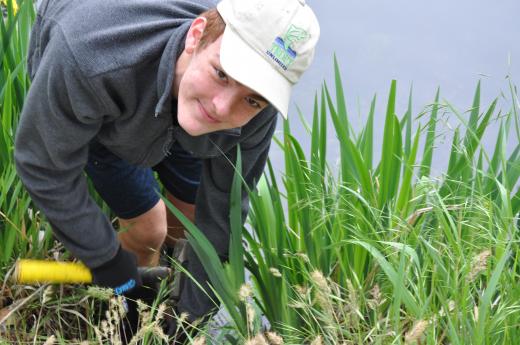 Luke Garman, son of the author, told his mom after volunteering to plant willows "that was fun". David Garman photo.
With steep banks and compacted soils, it was clear planting willow poles would require extra effort. As Martha directed us to organize into three groups "based on how hard we wanted to work" she also kindly offered that we were in a "judgment free zone" to ensure that everyone understood that all three tasks were necessary and important to improve the health of the pond. I always have appreciated that phrase, especially when fishing or exercising, and was glad it now applied to the current endeavor.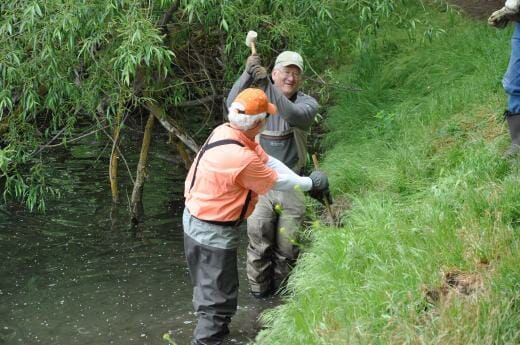 Long time TU volunteer Andy Brunelle works to plant willows. David Garman photo.
My 15-year-old son and I partnered up and began using a pick and mallet to secure willow poles in a way that provided the best chance of their survival. My older daughter chose to plant wetland plugs and my husband and younger daughter focused on removing invasive species. From the moment we arrived and throughout the morning, Liz Paul with the Boise River Enhancement Network, checked on everyone and made sure we had the tools and instructions necessary to accomplish our tasks.
As we started to head home, my son put his arm around my shoulders and exclaimed "that was fun Mom!"
What better result could I ask for than that? I wonder if I can get them to do it again?
Kira Finkler is director of the Idaho Water Project. She is based in Boise.