The sun sets on an epic day in the Uinta Mountains of northeastern Utah. Brett Prettyman/Trout Unlimited.
By Brett Prettyman
Years ago, when I was starting out as an outdoors newspaper reporter, the editor looked at my request for a photographer to go on a 40-mile backpacking trip for six days and laughed.
"Take a camera and shoot it yourself," she said. "We can't send two people off on assignment for that long".
I went to one of the photographers and asked for advice. After bemoaning the fact he couldn't come along on the trip he told me to take as many pictures as I could.
"That way," he said through a smile, "you are bound to get a couple that should be okay for print."
I went to the refrigerator where film – yes film – was stored and grabbed as many rolls as I could carry with two hands. So much for the rain jacket I was planning to pack – I needed film.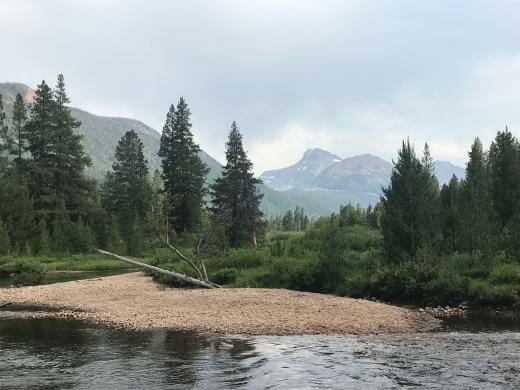 Focusing on the fishing can be difficult with scenes like this in the background. Brett Prettyman/Trout Unlimited
Digital cameras, and now smartphones, have made his advice at taking a lot of pictures much easier, not to mention less expensive. That being said, I still probably take way too many pictures. My hard drive can back me up on this issue.
On a recent family camping trip to one of my favorite mountain ranges in Utah, I realized perhaps not all pictures should be taken. My outdoor photographer friends are now cursing me for these blasphemous words, but I suspect a couple of them may agree.
It was easy to come this conclusion that night as my wife had taken my phone for a drive to the closest cell signal to check on our son, who was traveling. Even if I had wanted to capture the scene before my eyes while fishing the high mountain creek at sunset, I could not.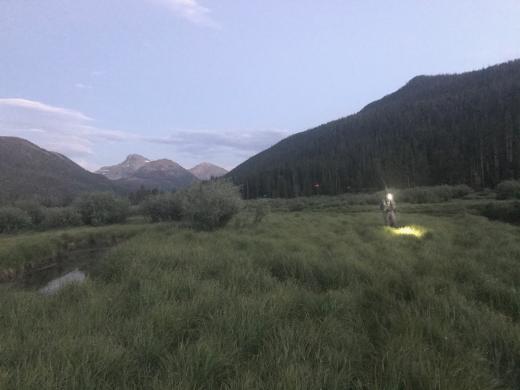 An angler carefully makes his way along a creek at dusk. Brett Prettyman/Trout Unlimited.
While watching the glow of the setting sun on a majestic mountain in the background—with bright light from the nearby rainstorm—and the fish rising on a slow flowing part of the river in front of me, I reached for my camera —err, cell phone.
When I realized I didn't have the phone I was disappointed, lamenting the fact I would never capture the moment I was seeing. As I kept watching trout dapple the water leaving ever-growing water rings and the sunset that seemed like it couldn't get better but just kept doing so, I realized maybe there were moments in life where the only record should be in our mind. Argue all you want, but realizing I could not take a picture actually made me pay more attention to the scene.
Through my life there are about a dozen such moments recorded in my brain. I'm not sure why these specific moments are so deeply etched in my memory – they are completely random. But they are so vivid and real when I replay them in my mind that I can hear voices, feel the heat or cold, and smell things associated with that moment in time. It is, in fact, as if my mind had pushed the shutter button or hit record. I expect that at some point when it gets hard to make it to places like I this, that I'll be able to hit the play button on that memory and be taken back to those streamside moments.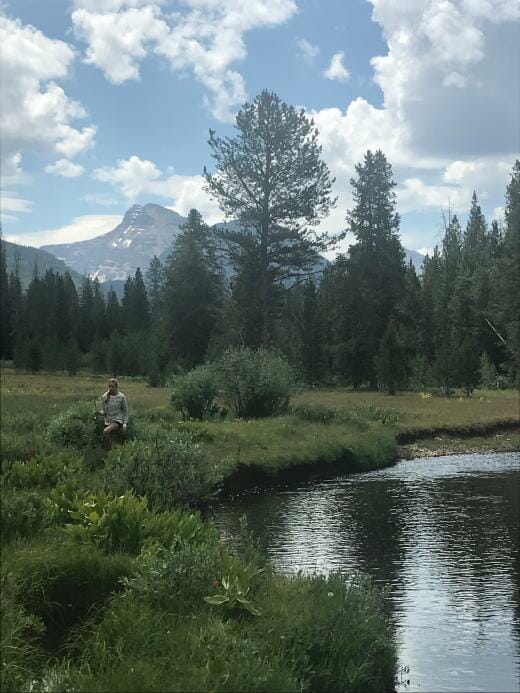 An angler makes her way to next fishing hole. Brett Prettyman/Trout Unlimited.
I also realized it had been a while since I recorded one of these mental snapshots and I wondered if having a phone/camera with me every waking moment may be part of the reason why.
I returned to the same location the next night and was thrilled to see a similar, although not quite as spectacular sunset. I reached for my phone and snapped two dozen or so photos. Those images will please me, and hopefully others, for years to come, but I like knowing I have a private gallery in my mind.
Brett Prettyman is the Intermountain Communications Director for Trout Unlimited. He is based out of Salt Lake City and currently has 27,040 pictures and 1,239 videos stored on his laptop.