High water rolls over a low water bridge on the Roanoke River. Damage to the bridge has resulted in the access road being closed, which will impact trout stocking plans this fall. (Mark Taylor photo)

<![CDATA[ ont-family:"Arial",sans-serif">By Mark Taylor
We fly anglers from the East often envy our counterparts on the other side of the country.
While we have some pretty good fishing out this way, it's still hard not to yearn for the big rivers, the grand scenery, the big bugs and the big fish of the West. It's not by accident that anglers from east of the Mississippi are more likely to travel west to fish than vice versa.
But there is one thing we don't envy: run-off season.
When melting snow turns western rivers into raging torrents, fishing pretty much gets put on hold and anglers have no choice to but to bide their time.
It just so happens that the spring thaw out West tends to correspond with a season out here in the East when hatches are peaking and water levels are often perfect.
This year, however, those of us in the East have gotten a taste of what it's like to be a western fisherman during run-off season.
It started raining here in May. It's pretty much never stopped.
Hurricane Florence and the flooding it has caused has dominated headlines. The impact has been and continues to be devastating.
The remnants of Florence caused some relatively minor flooding in trout country in the mid-Atlantic. But across the East and even upper Midwest it has really been more of a seemingly relentless steady drip, one punctuated with plenty of heavy rain events that have caused some localized flooding issues.
The Driftless Area and Pennsylvania both have had flooding that has made an impact on communities, and also has put to the test Trout Unlimited restoration and reconnection projects.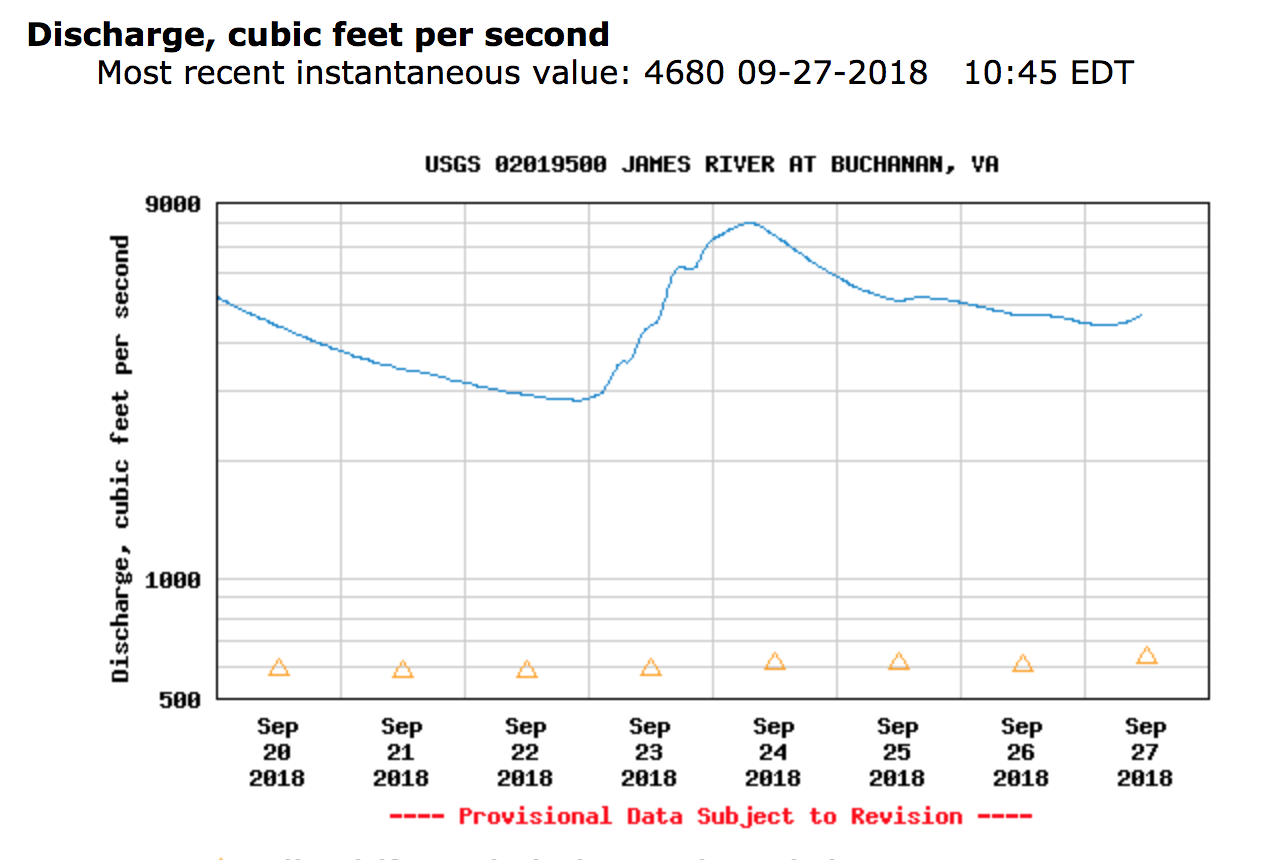 A screencapture showing a week's worth of flows in Virginia's James River. No, you're not fishing at these levels.
Here in Western Virginia we've had some localized flooding but we've been fortunate to avoid catastrophe.
My friend Kevin Myatt, who covers the weather at my previous place of employment, The Roanoke Times, wrote earlier this week about our region's rainfall.
Through Sept. 24, Roanoke had received 45.06 inches of rain, 4 inches more than we average for an entire year, Myatt reported.
Normal rain amounts for the next three months will put us in the top 10 off all-time annual rainfalls, and the record of 58.87 inches is certainly within reach.
This is a common story across this half of the country this year.
Fishermen have felt it.
Around here many of us switch our focus from trout to river smallmouth bass during the summer. Our big smallmouth rivers have been rolling and unfishable for long stretches. As I type this the James River in Buchanan is rolling at about 5,000 cubic feet per second, nearly 10 times the median flow for this time of year.
Trout tailwaters, normally a good bet even on rainy days, have been tough because reservoirs are so full that dam operators are having to flush high flows to keep reservoirs within their banks.
The one positive may be that mountain trout streams that often are tiny trickles by this time of year are bursting at the banks and, except immediately during and after downpours, are fishable, if even a bit higher than ideal.
So, in short, it's been a lot like run-off season for us. Except this one just doesn't want to end.
Of course, whether we live in the East or West, we anglers are able to keep this all in perspective and take this rain for what it largely is for us: an inconvenience.
We can't help but complain because we're fisherman, and that's what we do. But our hearts are really elsewhere, focused on those for whom the rain has created true suffering.
We're ready for it to dry up, but less for us than for them.
Mark Taylor is Trout Unlimited's eastern communications diretor. He is based in Roanoke, Va., in the heart of Appalachian trout country.