By Eric Booton
I couldn't resist chuckling to myself as I boarded a flight from Anchorage to Los Angeles with my fly rod in hand. I work, live and play in Alaska. The salmon state. The land of 30-inch rainbow trout. Home of seemingly endless fishing options. Yet I, a self described mountain bum, was willingly headed to a giant metropolis I loathe.
If I could, I would have a streamside cabin in the woods. But, I have yet to make that a reality, so as a fly fishing addict, I make the most of my local fishing opportunities (which frequently consists of exploring the creekside bike paths, fly rod in hand, dodging homeless camps and hooking more trash than fish).
Urban fishing in Anchorage has found a special place in my heart, each outing is an adventure in many ways, and ever since the first video I saw of chasing carp (also known as golden bonefish) amongst shopping carts, concrete embankments, and train tracks, I have been eager to give it a try.
So… off to LA. One might call it a mecca for urban carp fishing? Or that's at least the way that I have thought about it for the past four years. And with a free weekend, miles to fly on, and a best friend in the city to catch up with (not to mention a truck and couch to spare) it seemed like a great idea.
And it was.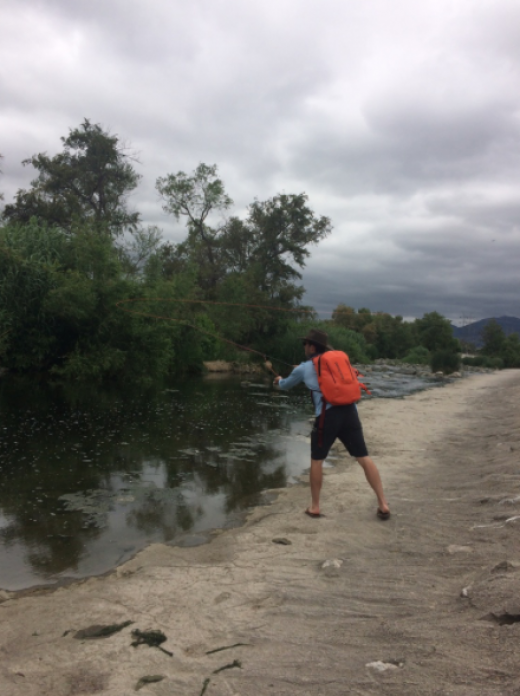 alt="" title="" />My friend Sam is new to fly fishing and is working impressively hard to get his game dialed in. He is at the point where he is piling in time on the water with little luck, but getting in some superb casting practice. We have all been there, and my No. 1 goal was to help him at least find some sort of luck. But I know nothing about fishing for carp. We spent the days before my trip researching spots, techniques, and putting time in on the vise tying some custom tried-and-true patterns that we stumbled upon.
I was excited as I hopped the concrete barrier and soaked in my first view of the Los Angeles River. Constrained by concrete walls, lined with moss and every piece of trash imaginable—yet remarkably green with grass, bushes and trees that have battled impermeable surfaces and won—it was an impressive site, drastically different than the pristine watersheds I seek out on my Alaska weekends, but still a piece of water I could appreciate.
We were encouraged as we made our way down to the water and spotted another angler upstream, crouched low and presumably casting to a tailing carp. The water wasn't clear by any means but we quickly started spotting some carp and also quickly discovered how incredibly easily they get spooked. My curiosity grew with each step upstream as my mental tally of noteworthy trash and spotted carp continued to grow; the concrete jungle was providing no shortage of memories.
My heart stopped as I slowly approached a small hole and spotted a half dozen golden bone's seemingly overflowing out of it. This was it. This was my shot.
I took a couple step backs, lined up a well-place cast, and felt the unfortunate tug of a wad of moss. I wasn't surprised as I watched the pod of carp disperse, in fact I expected it, but still I stood up, removed the moss from my fly, and coped with my feelings of rejection.
The day's glory came moments later when Sam, downstream of me, let out a hoot of joy as his line went tight and the tail of a large carp repeatedly slapped the water as the fight began. I could feel Sam's disappointment as the carp got the best of him and spit the hook. I was right there with him. We were devastated.
The fish wasn't on long, but it was on long enough. Long enough to keep Sam hooked and dreaming of the one that got away. Long enough to remind Sam why he continues to routinely take his fly rod out even after a long and fishless spell.
And it was long enough to remind me how great it is to chase new species, search out new water, and help introduce the sport I love to friends.
I don't enjoy going home skunked. But I didn't have a problem hopping on my plane back to Alaska fishless. My goal was to help my buddy get hooked, and he is. I was proud to receive a series of photos yesterday of bluegill that Sam had caught at a reservoir near his house and I am pleased that I now have another fishing partner, and can't wait to share some of my Alaska water with him.
Eric Booton is the sportsmen's outreach coordinator for TU's Alaska Program.