Trout landed at Confluence Park in downtown Denver, with an amazed Mayor Hancock in background.
By Randy Scholfield
For many years, the South Platte through Denver, like many urban rivers, was an industrial sewer—a place where people dumped trash and chemicals into the river and hoped it all washed downstream. Out of sight, out of mind.
Fishing for trout? Right. At your own risk. This brutalized stretch of the South Platte was never mistaken for the famous Dream Stream—you were more likely to catch a car battery or a hypodermic needle than trout.
Well, things are changing. Take a look at the above picture, and think again about a South Platte urban trout fishery. Turns out, trout are thriving in downtown Denver, thanks to TU and other river dreamers.
In October, a group of Denver TU chapter members were invited to fish at the reopening of Confluence Park, where the South Platte and Cherry Creek meet. As Mayor Michael Hancock began his remarks, a roar went up from the crowd as an angler connected with a jumping rainbow.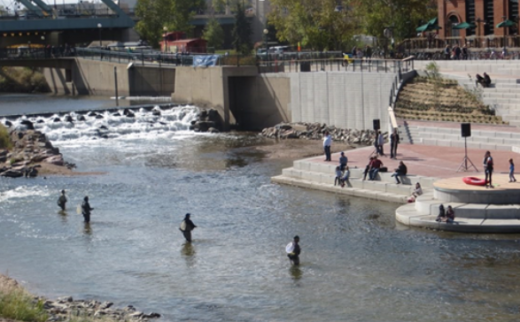 title="" typeof="foaf:Image" />
As Mayor Hancock looked on, members of Denver TU and other anglers pulled hefty rainbow after rainbow out of the pool there. These trout, stocked earlier this year, were part of an experiment launched by Denver TU to determine if trout could survive in the water temperatures and nutrients in the stretch of urban river between Chatfield Dam in southwest Denver north to Confluence Park downtown.
By all accounts, most of the trout not only survived the heat of summer but have thrived in their urban waterway, looking as fat and healthy as piglets.
For years, Denver Trout Unlimited has been dreaming about transforming this stretch of urban water.
The chapter sponsors the annual Carp Slam, a popular carp-fishing event on the South Platte that raises tens of thousands of dollars each year for restoration studies and projects on the South Platte. (It's no secret that most years, at least one trophy-size trout is caught during the competition.)
Last year, Denver Water and the Greenway Foundation stepped up to pledge more "environmental flows" for the river from an expanded Chatfield Reservoir, setting the stage for more natural flushing flows that should make it possible for wild trout to reproduce in this stretch of river. (Denver TU also took on the commitment of purchasing 10 acre feet of water for that pool.) The additional water also helps avoid lethal low-flow situations and provides the deeper, cooler holes that help trout survive warmer weather and water temperatures. Read more about the extra water here.
Two years ago, the chapter installed six hourly temperature sensors over this 26 miles of water using the "Trout Unlimited Stream Monitoring" program suggestions. The sensor data surprisingly showed the river maintaining temperatures conducive to trout survival, even during the heat of summer. While temps did spike during midday for a few hours, the trout survived by having access to stretches offering shade, deep pools and other trout-friendly habitat. Denver TU has created its own habitat structures along the river that also give trout a fighting chance. Take a look, for instance, at this LUNKER pipe that's being installed along the river and provides overhead cover to fish in areas that lack it: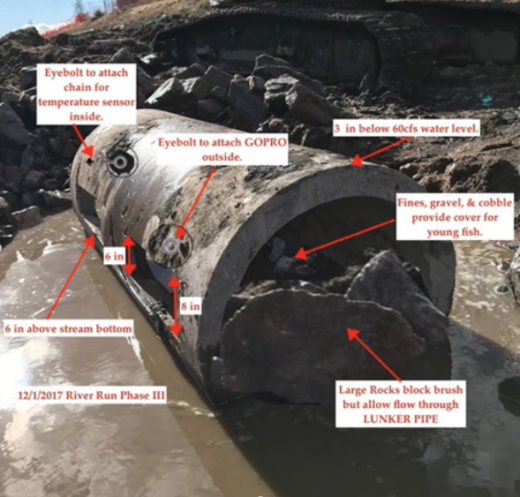 title="" typeof="foaf:Image" />
Here's what the structure looks like installed underwater:
on" />
The creative ideas are paying off. An urban trout water is being born.
"Denver Trout Unlimited is proud to have a role in transforming the perception of the Denver South Platte," says Scott Schreiber, president of DTU. "Future generations will look at the South Platte through Denver as a model of what an urban fishery can be. Today, seeing the Denver South Platte River crowded with anglers is a sign of this success—and a meaningful, exciting improvement."
"Combine the public enthusiasm through catch-and-release angling opportunity, with the data points we've gathered to support that trout can–and do–survive year-round, and you have a combo that is accelerating our goals as a chapter by years," said Reid Baker, vice president of DTU. "Layer over DTU's commitment to projects that increase the quantity and quality of the water that flows through the river, and the Denver South Platte is well on its way to becoming a self-sustaining urban cold water fishery.  It's an awesome time to get involved!"
DTU's vision isn't all about trout—a healthy river supports other species, too. "I call this a potluck stream," says DTU's Ronnie Crawford. "You never know what you're going to get.  I've hooked carp, brown trout, rainbow trout, smallmouth – all on the same fly and some on the same day."
He added, "It's right under everybody's nose, but they don't think about it. They don't know the grand array of fish that can be caught here."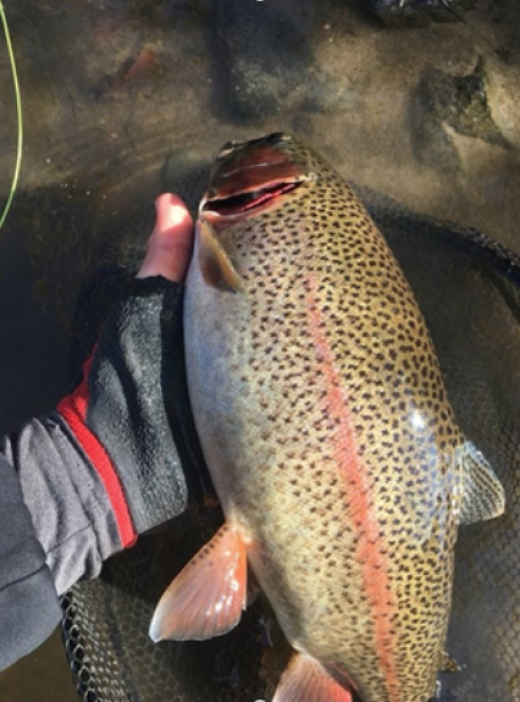 title="" typeof="foaf:Image" />
Imagine catching one of these beauties in downtown Denver. They're in there.
Turns out, city folks at the foot of the Rockies wanted a real river running through the heart of Denver—a clean, healthy river, where they can picnic and kayak and have the chance to catch a wild trout.
So go ahead—dream a river dream. Even in the heart of the city. As the Denver chapter is showing, with a little planning and hard work, dreams can come true.
Learn more about the South Platte River project.
Randy Scholfield is TU's director of communications for the Southwest.