Jerrad Goodell, an aquatic biologist with the Bureau of Land Management's Green River office, releases native Colorado River cutthroat trout into Range Creek with a formation known as Locomotive Rock in the background. Brett Prettyman/Trout Unlimited
By Brett Prettyman
The ancient rock art, ruins and even corn cobs – with corn still on them – left by the Fremont people who once called Range Creek home remain in the heart of Utah's remote Book Cliffs more than 800 years after they disappeared.
But Colorado River cutthroat trout, the native fish that once swam in Range Creek and likely provided a food source for the ancient people, have slowly disappeared from the 25-mile long tributary to the Green River over the past century.
The Fremont people mysteriously vanished from the harsh environment and will not return, but cutthroat trout – the only native sportfish of Utah — are once again a part of the landscape in Range Creek.
Land owners, state and federal fisheries biologists and Trout Unlimited staffers made the long and arduous journey into Range Creek earlier this year to release fingerling Colorado River cutthroat back into their native waters.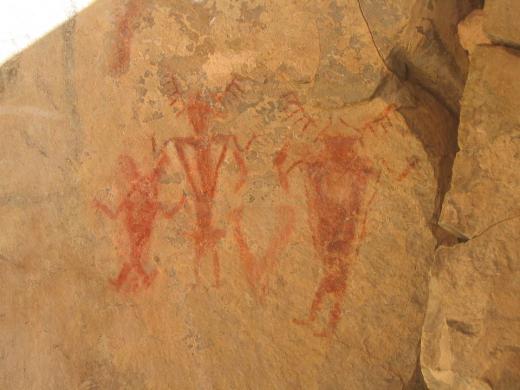 Rock art decorates the canyons walls of Range Creek Canyon. It was left by the Fremont People roughly 1,000 years ago. Jeanie Jensen/Tavaputs Ranch.
Jeanie Jensen spent a lot of time in Range Creek Canyon growing up as her family owned what is now open to the public. She returns often because the Jensens provide guided trips into Range Creek to point out ruins, rock art and other archeological wonders to people who stay at Tavaputs Ranch. She is looking forward to telling guests about the reintroduction of Colorado River cutthroat trout into the creek.
Higher up on Range Creek Blair Eastman of the Preston Nutter Ranch, owned by Hunt Oil, was excited to hear about the project when he was approached more than five years ago. Nonnative Yellowstone cutthroat trout and brown trout had found their way into Range Creek over the years and the project gave them the opportunity to get original species back in the drainage.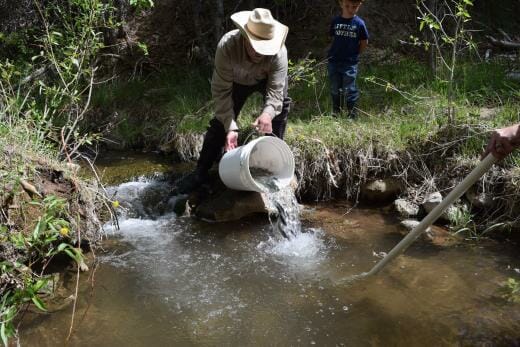 Calvin Black, a fisheries biologist with the Utah Division of Wildlife Resources, release native Colorado River cutthroat trout into Range Creek. Brett Prettyman/Trout Unlimited.
"Brown trout really took over. It sounded exciting to bring back something that was native and not here and probably had been several decades out of the picture," said Eastman, who manages the ranch.
Biologists from the Utah Division of Wildlife Resources, Bureau and Land Management and Trout Unlimited treated the entire stretch of Range Creek with rotenone to remove all fish from the system. Surveys after the treatment showed no fish had survived the treatment, but other important species like aquatic invertebrates were not impacted.
The first fish were released in May and spread out along the length of the creek including the archeological-rich portion of Range Creek now managed by the Natural History Museum of Utah through the University of Utah and open by permit to the public.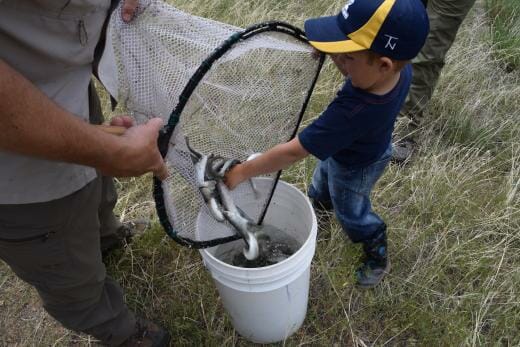 Jax Christensen, a 7th generation Jensen family member, helps state wildlife officials move Colorado River cutthroat trout into Range Creek. Brett Prettyman/Trout Unlimited.
Shannon Boomgarden, Range Creek Field School Director for the Natural History Museum of Utah, confirmed that just last summer fish bones showed up at an ancient Fremont site. It was the first time the delicate evidence had been found that Fremont people utilized fish as part of their diet.
"We have identified nearly 500 prehistoric archeological sites just in the lower portion of the canyon and we haven't even surveyed 10 percent of the entire canyon," Boomgarden said. "I always assumed they would have used any wildlife available as a food resource, but I never really thought about fish until those bones showed up."
The bones are still being tested in an effort to determine the exact species, but chances are cutthroat were on the Fremont menu.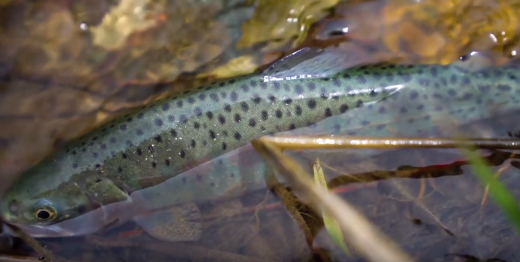 People who visit the portion of the creek open to the public will also get a chance to include trout in their diet.
"We want to see native trout back in their native habitat and this a great place to see it happen," said Jordan Nielson, a Trout Unlimited water and habitat project leader based in Utah. "This is remote enough that it won't get a lot of fishing pressure, but it is accessible, and people can come and use it as a cool fishing experience. Being able to restore the population and enjoy it gives people the motivation to try even harder to understand what this landscape is all about and what makes it special."
Everyone involved agrees the key to the success of the reintroduction was collaboration.
"This was a great opportunity to do a great project and it shows what can happen when multiple partners work together," said Jerrad Goodell, an aquatic biologist with the Bureau of Land Management's Green River office. "It is important for us to get healthy populations in as many places as we can, so these fish aren't subject to federal protection. Having native fish back in Range Creek just adds to the visitor experience having the same species that were here when the Fremont were; it is truly being able to step back in time."
Brett Prettyman is the Intermountain Communication Director for Trout Unlimited. He is based out of Salt Lake City.