The Steelhead Whisperer on the legendary Trinity River
By Sam Davidson
Knowing full well the inexorable influence of superstition on fishing success, I have no excuse for my gross negligence which weighed heavily on our recent experience on the Trinity River.
The warning signs were there, including this fine piece from TU's Eric Booten on the absolute necessity of observing proven pre-fishing ritual. But I heeded them not, and my flouting of bedrock fishing belief exerted its pernicious influence on three days of fishing, and on the results of my fellows in this venture.
Our foursome had arranged for lodging through VRBO at a small but comfortable ranch house near Douglas City. The plan was to prepare our own meals. The Steelhead Whisperer and I were tasked with determining the menu and acquiring the goods.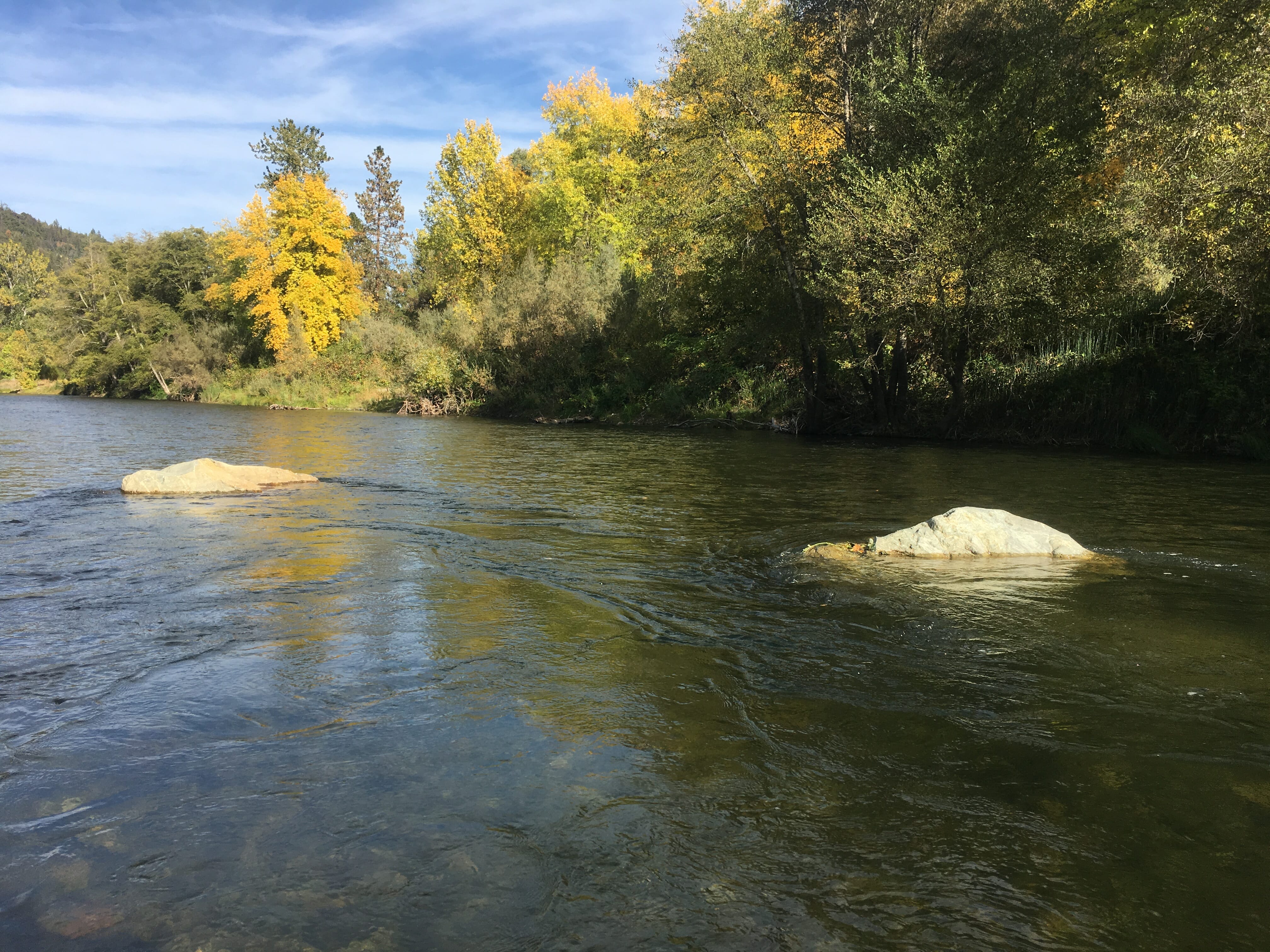 (L) Autumn glory on the Trinity River.
It was during the grocery-shopping stop in Redding that I committed the heinous act, which involved bananas.
I am a big fan of bananas. They're a quality source of energy, potassium, all kinds of dietary goodness. And it was in the Holiday Market that I bought a bunch of them.
But here's the rub: since time immemorial bananas have been the curse of fisherfolk everywhere. Even I, whose knowledge of maritime customs has derived largely from reading the novels of Patrick O'Brian, was aware of this rigid custom—no banana shall be brought on board, or consumed by any member of the crew, immediately preceding and all during the expedition.
The why of this is lost to time; some unassailable beliefs need no science to validate their truth. But there is no gainsaying the no-bananas rule while fishing.
Yet I, inexplicably, did. The Steelhead Whisperer raised his eyebrows as the fruity fingers wobbled their way through the checkout procedure and into one of our grocery bags, yet said nothing. Later, as I wrung my hands in anguish, he would say, "I thought you knew what you were doing."
If only that were true.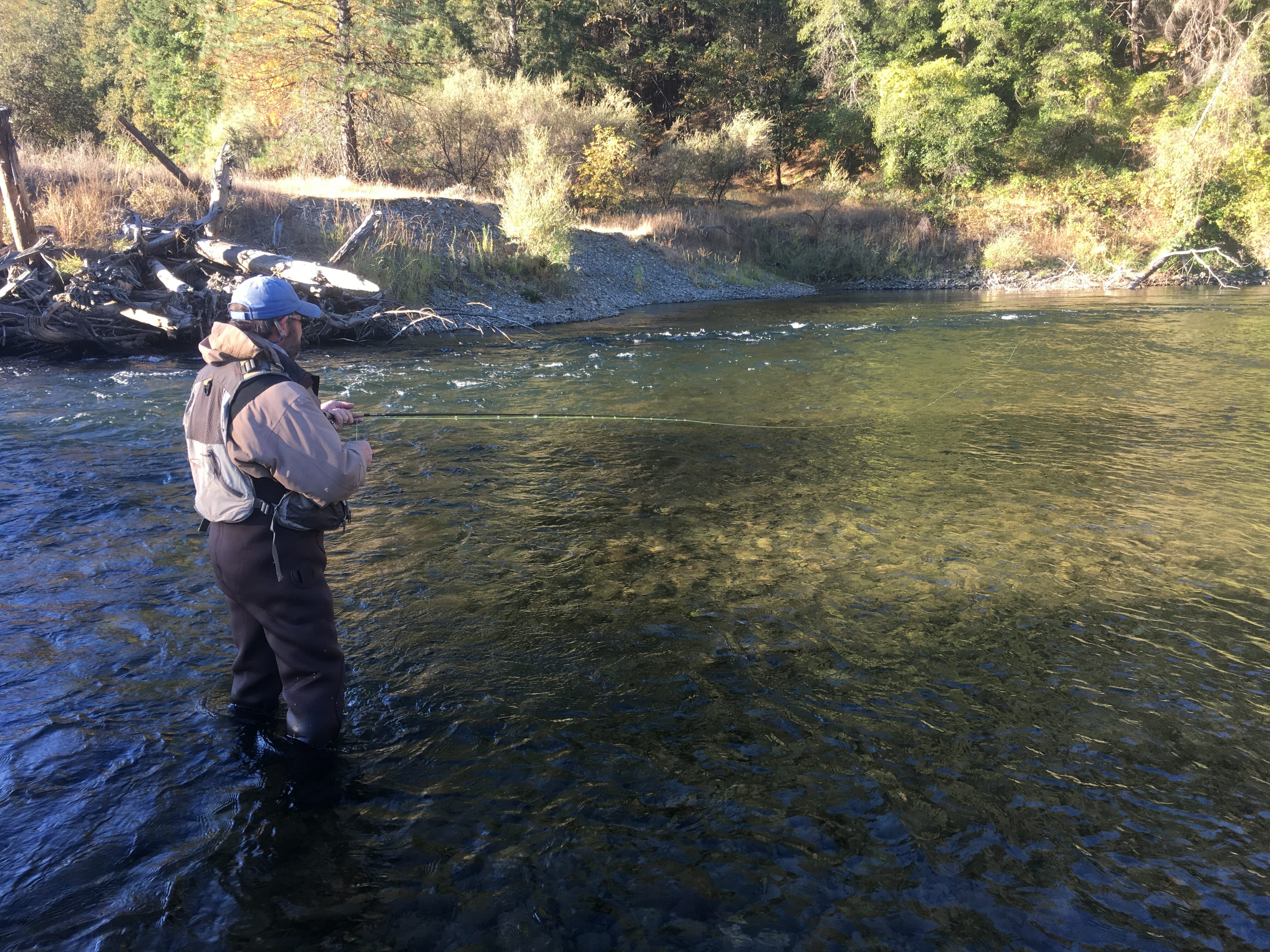 (R) The Steelhead Whisperer, where the first fish rolled.
The devastating effects of my not knowing what I was doing took little time to become manifest. As the Steelhead Whisperer and I took a few casts in the evening of the first day, a sizeable steelhead in a lovely riffle rolled on my partner's skated fly—but did not grab. And no amount of coaxing could induce the fish to react again.
The Steelhead Whisperer is renowned for his mystical ability to connect with sea-run O. mykiss. All he does is find fish, get them to take and bring them to hand. Later, he was kind enough not to bemoan his tough luck that first session. But it's ominous when the Steelhead Whisperer raises a fish and gets no hook-up. I had a sinking feeling that evil forces were at work and I had unleashed them.
The next day three of us worked hard over lovely spans of river, the Steelhead Whisperer with his beautiful, effortless casting and other members of our party (mainly, me) flogging the riffles and tailouts. The morning produced no grabs. At lunch we consulted the Zen Master of the Trinity, Herb Burton (owner of the Trinity Fly Shop), and went straightaway to his money run. Bugs of various sizes were coming off and fish vaulted from the water in our faces—and we got no love beyond an over-zealous trout or two.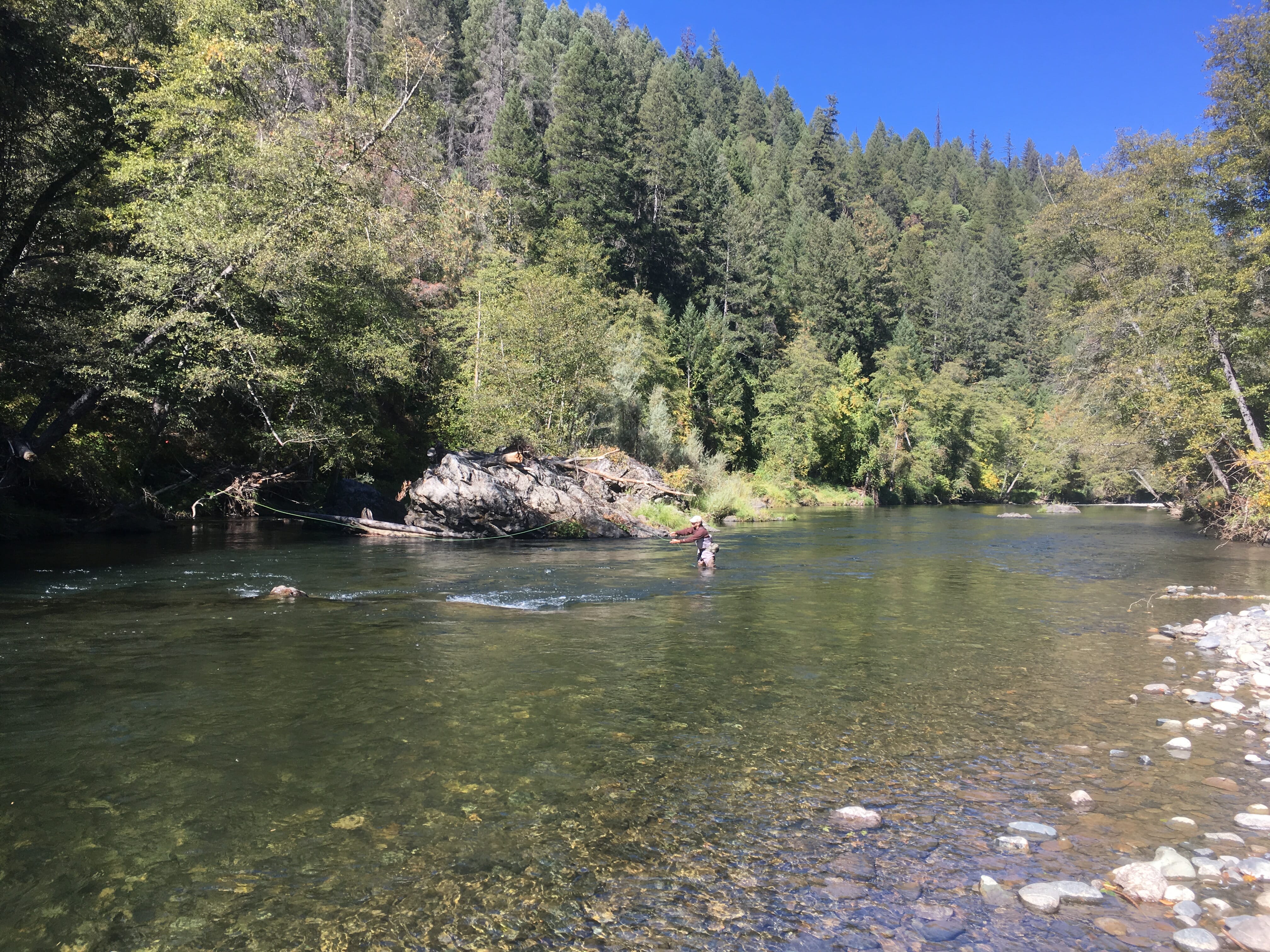 (L) MC on the Trinity.
It is almost unprecedented for the Steelhead Whisperer to get nary a hookup over two days of steelhead fishing. There could only be one cause for this cosmic shift.
The next day, now a full complement of four, we went downriver. It made sense to fish in two parties, so MC and BJ wadered up on a voluptuous curve of river where the Steelhead Whisperer "almost always" found fish. Of course, over a full day of working that reach they got no love.
The Steelhead Whisperer and I tried another go-to spot, where on a previous visit I famously turned off the video camera mere seconds before he hooked an impressive slab that tailwalked up the run. But the fell influence of the bananas presided, and we got nada.
Now desperate, we went to check one last spot. We got out of the car and gazed down from the bluff.
And there they were.
There were obvious salmon redds below us, and salmon defending and improving them—and long shadows of steelhead moving around, no doubt gorging on eggs.
A glorious riffle, bucket and tailout beckoned downstream of the redds. We settled into position, nerves jangling.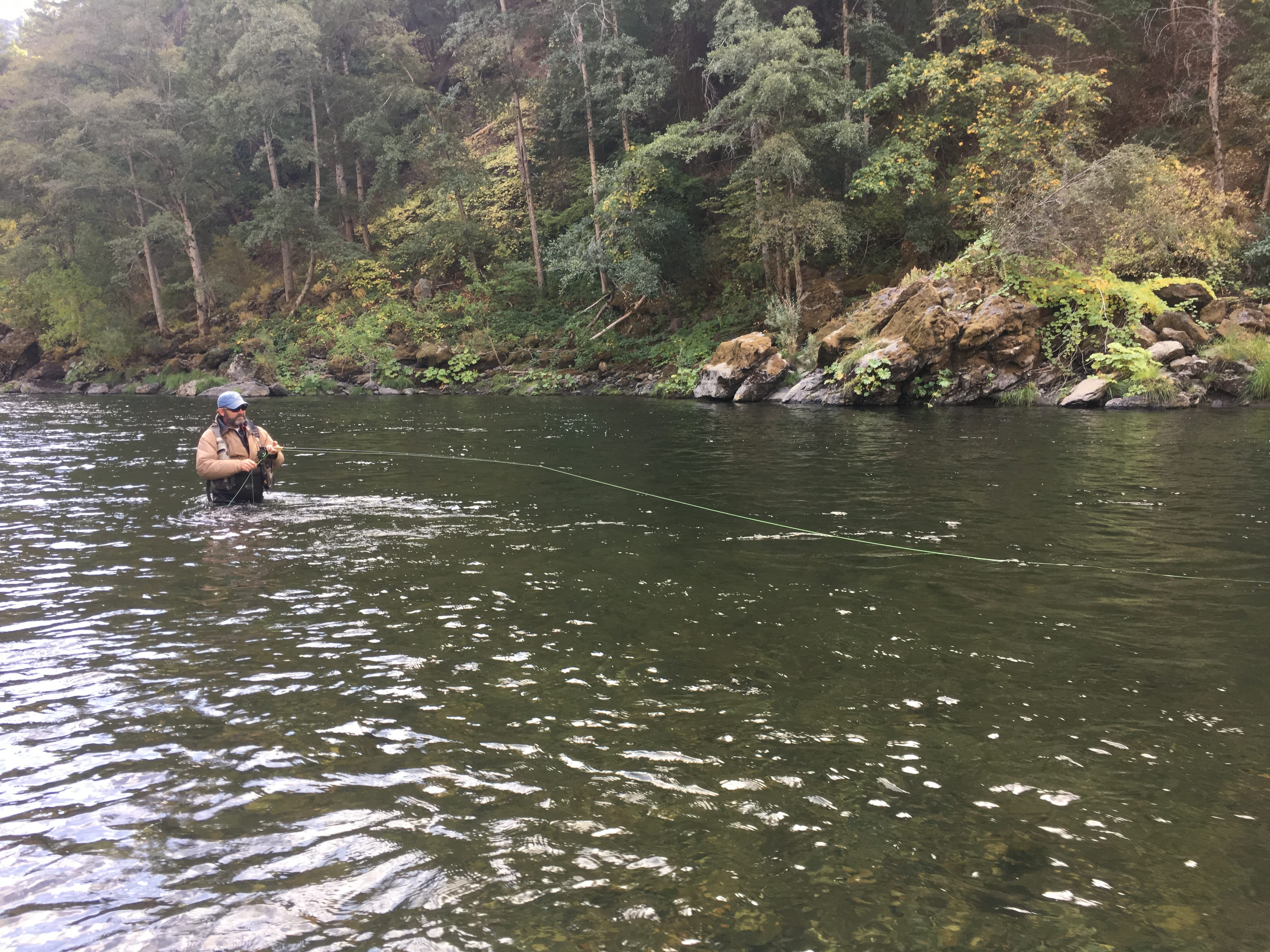 (R) The Steelhead Whisperer has been fishing the Trinity since he was little, and his prowess is evident.
It didn't take long for the Steelhead Whisperer to get bent. After some time he skillfully brought an exquisite wild, 8-pound hen to hand. It seemed the jinx of the bananas was off.
But then I hooked up. The first fish made a run or two and then sulked. Suddenly, for no apparent reason, it came unbuttoned. I cast again, and almost immediately hooked up with a large steelhead. It blasted all over the place. It was probably the biggest steelhead I had ever hooked in the Trinity, and I was playing it well. Perhaps five minutes went by, and it seemed I was making some headway with my 6-wt and 12-lb tippet.
Until my tippet, apparently exhausted, gave up the ghost. I staggered to the bank and sank to my knees. The voodoo of the bananas had not been dispelled.
That's when things really got bad.
Two other anglers appeared on the bluff above us, like emissaries of doom. Between me and the Steelhead Whisperer, there wasn't much room for anyone else to fish this spot. But that didn't deter the newcomers. They stormed down the bank, plunged into the short span of water between us, and began dredging with roe balls.
For the next hour, they hauled a dozen steelhead each, at least, out of that water, while the Steelhead Whisperer and I got no action.
Eventually, their biceps fatigued, they departed. One of them said to us, charitably, "Might want to use an egg pattern."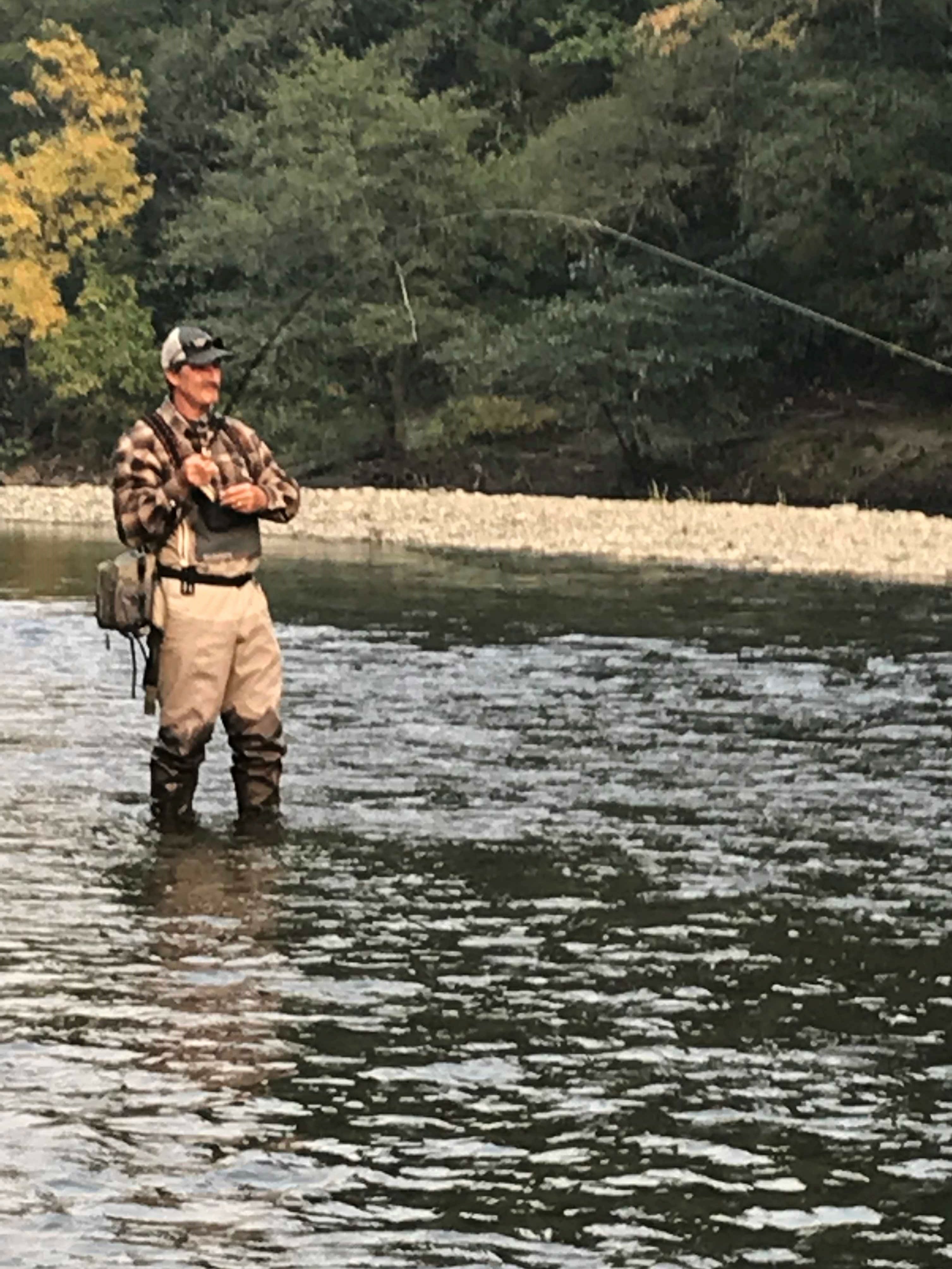 (L) Moments before the final indignity.
And then occurred the final indignity. I moved down next to the Steelhead Whisperer and ran a nymph rig through his swing water. On the second drift it was fish on.
A sturdy 6-lb steelhead mostly shook his head and mulishly refused to move. Given my experience with the previous fish, I went out of my way not to horse him around.
After some time he was tantalizingly close. But he made a final, lazy run and even with very light drag doink went the tippet.
The bananas had the last laugh. Of course the Steelhead Whisperer recorded the occasion on his camera phone. Then he said, consolingly, "That's why I use only Maxima."
Perhaps the final irony was that the bunch of bananas remained intact, nary a one consumed, for the entirety of the trip. My three mates avoided even a mention of them, much less looking at or touching them. For my part, I was too chagrined to eat them. It would have been the final slap to the face of the fishing gods.
So let this be a reminder to all who would coax the wily trout from his lie, or tempt the magnificent steelhead with a swung fly: prepare thee well—and avoid bananas like the Plague.
Sam Davidson is TU's Communications Director for California and Oregon. He has a one-sided love affair with the Trinity River.