By Eric Booton
Fall never fails to be one of my favorite times of the year. The change in colors livens up the scenery before the cold and darkness take hold. I find great satisfaction in tromping through the fallen leaves dusting the trail. The salmon fill the rivers with a feast of eggs and flesh, and the trout fishing is off the hook, or at least can be.
I have fond memories of a specific weekend last September. My fishing buddy, Sam, and I were both entertaining guests and had planned a fishing adventure in Alaska's Susitna Valley. Fall was in full swing and against all odds, the sun was out. The trip was off to a great start when Sam and I managed to both catch our biggest rainbow trout to date in the same evening. The next day we chartered a jet boat for a drop off on a remote tributary that was packed with spawning chum salmon and hungry trout. The doubles were endless and several triple hook ups were had. It was a banner day and weekend.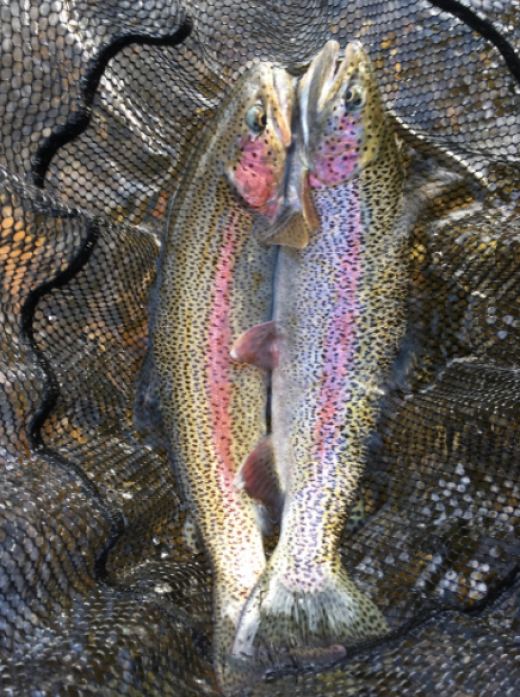 For an entire year I could hardly talk about fishing without recollecting those fishy memories that were made beneath Denali, basking in its glorious glow. The moment I got my 2017 calendar I skipped to September and blacked out a weekend in hopes of recreating our 2016 banner weekend.
The Fall Banner Weekend of 2017 didn't happen. Well it happened. But it wasn't a "banner" weekend. The 2017 Fall Banner Weekend attempt featured a cast of all new characters and though the outlook was grim from the get go, we weren't deterred. Intel from the jet boat operator was less than encouraging: tributaries were blown out and earlier attempts from the week had proven unsuccessful. Reports from the fly shop and friends in the area were consistent and dismal: high water and tough trout fishing.
In the end, not a single fish was caught. The weekend I eagerly counted down the days to was a bust. I'll admit, I was a bit heart broken, but fortunately the friends who joined me have different barometers for measuring a good day on the water other than the number of fish caught. We poked around some of my favorite fishing spots, walked several miles down the "yellow brick road" of golden birch tree leaves, and together we reveled in the beauty of autumn in Alaska.
My attempt at recreating such a memorable weekend served as a reminder that you cannot truly recreate a day on the water. The fateful banner days of fall 2016 will live on in infamy (to me at least). I cherish those memories and now I question if successfully recreating them would ultimately squander, cloud, or water down the original ones. The river is still flowing, fish are still swimming, and we'll be back next year in search of a banner day of our own.
Eric Booton is the sportsmen's outreach coordinator for TU's Alaska Program.