Some of the "new generation of conservationists," Bay Area Youth Fly Fishing event, May 19, 2018.
By Sam Davidson
I recently spent a day fishing for trout—a rewarding mix of small wild fish and 10- to 12-inch stockers—on an obscure tributary to the upper Salinas River that flows out of the Santa Lucia range on California's south-central coast.
There were plenty of folks out driving the scenic road that parallels this stream. Some stopped to walk around pullouts or the campground. A few took off their shoes and waded in the creek. They were of various ethnicities.
But there was only one other person fishing. He was like me, which is to say, like most other anglers I cross paths with: Caucasian and male.
I thought about this a couple of days later as I read a thought-provoking essay by Dan Ashe, former director of the U.S. Fish and Wildlife Service and a lifelong hunter and angler, on why the American conservation movement needs a big shot of diversity to stay relevant.
For decades anglers and hunters have been the backbone of American conservation, through our purchase of sporting licenses and tags, excise taxes we pay on our equipment, and support for bedrock conservation laws such as the Clean Water Act, the Migratory Bird Treaty Act, and the Lacey Act.
This makes sense. Hunters and anglers know better than anyone the fundamental relationship between good habitat and sporting opportunity—and the importance of conservation in restoring and sustaining that opportunity.
But as America has diversified, the ranks of sportsmen have remained pretty static: largely male, and white.
Ashe says the American conservation movement is withering on the vine, and that we need to diversify to become relevant once again.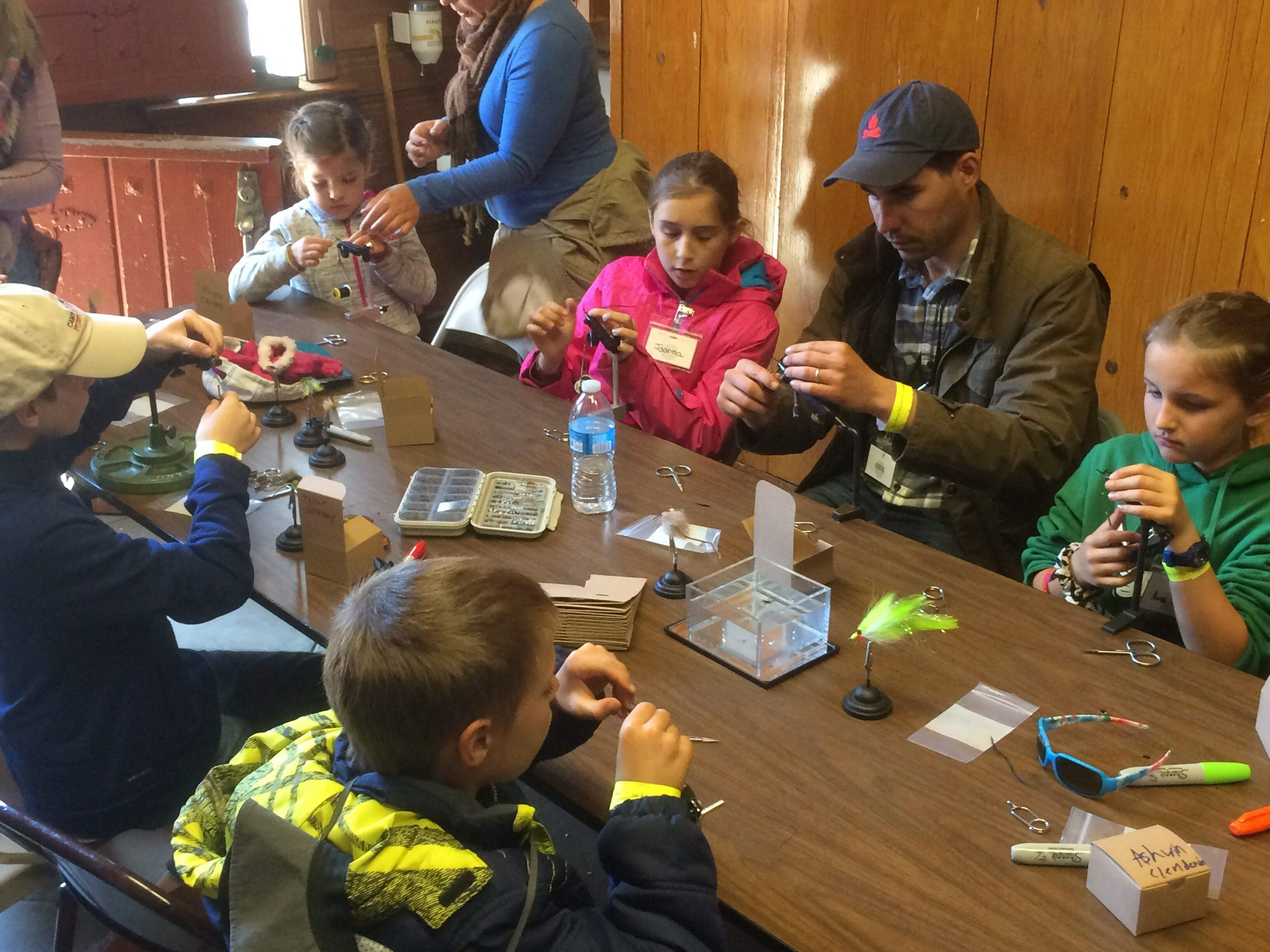 George Revel, owner of Lost Coast Outfitters, being relevant.
"There's a new generation of conservationists out there," he argues. "They're in cities; they're using iPhones and Androids; they don't hunt or fish; they've never spent a night outdoors; their skin is red or black or brown; English may be their second language. We have to find them. We have to inspire and recruit and retain them."
TU grassroots leaders around the country are taking this call to action seriously. Recent events in California highlight this effort.
The South Coast Chapter just concluded the second of three weekends of fishing instruction and outings for Hispanic youth and their parents on the Los Angeles River, courtesy of a grant from the George H. W. Bush Vamos a Pescar Education Fund.
In the Bay Area, TU's John Muir and North Bay chapters are part of a regional partnership called the Bay Area Youth Fly Fishers program. On May 19, this partnership hosted the inaugural Bay Area Youth Fly Fishing clinic at the venerable Golden Gate Angling and Casting Club (GGACC) in San Francisco. More than 40 young people participated—and there were equal numbers of girls and boys.
Three people, in particular, have been major catalysts in developing the Bay Area Youth Fly Fishing program: Frank Harris, TU member and current president of the Diablo Valley Fly Fishers; Chris Korich, American Casting Association Hall of Fame inductee and U.S. Fly Fishing Team Coach, and Willy George, president of the GGACC.
Tara Granke, coordinator of TU's Headwaters Program, and Ethan Rotman of the California Department of Fish and Wildlife, have provided valuable guidance on community outreach.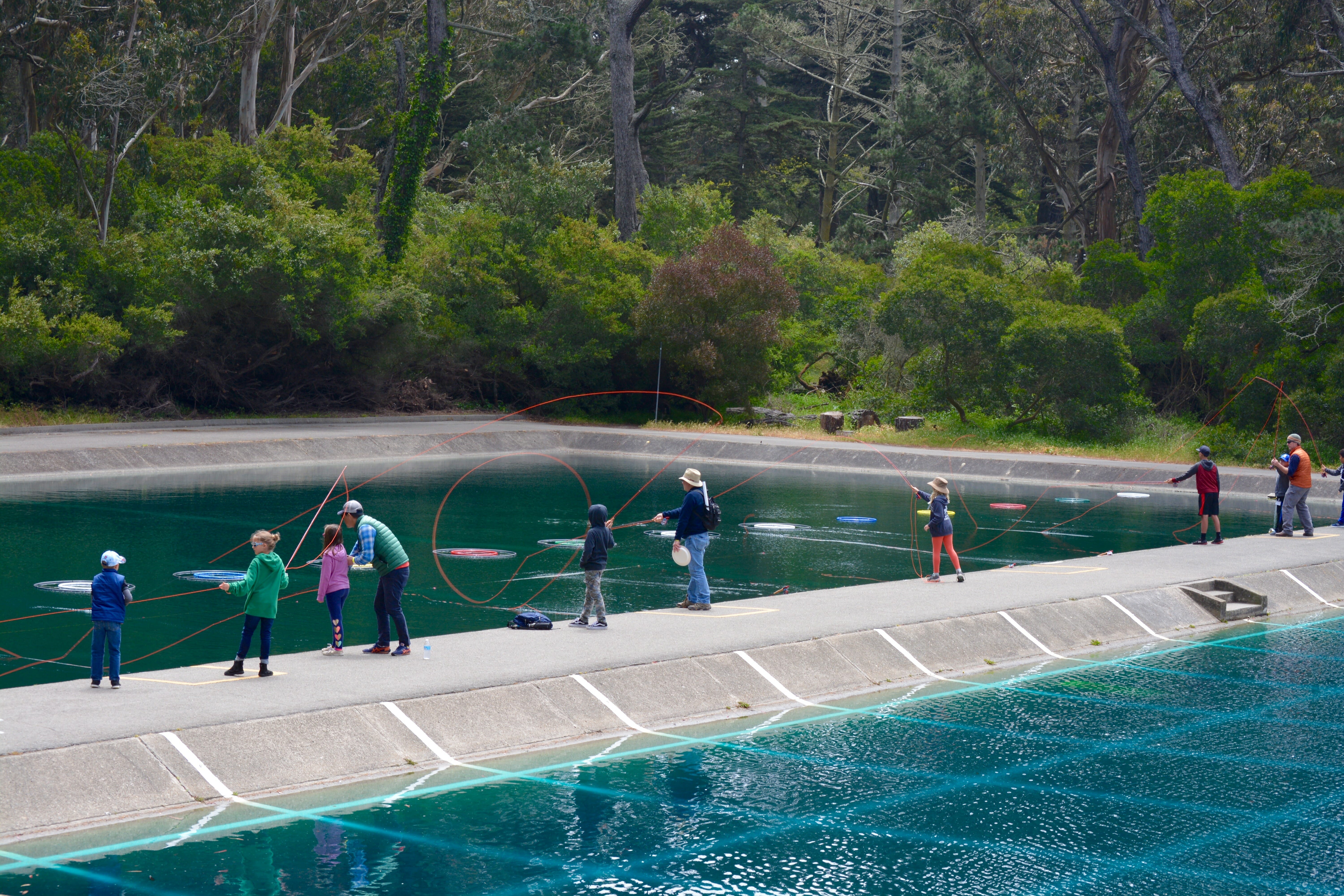 Primary partners in organizing the inaugural event included the two TU chapters, the Diablo Valley Fly Fishers, the Grizzly Peak Fly Fishers, the San Jose Flycasters, the Peninsula Fly Fishers, California Trout, the Oakland Casting Club, Lost Coast Outfitters, and the GGACC.
Dave Roche, a leader with both TU's John Muir Chapter and the Diablo Valley Fly Fishers, said, "This is a true team effort to build a sustainable on-going program with youth and family held events throughout the year among Bay Area fly fishing clubs, shops and conservation organizations. It requires an ongoing commitment to inclusion and creativity as well as partnering with diverse community groups that share our goal of introducing youth to the outdoors."
It's no secret that one of the challenges Trout Unlimited and other sportsmen's groups face today is becoming relevant to a broader swath of society. TU, through programs like our Headwaters Youth Education Initiative and through the outreach and education efforts of our volunteer-members, is tackling this challenge by betting that exposing people from all walks of life to fly fishing will not only stoke an interest in angling but also in the outdoors—and conservation—more broadly.
The bet may not pay off for some years. But if we want future generations of anglers to be able to fish for wild and native trout in their home watersheds in North America, we must double down on it. Through initiatives such as Vamos a Pescar and Bay Area Youth Fly Fishing, many TU chapters are already doing so.
Sam Davidson is TU's communications director for California and Oregon. Photos: Bay Area Youth Fly Fishing.