By Brett Prettyman
The reasons we fish are as numerous as bugs on the water during a Mother's Day caddis hatch.
Chances are the vast majority of us got started flinging flies, dunking worms or throwing hardware with the help of parents or grandparents – and, for those lucky ones, both.
Fishing isn't only important for creating memories and bonding families, it is the future of our favorite pastime and, ultimately, for conservation.
Setting the hook, so to speak, on a lifetime of fishing is often as easy as providing a wonderful first experience on the water.
Author Andrew Weiner and artist April Chu have produced a book that could help whet the appetite of youngsters you hope will share your love for fly fishing.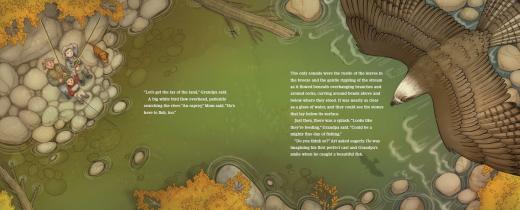 Down by the River, released this week by Abrams Books for $17.99, is a beautiful book documenting a day of fishing by a young boy named Art, his mother and his grandfather.
While walking to the river grandpa reflects on taking Art's mom to the same river when she was the same age.
After a day spotting wildlife, identifying bugs and, of course, catching fish, Art says "Grandpa, one day I'm going to tell my grandkids about fishing with you. I bet we'll be fishing right here, and it will be as nice as it is now".
Music to the ears of any grandparent.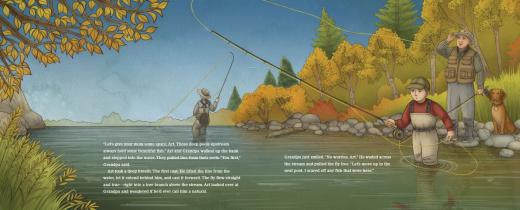 Chu provides a colorful collection of flies on the inside of the front and back covers of the book that will help kids learn to identify patterns for the trip that will be planned after reading Down by the River.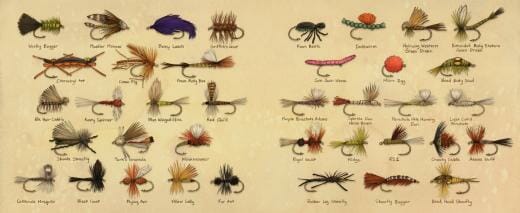 The book serves as a tribute to parents of both the author and illustrator but is also intended to get more families out on water.
"I wanted to share my love of the pastime with kids and their parents and grandparents, and to convey something about the beauty of fish, of rivers, of the environment, and to instill a little bit of that passion in a new generation of kids who could become anglers themselves," said Weiner, a long-time Trout Unlimited member. "I think exposing kids to fishing, and fly fishing in particular, is critical to the future of the sport, of fisheries, and to the environment. If I can get a few more kids excited, I'll feel I've achieved something good."
We at TU couldn't agree more.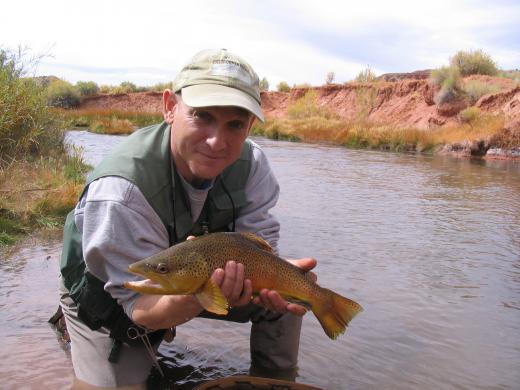 Down by the River author Andy Weiner with a brown trout landed on a river in southern Utah. Courtesy photo.
Brett Prettyman works as Trout Unlimited's Intermountain Communications Director and serves as the communications lead on the Headwaters Youth Program. He lives in Salt Lake City.