"Thank you No. 3. See you next time," I whispered to the warm cabin as I closed the door of one of my favorite public-use cabins in Southcentral Alaska and turned to soak in the view from the deck with my wife and two dogs.
It's my trusty routine to thank the public resource that kept me cozy all night while waiting for daybreak to explore some of North America's finest public lands. The cool air came with a shock as it infiltrated my lungs and the cloud of condensed vapor upon my exhale was a welcome reminder of the powder days to come. I looked up and noted the clear skies—no rain would fall on this autumn day.
My eyes settled on the familiar lake, but a quick scan yielded no surface action, which was a good thing since we already know where the fish should be. We set out on the familiar perimeter trail, dogs in the lead, flushing countless unsuspecting grouse filling their gizzards with grit as the sun's rays crested the horizon.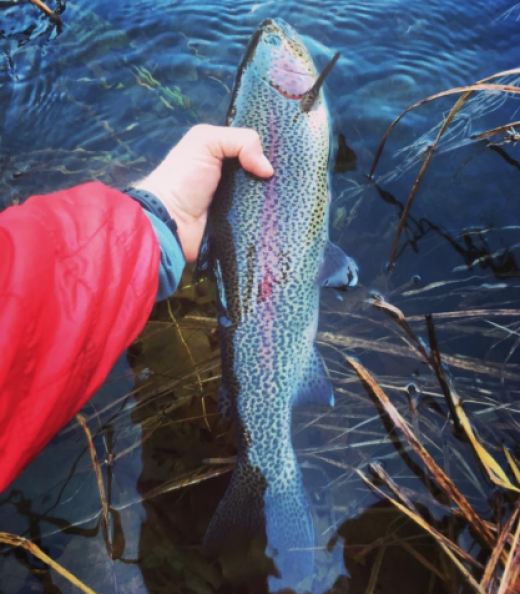 It's an enjoyable walk to the outflow of the lake. Moose are frequently spotted. River otters entertain us with their playfulness. And in October waterfowl routinely come in for a landing, putting their migration on pause, honking and quacking to break the mountain silence. I have been drawn to the tundra swans since my first close up encounter with them. It's exhilarating to feel the storm of a tundra swan as it flaps its wings for lift-off only feet above your head. And it can be equally as terrifying if unsuspected (just ask my friend Sam).
The wild rainbow trout we found in this system are something else. Their colors are rich and their spots abundant. They are happy, healthy and keep us coming back routinely. I have a photo from our first trip to Cabin No. 3 of my wife smiling and holding a true lunker of a trout that I routinely look back on. This outing has been no different; our efforts are quickly rewarded with the acrobatic explosion of wild trout, and within an hour's time we had already determined we will be booking this cabin again 12 months from now.
As an American and an Alaskan resident, I am fortunate to benefit from the over 200 public use cabins that dot the state and federal public lands of the Last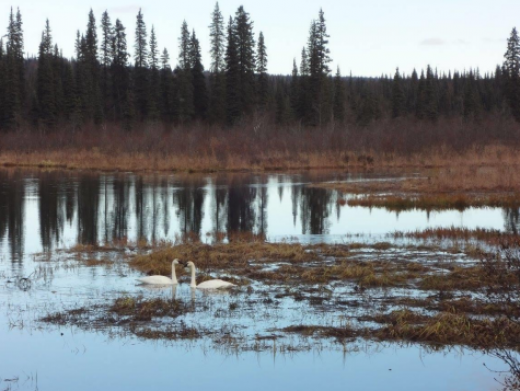 Frontier. I've always dreamed of owning a cabin, and one day I still hope to. But in the meantime, I know I am part owner to vacation homes throughout the finest fishing country of the North. From the steelhead streams of the rainforest, to the trout streams draining the mountains and the arctic grayling creeks crisscrossing the tundra and beyond, the opportunities for outdoor recreation are near overwhelming. It's like a timeshare that's compatible with the troutbum lifestyle and without the undue sales pitch.
Even with so many options to choose from, we still have a favorite. Nestled in Denali State Park, touting views of North America's tallest mountain, in the headwaters of one the nation's mightiest salmon rivers, built on the shores of a large and undeveloped lake, this cabin rests quietly, awaiting its next "owner."
I can't quantify it in terms of money, but only in valued memories. Its value is measured fun adventures and entertaining nights with friends and family, day dreams of new species.
And, of course, stories of big fish.
Eric Booton is the sportsmen's outreach coordinator for TU's Alaska Program. He lives and works in Anchorage.