The Steelhead Whisperer and his daughter with a jewel from the Big Sur River.
By Sam Davidson
On Martin Luther King Day three men and a diminutive young lady went fishing on California's Big Sur River—a tiny but fierce watershed on the central coast with a bona fide steelhead run—and the smallest member of the party caught the biggest fish.
The three men, all members of TU's Steinbeck Country Chapter, couldn't have been happier.
The Big Sur River is a distillation of everything that makes the Big Sur Coast special. Scenic views reward you for moving from one segment of braided stream to another under a bower of sycamores, maples and willow. The water runs so clear between the extravagance of winter storms that a "stealthy approach" while fishing is a pipe dream. The ghost of Henry Miller critiques your casting and handling of energetic native trout.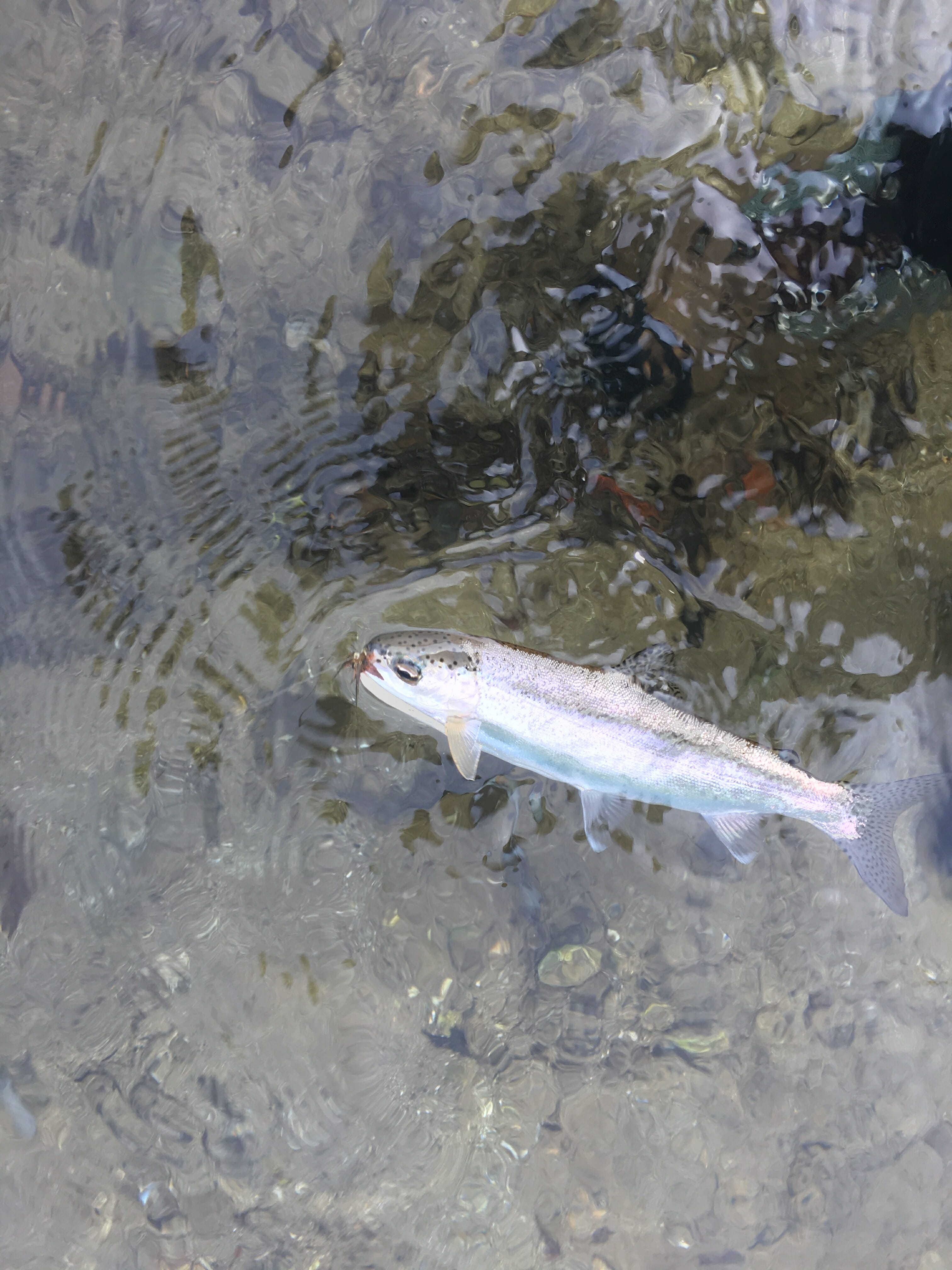 (R) The object of our affection. Big Sur River, CA.
The aforementioned young lady is the Steelhead Whisperer's twelve-year old daughter, Cassie. With her day-glo pink fly rod she has coaxed trout from Yellowstone creeks and Sierra stillwaters. But fishing coastal rivermouths is a different animal. Good thing her father is an old hand at the art and science of fishing estuaries for steelhead.
You have to be mindful of the tidal influence in these waters. I arrived at peak high tide. The estuary was full, and you had to be careful while wading not to step in a furrow or get stuck in pockets of quicksand-like muck. By the time the Steelhead Whisperer and his daughter arrived, at mid-tide, these concerns were negligible.
The ebbing tide augmented the light current in the lower river where it caressed the north bank. From a rocky headland where the Big Sur spills into the sea for a hundred yards inland, you could swing, drift or strip flies along this bank under the imperious gaze of the mountain known as Pico Blanco. And we did, with fairly consistent action.
I watched the father-daughter duo between my own casts. The Steelhead Whisperer is one of the most driven anglers imaginable. He puts the core in hard core. He gets on his target water at dawn and, aside from a few short breaks to nibble crackers, cheese and maybe a tin of smoked oysters, he is as fixed a part of the stream channel as a 3-ton chunk of redwood root ball. He casts like a metronome and doesn't suffer interruptions gladly. Some capable anglers easily blend assistance for their fellows into their day on the water, but if you are fishing with the Steelhead Whisperer you are fishing—not asking for, or receiving, instruction.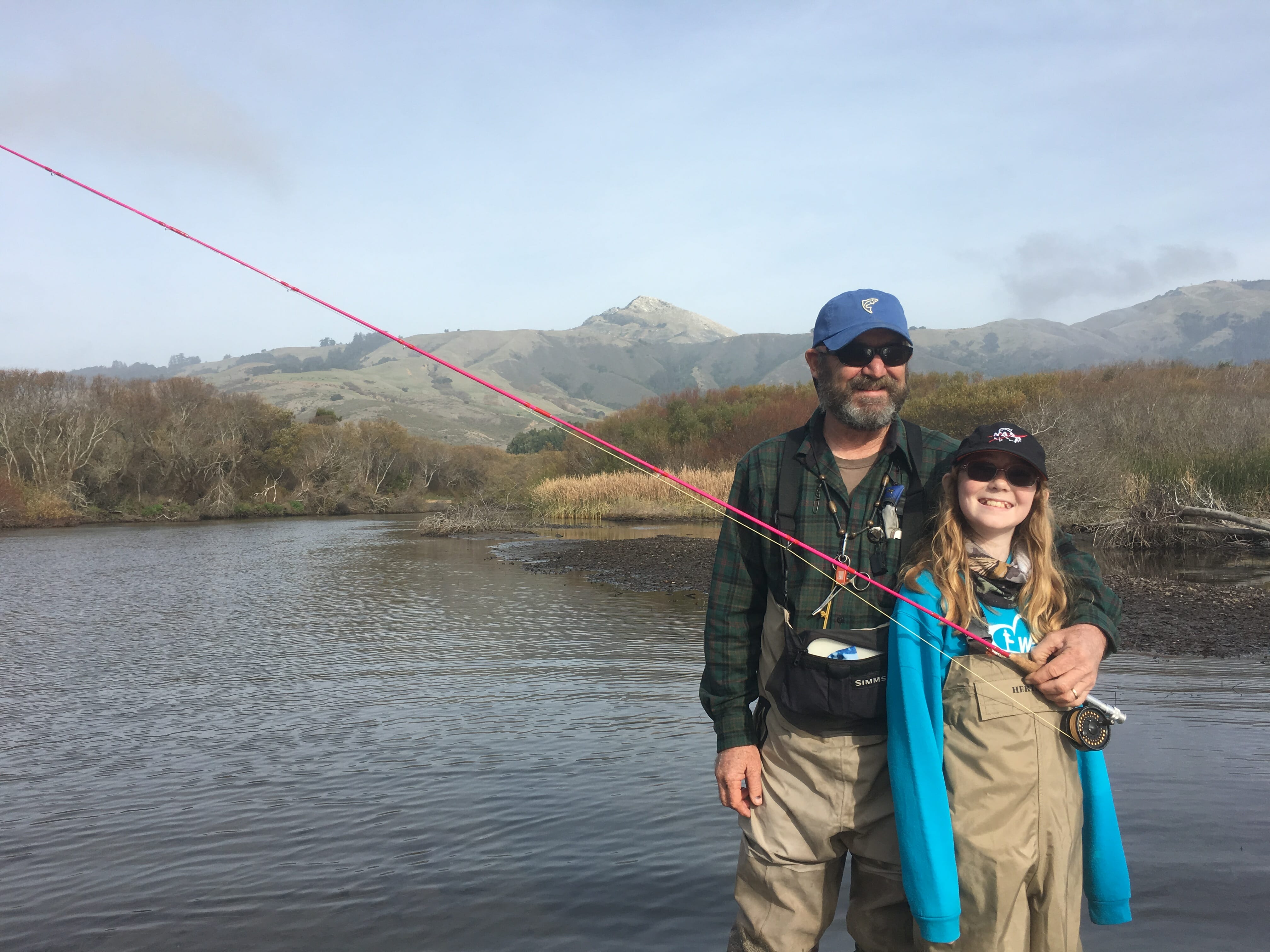 Did I mention that he also lands steelhead on a swung fly at a rate that would be the envy of most bead or bait devotees?
The Whisperer is a devoted father so it was not a surprise to see him standing at Cassie's side in the water, foregoing a rod of his own to help his daughter fish. It's a small sacrifice, really. But then again…there are only so many fishing hours in any lifetime, and they are precious beyond measure.
As it is for so many of us, Cassie's casting with a fly rod is a work in progress. Frequently she would hand the rod to her father to launch yet another perfect cast of a small streamer within inches of the bank, then take the rod herself for the retrieve. It was a very productive partnership. Time and again she brought an exquisite O. mykiss to hand, mostly in the 8-12" class.
But a real whoop rang out as she made one of her own casts into a savory run, then hooked, and landed, the Fish of the Day. It was silvery and solid and perhaps 15"—it could have been one of those early-return steelhead known as half-pounders.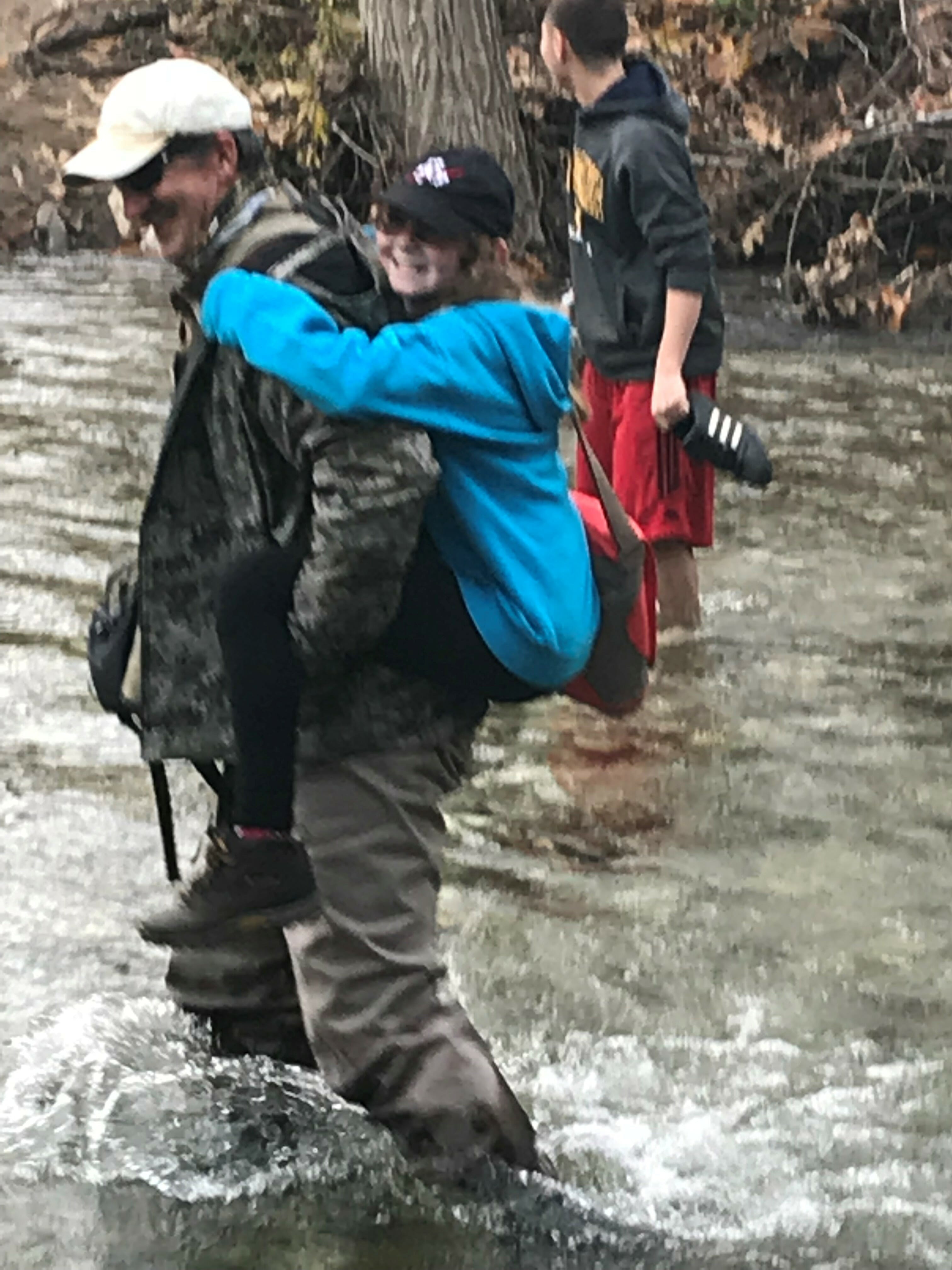 (R) Catching the Fish of the Day earned Cassie this portage across the river on the way back to the car.
The fourth member of our party, a man with decades of dedication to local conservation causes and fly clubs, an avid surfer and all-around waterman, helped Cassie release the fish. He had been catching fish all morning but the smile on his face now eclipsed all his previous expressions of satisfaction.
There is no simple explanation for the fact that fishing is, for some, the most important thing. But rarely does this type of focused passion, smoldering over the course of one's life like fire in Pennsylvania coal seams, emerge spontaneously. Almost always it is nurtured by someone. In my case, it was two men: my grandfather on my mother's side, and the manager of a cattle ranch in central Idaho, who taught me how to use a fly rod (sometimes with corn or cheese instead of a fly) on the Wood River.
Who knows if Cassie will become one of those anglers for whom the hours spent on prosaic life requirements will be but tedium on the way to her next foray into the suck and swirl of a stream. Will she one day look back and, like her father, reckon her time on the water with a rod in hand in years, rather than hours? Certainly she can live a fulfilling life without much, if any, fishing. But for this day, anyway, she was as core as her father.
Sam Davidson is TU's Communications Director for California and Oregon. He lives and works on the central coast of California, near the river he grew up fishing.