A Bear River cutthroat landed at Bear Lake in Utah. Courtesy Paul Thompson/Utah DWR.
By Brett Prettyman
As a kid my boundaries were marked by street names.
Pinehill Drive. Arrowhead Lane. Vine Street. State Street.
The borders eventually expanded to counties, forests, states and countries.
While driving over a mountain pass recently I realized at the summit I was leaving a drainage basin where Bonneville cutthroat are the native wild sport fish and dropping into another where Colorado River cutthroat are the native trout.
The long overdue realization made me laugh out loud. It had happened – I had become a cutthroat geek.
Bonneville. Colorado River. Yellowstone. Bear River.
I no longer try to visualize the shapes of states when I see the outline of North America – I see the major drainages of the continent and immediately try to match images of fish species in my head with the proper river basins.
As a native of the West, I always start with cutthroat and then spread out to include other species like bull trout, rainbow trout, golden trout, lake trout and brook trout, among others.
Eventually, the image in my head is filled with an awesome display of rivers and fish. Sometimes I can even see the trout working to hold in the current.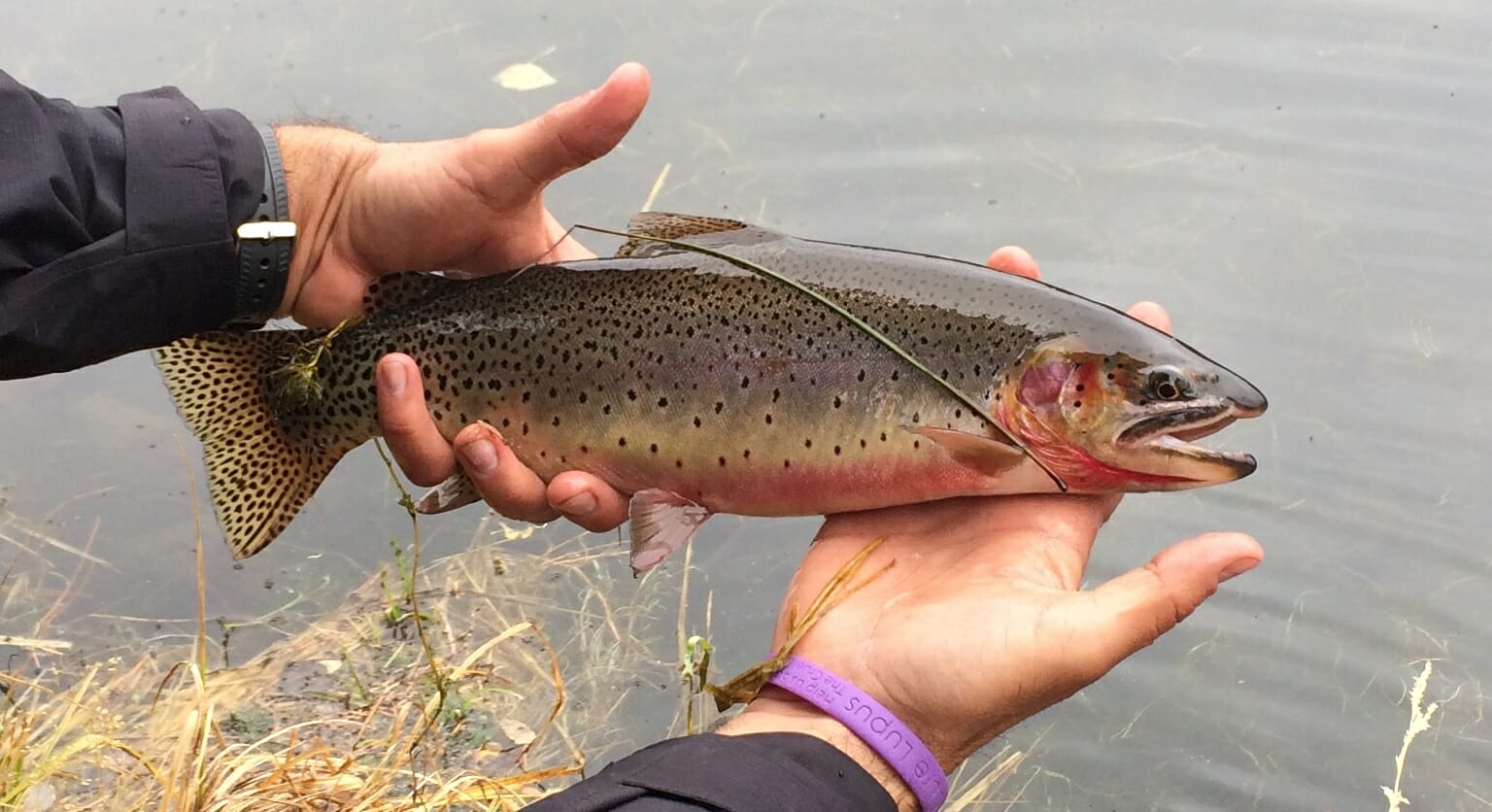 A Colorado River cutthroat trout caught on historic range on Utah's Boulder Mountain. Brett Prettyman photo.
While my fascination for trout, specifically cutthroat, started around the age of 8, my work with Trout Unlimited has certainly heightened my passion, knowledge and interest.
In Utah, Trout Unlimited recently joined forces with the Utah Division of Wildlife Resources to create the Utah Cutthroat Slam. Borrowing a format established more than 20 years ago by Wyoming Game and Fish, anglers in Utah work to catch four native cutthroat lines (Bonneville, Colorado River, Yellowstone and Bear River) in their historic ranges.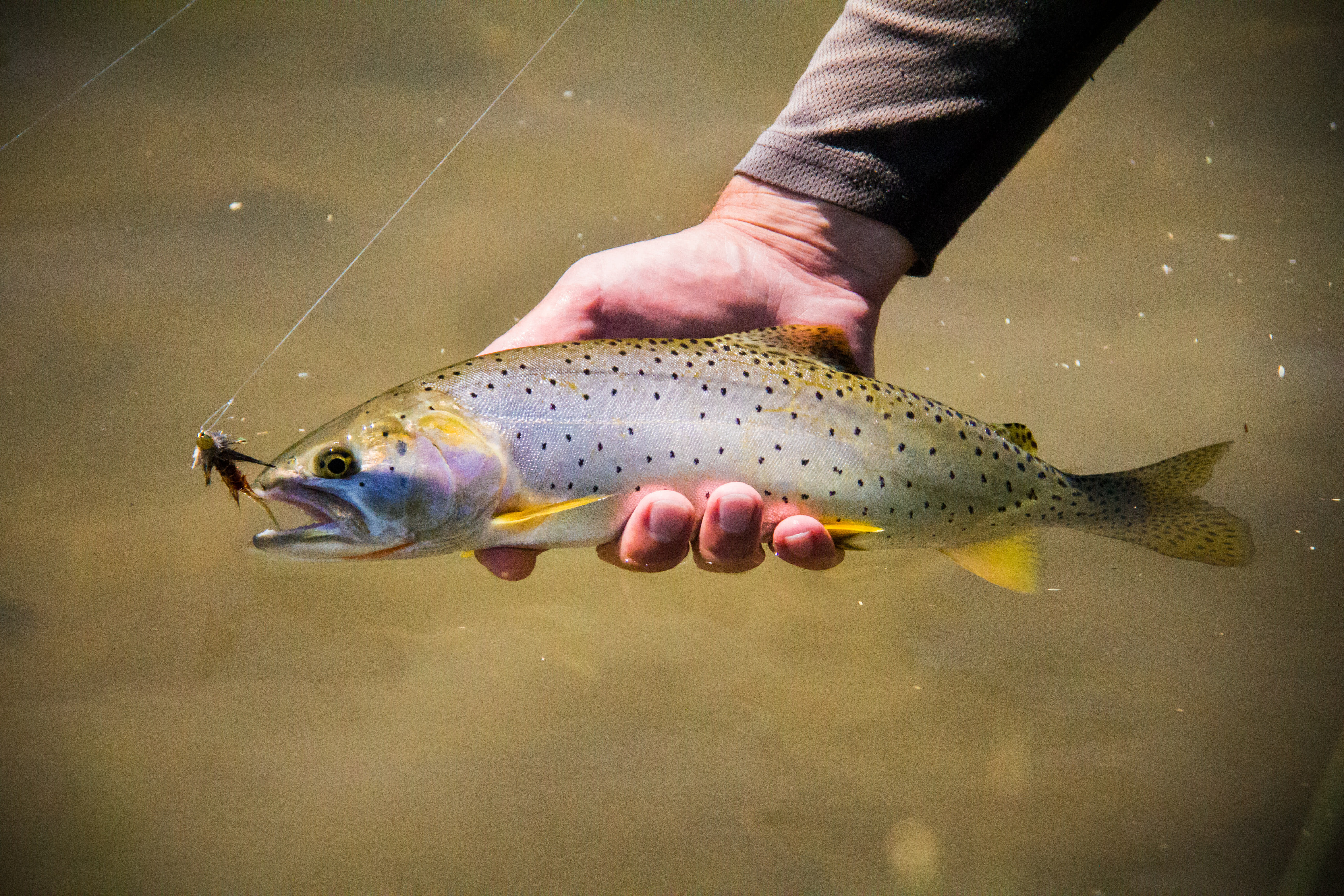 A Bonnevile cutthroat trout, the state fish of Utah. Paul ThompsonUtah DWR.
Anglers pay $20 to register and are given a certificate and a medallion once state fisheries biologists confirm the four varieties through submitted pictures. There is no time constraint or limit on the number of times an angler completes the Slam. Money raised from the program is dedicated for native cutthroat conservation projects.
Working on the Slam has honed my cutthroat geography skills not only in Utah, but surrounding states as well.

A Yellowstone cutthroat trout caught on historic range in northwestern Utah. Courtesy Utah Cutthroat Slam.
The educational value of the Slam is evident about once a month when someone emails and wants to know what cutthroat species they can claim for a fish caught in certain place. It both pains and pleases me to tell them in some cases they can't count the fish because it was not caught in historic range. Anglers are typically good with hearing they need to catch a fish in a different drainage for it to count in the Slam.
A more recent Trout Unlimited program is increasing my knowledge of native trout across the country. TU, in partnership with U.S. Forest Service, Costa Sunglasses, Simms Fishing Products, Fishpond and Post Fly Box, is sending five college students on an epic conservation highlight tour this summer. The Native Odyssey was created by Andrew Loffredo, coordinator of the TU Costa 5 Rivers Outreach Program. The students have already started their road trip to catch 18 trout species in 10 states.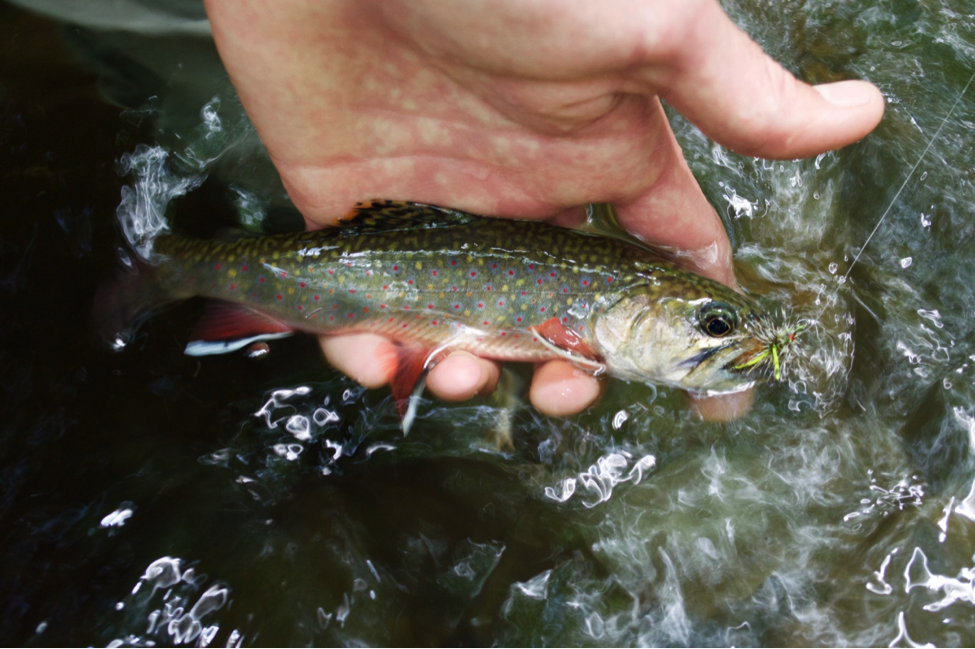 The first native trout crossed off of the list by the Native Odyssey team was the Southern Appalchian brook trout. Courtesy Native Odyssey team.
Following the path of native discovery through the eyes of these students is both educational and inspirational. Keep up with them at each stop through TU's social media and blogs.
There remains a lot for me to learn about our native fish species. It is a journey I expect to last the rest of my life.
Brett Prettyman is Trout Unlimited's communications director for the Intermountain Region. As of this writing he still has one species to catch to complete his Utah Cutthroat Slam. He can be reached at bprettyman@tu.org