We hopped out of the canoe at the head of a big rapid. Truthfully, we could probably have made it through, but our Ojibwe guides Keith and Joe didn't want to take any chances, and possibly put a damper on an otherwise perfect day on the water.
We were floating and fishing a little no-name river between a pair of no-name lakes in northwest Ontario. The fishing was unreal. Big, fat native brook trout hit skated dry flies at just about every opportunity. We'd fish a likely run for a bit, hop in the canoes and then slide down to the next run, where the next pod of unbelievably big brook trout waited for us.
Wash. Rinse. Repeat.
But, occasionally, we'd have to portage while the guides pushed the boats through rapids that might be a bit bothersome. We'd hop out of the canoes and jump on the adjacent bear trail that paralleled the river for a short hike—usually no more than a quarter of a mile or so.
But … it was warm. It was muggy. And, of course, we were all geared up in rain jackets, hats, sunglasses, long pants. After a quick bushwhack, we'd start to sweat a little and emit a bit of heat.
That's when they came. They'd show up out of nowhere like a squadron of Messerschmitts suddenly appearing over London. One second, you're in the free. The next, they're buzzing around your face, biting you through your fishing pants. They'd crawl up inside the hood of your rain jacket that you'd pulled tight to keep the little bastards out.
They'd buzz around your ears, making you dance and dart. Imagine four anglers waiting for a canoe ride at the end of a portage, jumping around and swatting themselves in some twisted Northwoods version of the Funky Chicken.
These Canadian mosquitoes were ruthless.
"There must be 50 of them on your back," my fishing buddy Mark Taylor said to me as we got in the boat at the end of an amazing day of fishing.
"Well, for the love God, get them off!"
By then, I'd lost my Zen when it came to the bugs. I'd done pretty well all day, accepting that these little creeps out to suck me dry were part of the price you pay when you're casting to six-pound brookies (No. I'm not kidding). They were part of the wilderness experience.
It can't always be like Disneyland, you know.
But by the end of the day, with the last quarter-mile portage to a skiff parked at the lake lying before us, I'd had it. I'd cinched my rain jacket tight. I had donned sun gloves on a cloudy day. My entire being smelled like DEET. And I was still being dined upon. Heavily.
"Mosquitoes in these numbers are insurmountable. They tug at the loose strings of your soul, slowly draining you of your ability to reason. They are tiny, evil little dementors, and I was giving over to them. They were winning."
So when we got in the skiff and Keith started up the motor, I was giddy with what I would assumed would be relief—once we started cruising across the lake on the way back to the lodge, the blood-sucking little devils would be left behind, bloated and Thanksgiving-full.
That's when Mark remarked on the swarm that had attached itself to my back. Every itch, every little wind-blown arm-hair felt like a mosquito touching down. Every vibration. Every touch—real or imagined—was greeted with a slap and an expletive.
I had reached my breaking point.
Mosquitoes in these numbers are insurmountable. They tug at the loose strings of your soul, slowly draining you of your ability to reason. They are tiny, evil little dementors, and I was giving over to them. They were winning.
Thankfully, we got back to the Wilderness North lodge at Lake Miminiska without needing an IV, and, as is the case with most epic fishing trips, we forgot about the bugs and spent most of the evening shaking our heads at the quality of the fishing. We'd all landed brookies in excess of four pounds, and Mark and I each netted fish in the five- to six-pound range. We were wide-eyed with disbelief.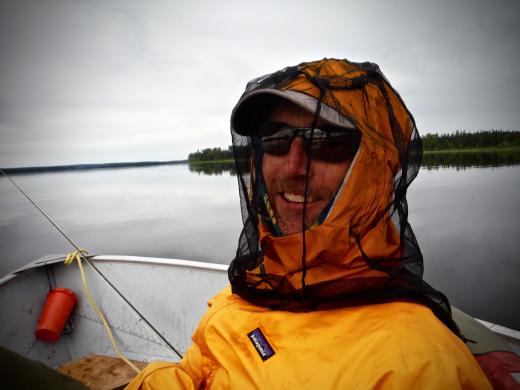 Mark Taylor with the solution to the mosquito problem.
Or we were too drained of blood to think straight.
As we climbed back into the boats to face the bugs again for a round of evening pike and walleye fishing, it was probably the latter.
But, as if a prayer had been answered, we got some help. As I stood in the bow of the boat casting to pike and spraying a cloud of Cutter's around my head, I noticed that we weren't alone. I dropped the bug spray and watched in awe.
A big dragonfly had shown up, and it busied itself around the boat, gulping mosquitoes down like a right guard at the steak buffet. It flitted and danced in the twilight, making a noticeable dent in the mosquito swarm that we'd attracted.
Soon, it had worked its way through the bugs and, as if to thank me for being such a fantastic bug attractor, it hovered before my eyes, bloated and satisfied.
"No," I said. "Thank you."
And the shredded tatters of my soul thanked it, too.
Chris Hunt is the national editorial director for Trout Media. He lives and works in Idaho Falls, Idaho.