By Eric Booton
It's called Dolly Alley for a reason and we NEVER skip it. You're not guaranteed to hook up, there are no guarantees in fishing, but if we are headed to the Kenai, you can guarantee that we are stopping at Dolly Alley.
Among the rivers and streams that we frequent as anglers, we all know this hole. You probably have one or more of your own exactly like it.
A hole you have fished so much that you feel comfortable saying you know it. A select spot that when you daydream about the river it's the first stretch of water your imagination runs to. A pool so powerful in your eyes that it demands your attention so that other stretches of water go overlooked. A piece of water so ingrained in your routine that the day's plans might get thrown to the wind for "one last cast."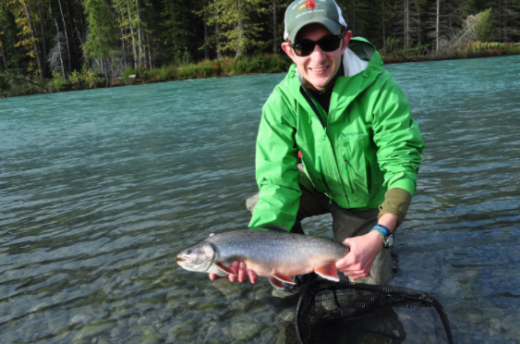 alt="" title="" />
It all started one chilly fall day, and I wasn't even there to witness it. I am only intimately familiar with the fishy tale. I heard the story circled around the campfire and got the photo evidence to back it up. My friend Sam caught what can only be described as one piggy of a Dolly Varden and saved a day that was off to an unfortunately wet start. Thus, Dolly Alley was born.
Cold and rainy fall days, soaked to the bone. Days so windy that the drift boat is being skipped around the river like an air hockey puck. Beautiful, warm summer days when the sun seemingly never sets and there is no reason not to spend every minute of daylight on the water. Dolly Alley is a hole for every occasion.
It's a "fishy spot" and your odds are pretty strong. I can feel Sam's excitement as the run comes into view, and with only one other boat in sight, it looks like we will be spending the foreseeable future at Dolly Alley chasing memories and maybe a new campfire tale…either way, I double check my fly and grab the net from the boat; always be prepared.