Moments before the fateful spill, East Carson River.
By Sam Davidson
The defining moment of a recent road trip to fish some of the fabled streams along the east side of the Sierra came mere seconds after I snapped a photo o
f TMP getting a good drift through a sweet reach of the East Carson River.
That's when she turned in calf-deep water to wade back to shore, lost her balance among the slippery cobbles, and fell awkwardly.
Anyone who's done much wade fishing has had a similar experience. One moment you're fine and upright, and the next moment you're not.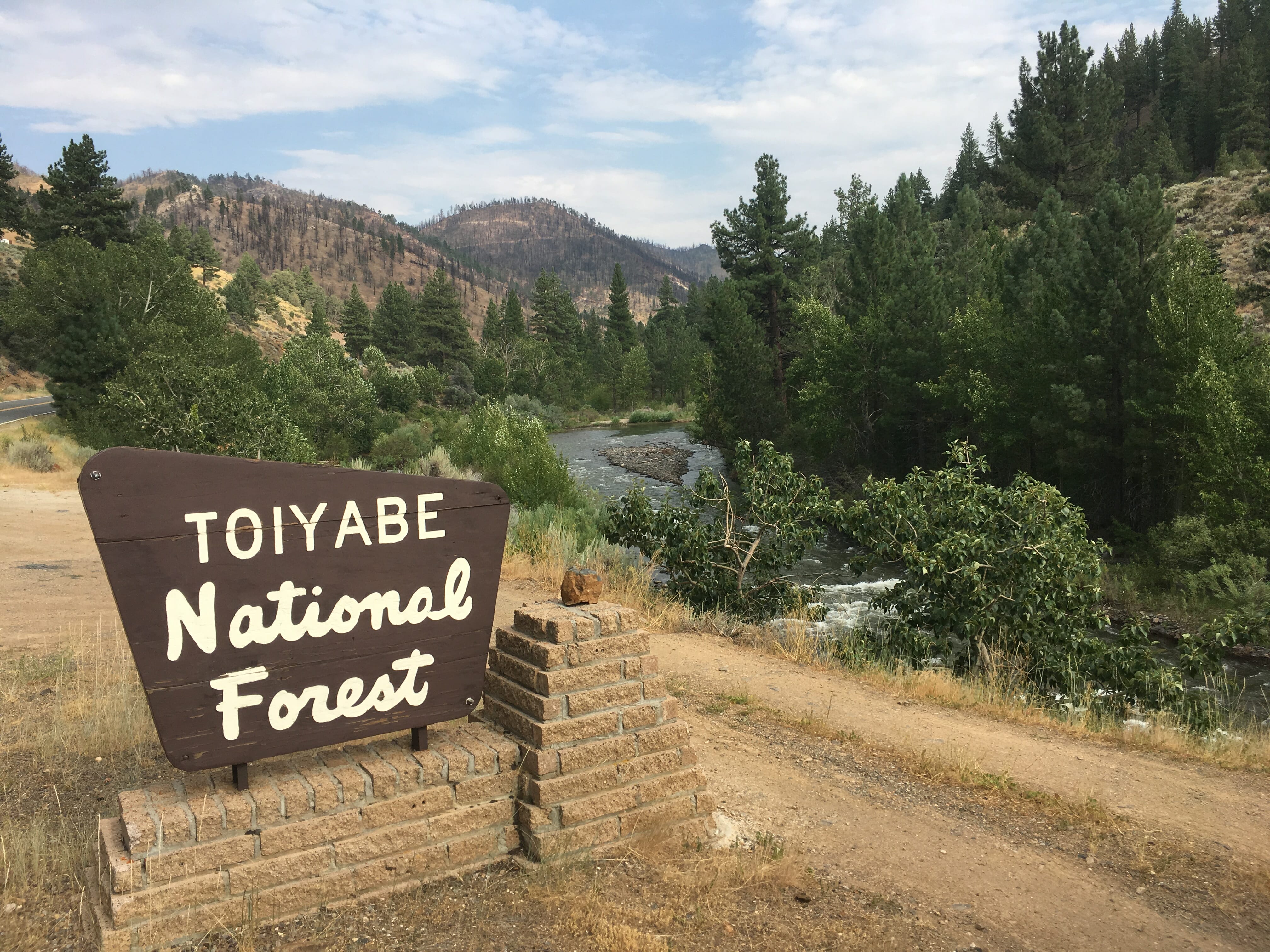 Another blue ribbon eastern Sierra trout stream.
My wife's pirouette and submersion seemed to happen in slow motion. I was just far enough away that I couldn't help her steady herself.
Somehow she went all the way under. She came up spluttering. And bleeding.
Her lead fly, a size 12 Prince nymph, was stuck in the tip of her thumb. No worries, I thought. Always de-barb my flies, and likely the source of the blood.
The fly popped right out, but the bleeding didn't stop. I turned her hand over. A deep slash clove the fleshy outer part of her palm.
How the heck did that happen? I said, trying to be comforting, "Oh, this doesn't look too bad. Must've sliced yourself on a rock." But what I was thinking was that one of her flies had gotten ripped across her hand during the fall. That explanation seemed more stomach-turning so I didn't share it with her.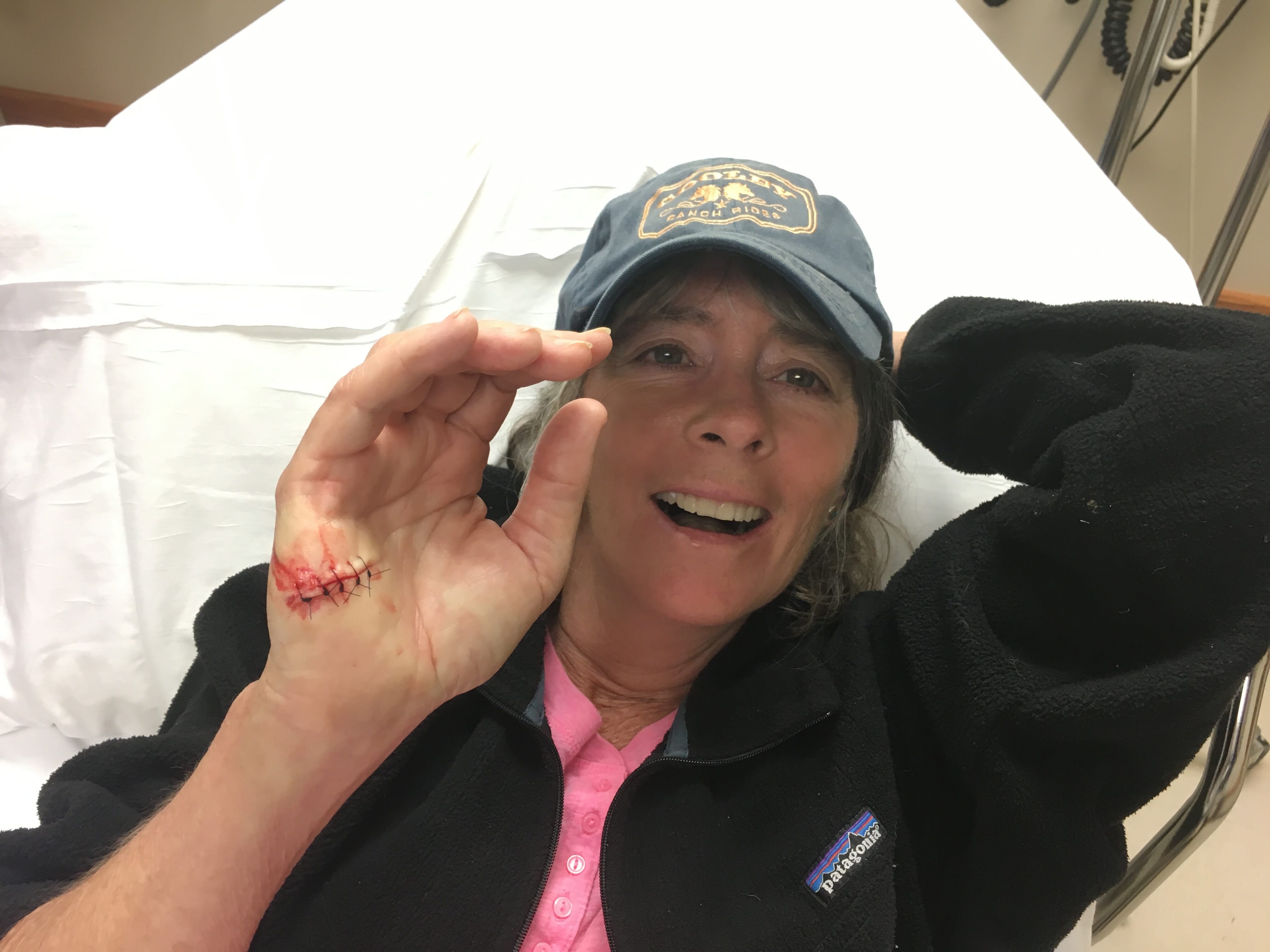 TMP demonstrates the hazards of trout fishing.
I wrapped the wound with my buff and we got out of the water and back up the steep bank to the truck without further incident. I doused the gash with hydrogen peroxide and bandaged it. But I have been around enough outdoor adventure-caused injuries to know when additional treatment is required.
So over TMP's protestations, off to the Carson Valley Medical Center's ER we went.
It was a Friday night, but we beat the inevitable deluge of drunks and rowdies that begins, we were told, around midnight. So our wait to be treated was minimal. No fewer than five different staff attended to us. I learned that the latest best practice for field treatment of open but superficial wounds is to flush with plain water (distilled). A young boy cried in one of the other treatment rooms, and we could hear the ER doc consulting with at least two other patients over their heart conditions.
After only 90 minutes or so, we were released. TMP got five stitches of monofilament out of the bargain.
I then asked the critical question, on which all else hinged: did TMP feel like she could still fish? She nodded confidently. So back to the campsite we went.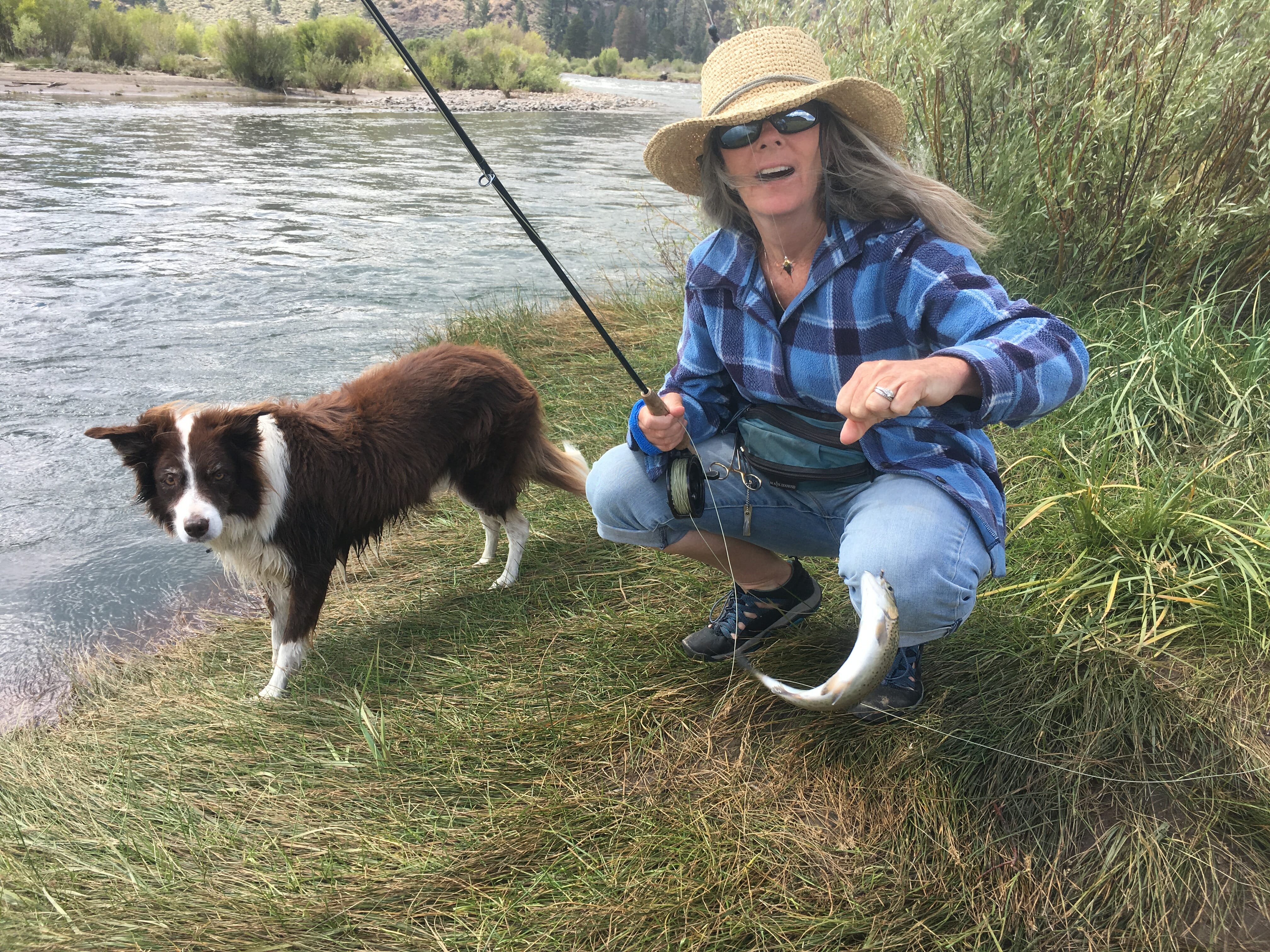 Like virtually all of my outdoor adventures over the years, this one took place on public lands. Our campsite was a relatively flat space between fragrant ponderosa pines atop a bluff leaning into the upper East Carson. It's the kind of front-country camping I love. No tables, barbecues, or campground "hosts." In my youth I slept in the dirt, in a tent, or in the back of my pickup. Nowadays, thanks to TMP's advanced sensibilities, we sleep in the "Taj Mahal"—a Lance camper.
Did I mention that such undeveloped camping is free on most national forest and BLM lands?
We got after it again in the morning. TMP's hand was sore but a dose of Naprosyn mostly kept her comfortable. We went straight to the river reach where we had gotten into some nice trout the previous morning. It was obvious TMP intended to keep me in my place by again hoisting the biggest fish of the day.
Alas, we got one desultory grab between the two of us. We tried two other spots, with worse results. So we headed down the road, for the West Walker River.
I didn't expect conditions there to be much better. Streamflows were still high everywhere, thanks to the record snowpack deposited on the Sierra last winter—after five straight years of record low snowpacks. All of my favorite slots, buckets and tailouts in the East Carson had been different, hardly wadable. There were big eddies everywhere. Usually fishable seams were now a setting for the strike indicator or hopper-dropper rig to uncork a series of hip-hop dance moves, cued by no fish, ultimately to lounge in slack water at your feet.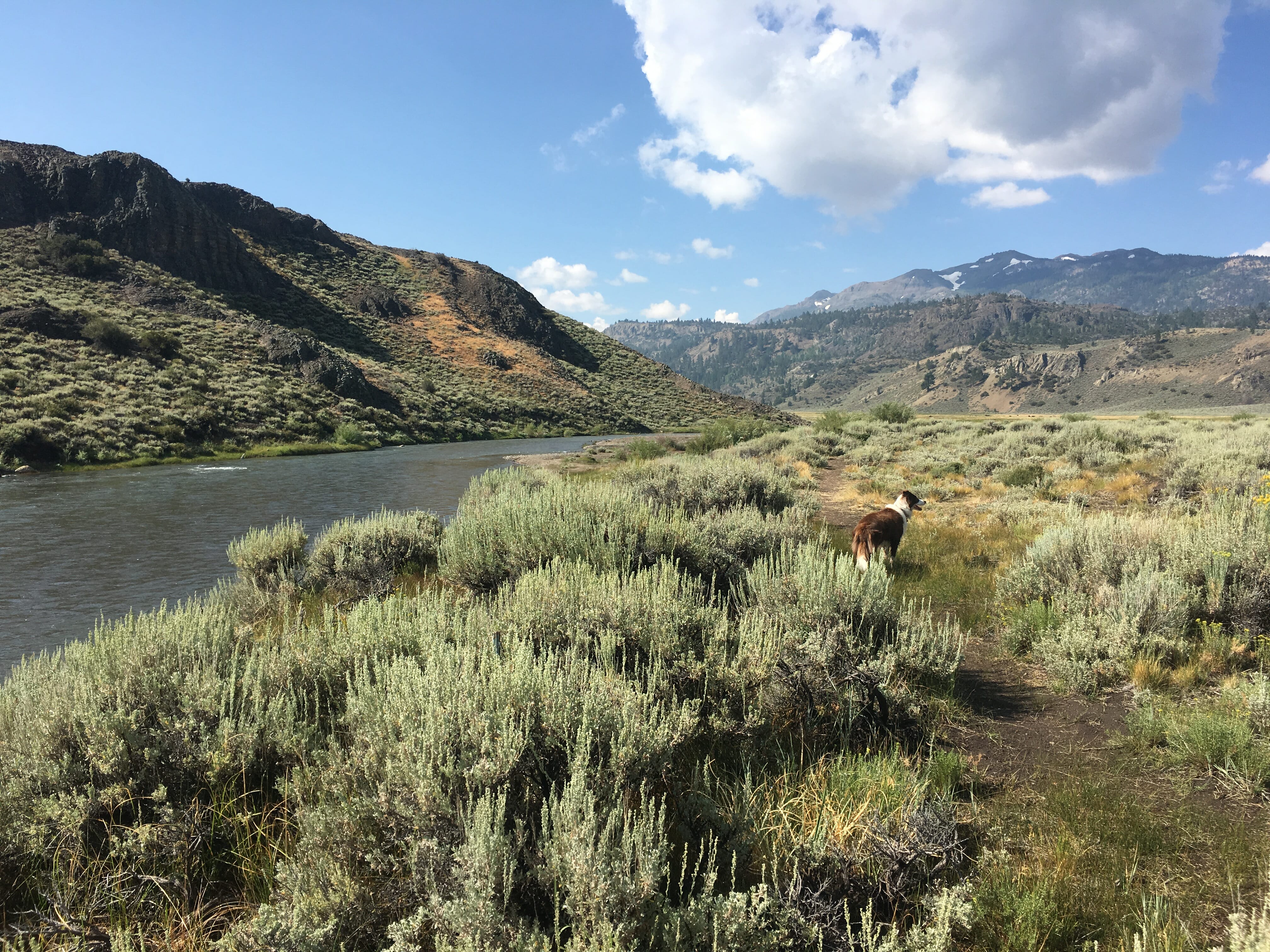 We found more of the same on the West Walker, at several spots upstream of its confluence with the Little Walker. Easy, free access, high water, a few stocker rainbows with that peculiar burnished sheen the current triploid fish exhibit. And big boils where, at flows more normal for this time of year, you would find productive trout lies.
Kurt Vonnegut said it better than anyone: so it goes. Eddies take your flies who-knows-where. You don't always end up where you intended. Sometimes life twirls your leader into a rat's nest.
That's the thing about fishing—or any outdoor adventure, for that matter. The outcome is uncertain. You could be a hero or a clown. You could land the fish of a lifetime or take an unwonted plunge in the river and proudly wear a scar from it for the rest of your life. One this is certain, though—you will never conclude such outings without having found the real treasure.
TMP and I wrapped up the six-day roadie with only a handful of trout to hand. It didn't matter. We got blasted by a glorious summer thunderstorm and felt the forty-degree temperature swing crawl up our arms. We camped where we felt like stopping and paid no fee to do so. We watched nighthawks careening around in the twilight and the Marine Corps train in V-22 Ospreys during the day.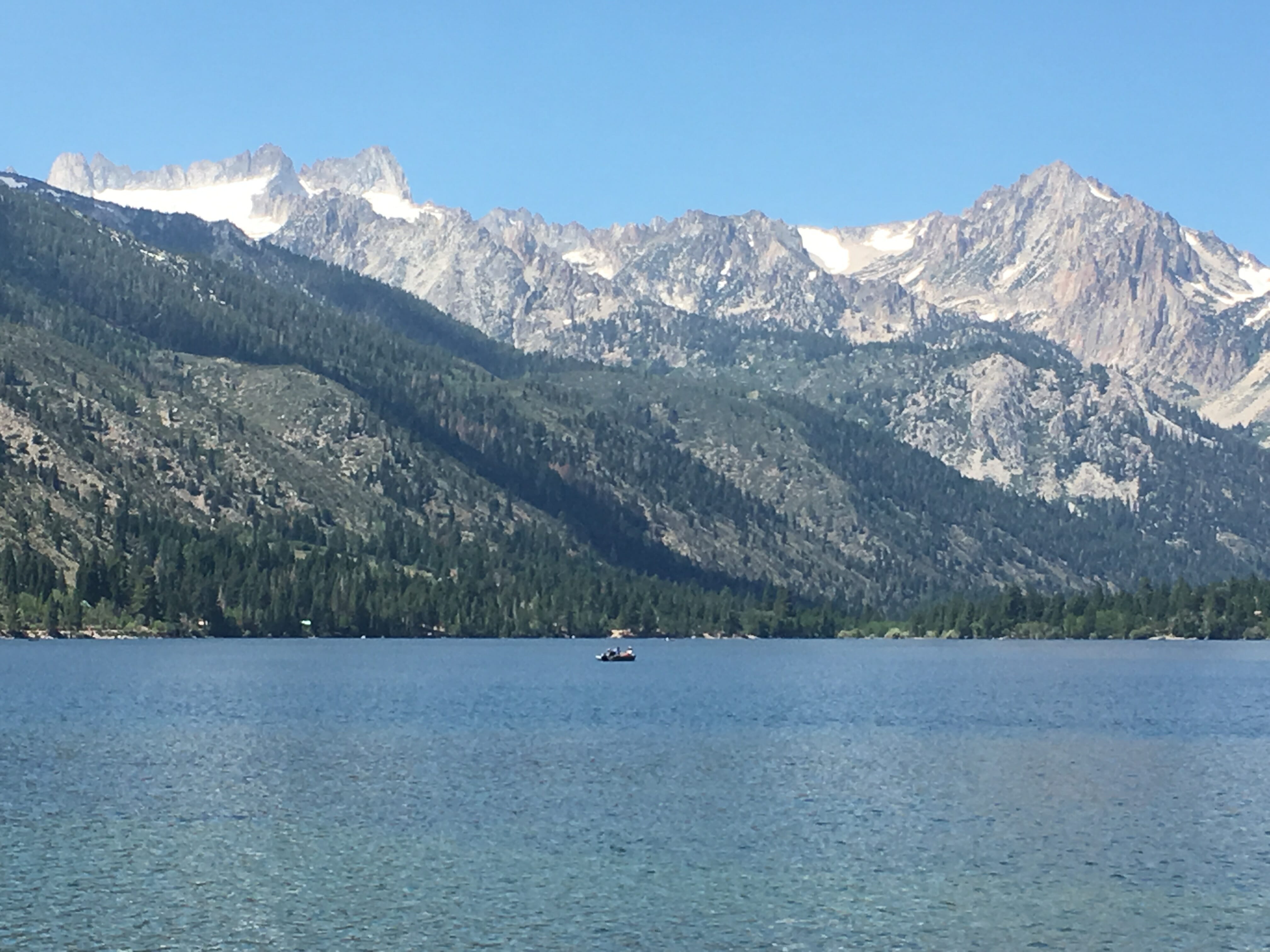 This glory courtesy of the Toiyabe National Forest.
Most of this treasure was made possible by the Toiyabe National Forest, and the visionary men and women who have worked for more than a century to keep such places open and relatively undeveloped. Something to think about as the current administration moves to cut funding for public lands, reduce or eliminate some national monuments, and remove clean water protections from headwaters and seasonal streams.
Sam Davidson is Communications Director for TU's California/Klamath program. He lives next to the Carmel River, a central coast steelhead stream.