A bigger-than-average trout from a nameless creek, Sierra National Forest.
By Sam Davidson
For no good reason one of my favorite words is equinox. It sounds like a cool drum set, or a fancy word for a horse's muzzle.
Of course, the term (which stems originally from the old Latin aequinoctium, or "equal night") means nothing of the kind. It denotes a major hinge point in the unspooling of each year, with daylight and darkness in equal measure, as the sun crosses the plane of the Equator first in one direction and then the other. It also connotes my favorite days of the year: the official onset of spring and fall.
In the northern hemisphere, the entry to autumn each year technically falls on one of three days: September 22, 23, or 24. As long as I can remember, I have celebrated by immersing myself in water.
(L) Nameless Creek in mid-September form.
This year was no different, except that the actual autumnal equinox fell on a work day, so I paid homage to the occasion a few days early. The destination water was a tried-and-true trout stream at 7,000' of elevation in the Sierra National Forest. Although it is within a two hours' drive from major urban areas, over three decades of fairly regular visiting I have almost always been the only angler there.
This stream is a tributary to the upper San Joaquin River and is chock-a-block with comely wild trout. Except that, this year, it wasn't.
There were a couple of possible explanations. The stream was about as bony as I have ever seen it. You would expect minimal flows, given the time of year. But we had a drought-busting, record-setting winter with beaucoup snowpack throughout the Sierra Nevada. Some Sierra streams didn't come into shape for fishing until August this year.
Still, areas in the upper San Joaquin watershed had obviously drained early and hugely. Perhaps the massive, sustained run-off a couple of months earlier had blasted some of the resident wild rainbows two thousand feet down into the mainstem river.
Another explanation was that the trout population had finally succumbed to five consecutive years of extreme drought and higher-than-average air temperatures. I had fished this creek during the drought, and found more trout than on this visit. I felt okay about fishing this water as temps here typically stayed cold enough, even in late summer, to numb your feet quickly while wet wading. But maybe the relentless hotter-and-drier conditions had finally diminished the productivity of the stream as trout habitat.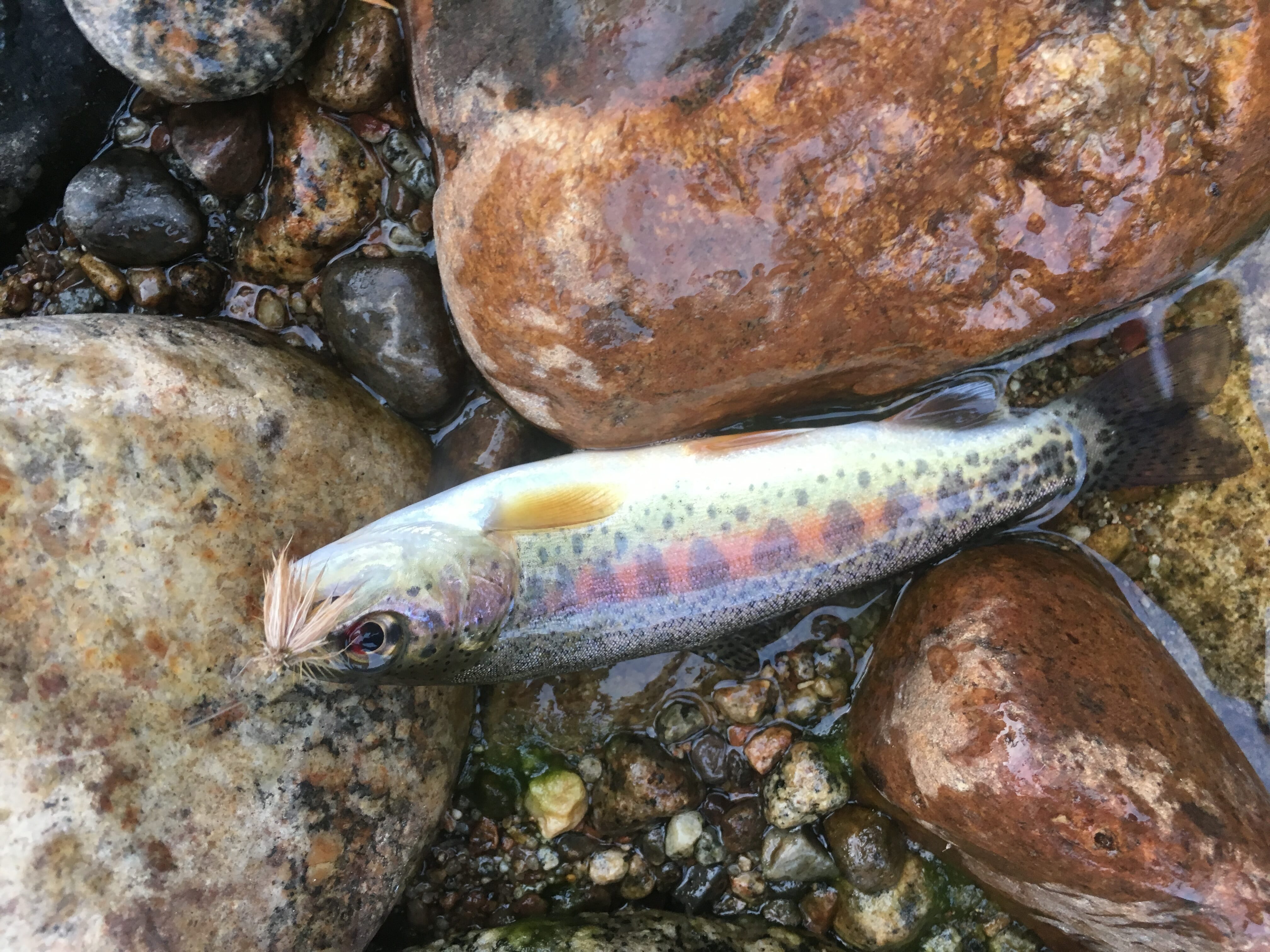 But ultimately fewer trout did not mean there was no satisfaction to be had this year in a place that is, dare I say it, almost holy to me. So a few days in advance of the true autumnal equinox, again I clambered over boulders, around downed trees, and balanced on polished granite cobbles to approach the spooky trout in this stream.
I found them in every nook and cranny you would expect. Well, "them" is an exaggeration. There was only one fish in any likely spot, whereas in most years there would be several.
I quickly figured out that if I got one grab, or even a single slash at the #16 elk hair caddis, I would get no others in that location. So I ended up covering more ground than usual for this creek. Over four or five hours of fishing in the late afternoon and the following morning, I caught a respectable number of small trout, each a precious gem of iridescent color and markings.
Two fish stood out. One was outsized for this creek, a thick 12" or so. I found him in the lee of a boulder in water so small it seemed impossible that he could set up shop there. The other was a rare golden-rainbow hybrid, maybe 5" and impossibly beautiful.
Did I mention it was opening weekend of the rifle season for deer? I had never hunted this zone; over the years I rarely saw deer in any numbers there. But a lot of guys, apparently, did. On the drive in to the stream they were everywhere, cruising slowly in trucks, side-by-sides and quads. No one that I spoke to had even seen an animal, much less a worthy buck.
A game warden—the first I've ever seen up there in thirty-plus years—was checking licenses. He was outfitted as if for a SWAT incident. He looked at me skeptically and asked if I were hunting. Nah, I told him, I thought I might do a little fishin' on _______ Creek. He looked at me even more skeptically, and said "Be careful, it gets crazy around here on opening weekend."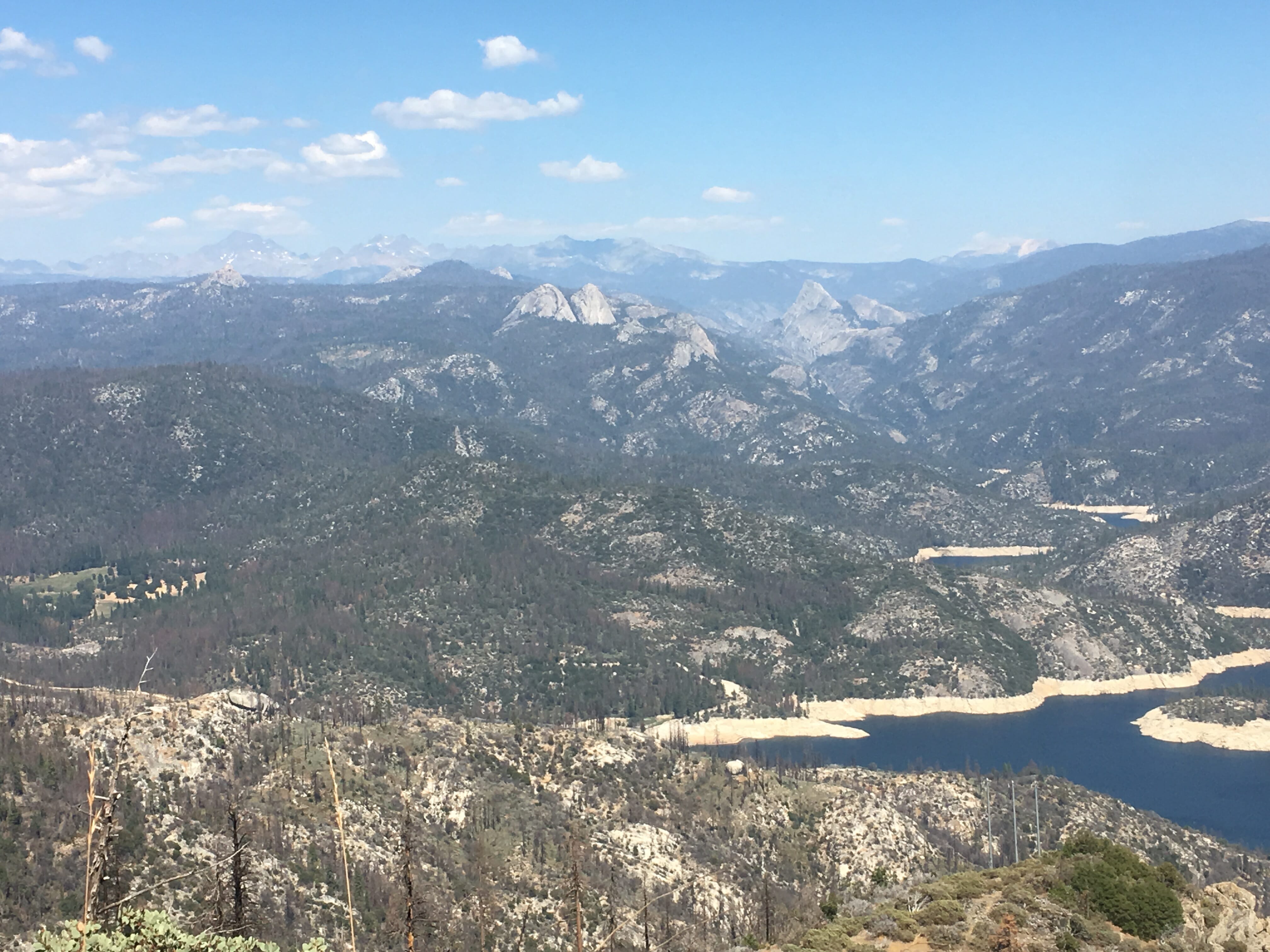 (L) The spectacular upper San Joaquin River watershed. Mammoth Pool reservoir in the foreground.
Some kinds of crazy you can understand. I myself many times had engaged in the mass hyperventilation of hook-and-bullet types on opening weekend. Other kinds, not so much. Why anyone would leave refuse—water bottles, beer cans, empty jars of salmon eggs—on a streambank anywhere, much less one in fine country at the end of forest road which has gone for so long without maintenance that you get free chiropractic care by driving it, for example.
Nor did I understand other craziness, such as the Trump administration's current effort to remove federal water quality protections from streams like this one, whose flows may cease or be reduced to a trickle seasonally, by repealing the so-called Waters of the United States (WOTUS) rule.
For its first thirty years, the landmark 1972 Clean Water Act was interpreted to apply to virtually all naturally occurring water bodies, even those wetlands and intermittent creeks (typical of higher elevation headwaters) that can become disconnected from mainstem rivers during the dry season. This just makes sense, as water always flows downhill. We can't have clean water in our major rivers and reservoirs if we have polluted water in their sources.
But the Trump Bunch want to eliminate and rewrite the 2015 WOTUS rule, which relied on a robust scientific record and millions of public comments to clarify that, indeed, the Clean Water Act applies to ephemeral waters.
Trout Unlimited is leading the charge from sportsmen and women to ensure this regulatory rollback doesn't result in the desecration of sanctuary streams like the one described above. We have until September 27 to comment on the WOTUS rule reversal. Go here to join TU in this fight. This excellent little trout stream—which shall remain nameless—and the remarkably few anglers like me who love the spot, will thank you.
Sam Davidson is Trout Unlimited's communications director for the California/Klamath region. He presently lives and works on the banks of the Carmel River.