Sam Dean photo
By Mark Taylor
With forecasters calling for unseasonably warm temperatures and our work calendars surprisingly open on a recent Tuesday, my buddy Sam Dean and I decided to take a day off to go fishing.
"We could hit the Smith," I said, mentioning a tailwater about an hour south of our homes in Roanoke.
Sam had other ideas.
We'd been talking about and exploratory trip to West Virginia's Elkhorn Creek, which we know holds some big wild trout. The only reason we hadn't fished it previously is the creek's notorious rep for its trash and sewage pollution.
"We need to go there eventually," Sam said. "It might as well be now."
I agreed.
Two-and-a-half hours later we were there. The trash and sewer reports had been true.
The stream and its banks were filled with massive amounts of garbage. (An annual cleanup organized by the Southern West Virginia chapter of TU makes a dent, but it's a neverending battle.)
And while many of the streamside homes were abandoned, most that weren't had sewer pipes leading directly into the water.
McDowell is the poorest county in West Virginia, wracked by a decades-long decline in the local coal industry. The situation is complicated, and it was impossible to completely ignore the abject poverty of our surroundings.
But this trip was supposed to be about fishing, so I did my best to focus on the positives — in this case the creek's inviting runs, riffles and pools and the big trout they supposedly held.
Quickly my nymph rig produced a strike and I pulled in an 8-inch brown trout.
The next hole was deep and fishy and, sure enough, the nymph stopped abruptly half-way through the drift.
The rod arced and pulsed. This was a big fish.
I waited for the run.
It didn't come so I applied pressure and the fish came to the surface.
But it wasn't a fish. It was a tangle of metal clothes hangers draped with plastic and what appeared to be a shredded bathrobe.
This would set the tone for my day.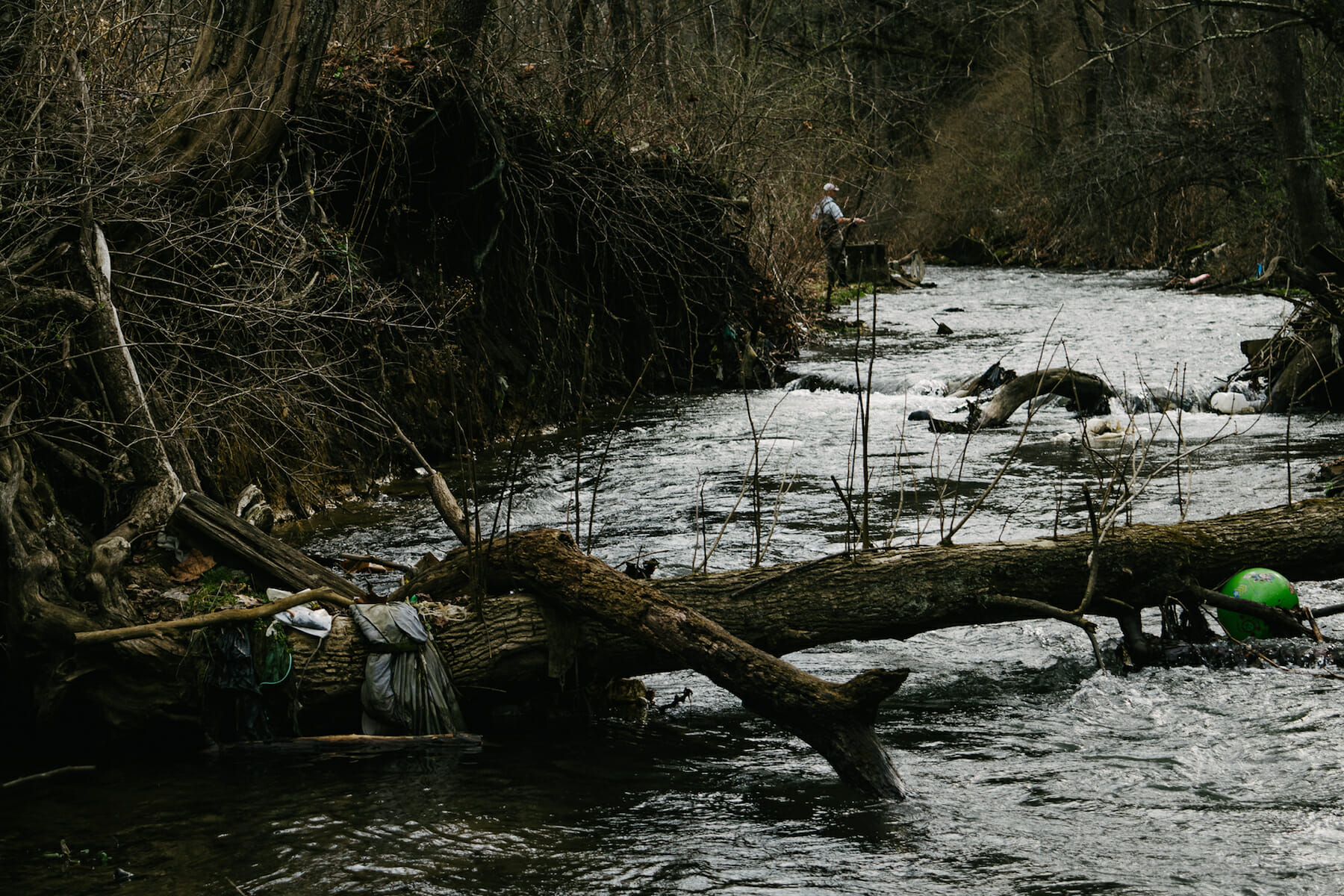 alt="" title="" />
Mark Taylor fishes a section of Elkhorn Creek near the community of Kyle in McDowell County, W.Va. (Sam Dean photo)
The nymph rig didn't produce anything else, which started a long and repetitive process of my trying to find something that would. A dry/dropper rig also failed. Little streamers didn't work. Big streamers didn't work. Midges didn't work. Even egg patterns failed.
I rarely had to cut off flies that weren't working because I was constantly losing them to snags on trash.
Sam finally started connecting with a small olive wooly bugger with a gold bead head.
I didn't have one like that — shameful, I know — so kept working through my boxes.
A Zoo Cougar streamer finally produced another fish, but the brown wasn't much bigger than the fly itself.
To be sure, Sam wasn't crushing them. But at least he was getting steady action, including landing a 17-inch-long brown.
Finally came the dreaded moment that defines a bad day.
"Why don't you try this?" Sam said, holding out his rod.
Ugh.
Stubbornly, I stuck with what I had. Finally, after losing yet another fly to an underwater hazard I relented and made a few casts with Sam's Jefferson 5-weight, which turned out to be really sweet rod.
I didn't get any strikes, though, and soon was back to chucking my own gear.
The day eventually came to a merciful end.
Driving back into Virginia I told Sam that I was glad he'd had a decent day.
"It's no fun for me to out-fish you all the time," I said with a grin, leaving out the part about how he usually spends more time shooting photos and video than fishing.
In most cases a day like that would prompt me to immediately start planning a return trip. I don't take failure lightly and I want redemption.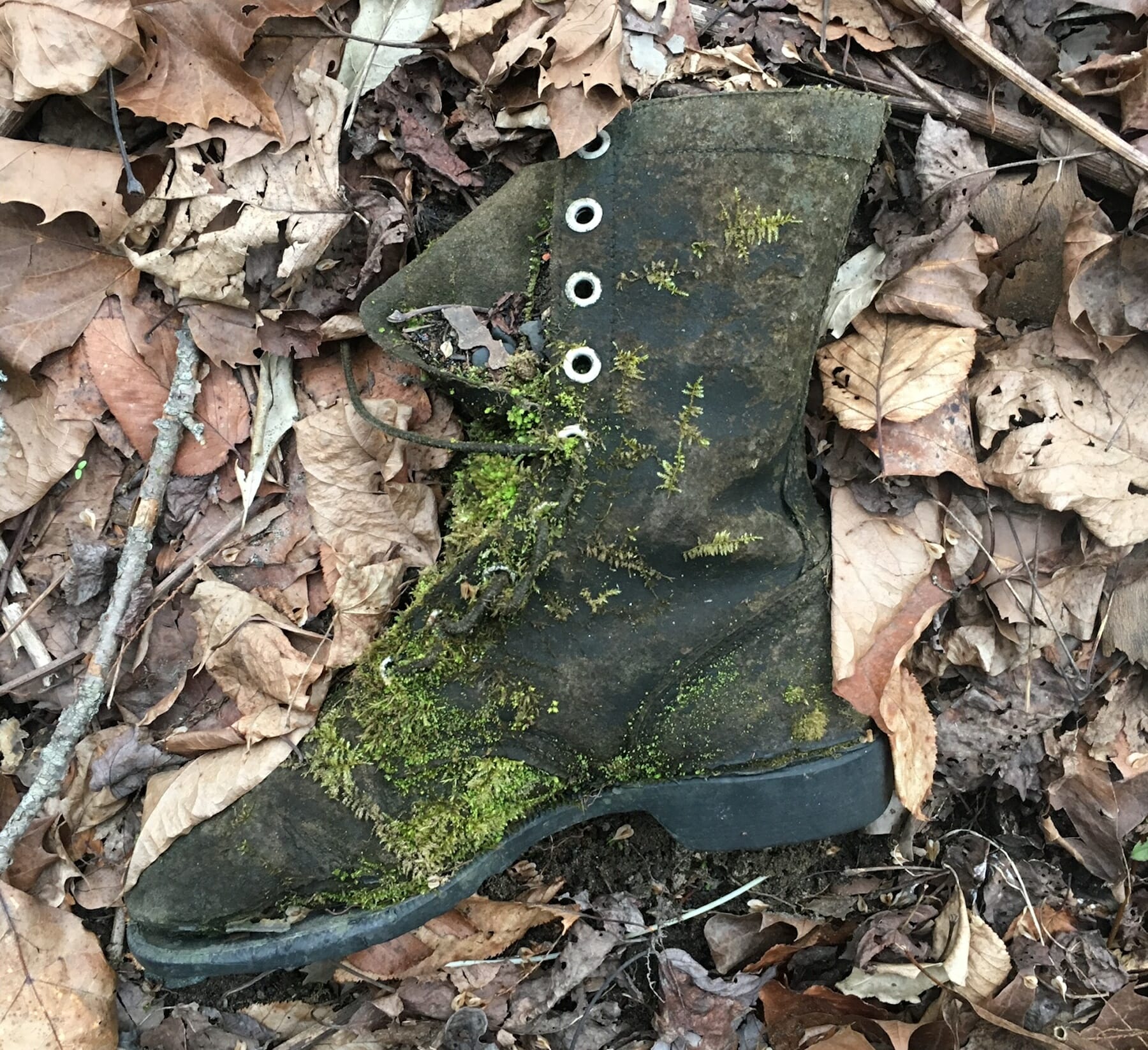 alt="" title="" />
This old boot was among the least repulsive pieces of trash littering the banks of West Virginia's Elkhorn Creek. (Mark Taylor photo.)
This is an unusual case.
Part of me wants to go back there, in part because I know the fishing can be better and in part because I figure that every visitor dollar that comes into that county means something.
On the other hand, at what point is so much garbage and sewer too much garbage and sewer?
I'll have to think some more about it.
In the meantime I guess I'll tie up some little olive Buggers.
Mark Taylor is TU's Eastern Region communications director. He lives and works in Roanoke, Va.