A tight-lined nymph produced this and several other wild Spring Creek browns for Mark Taylor during his recent visit to the popular Pennsylvania stream.

<![CDATA[ lack">By Mark Taylor
"Just so you know, these fish get pounded."
So came the observation/warning from the friendly fly fisherman donning waders on the banks of Pennsylvania's Spring Creek.
I didn't need proof, but I soon got it.
After bushwhacking through a jungle of poison ivy and stinging nettles to reach what I hoped would be a "remote" section of the stream near State College, I poked my head out of the brush.
Two anglers were already there, standing maybe 50 yards apart.
That was nothing compared to the late May evening a few years ago when, during the height of the sulphur hatch, there were no open spots in the parking lot at Fisherman's Paradise.
This can be the story at famous rivers.
Yet we'll deal with it.
Why? Because those rivers are famous for a reason.
That evening a few years ago my TU co-worker Jeff Yates and I eventually wormed our way into a parking spot and started hiking upstream.
Twenty minutes later we found an open stretch of water. The spinner fall that eventually materialized was epic and the fish boiled around us like hatchery trout on a pellet-feeding frenzy.
That first evening on this recent trip didn't produce anything like that action, though I did manage to catch a couple small browns despite the company.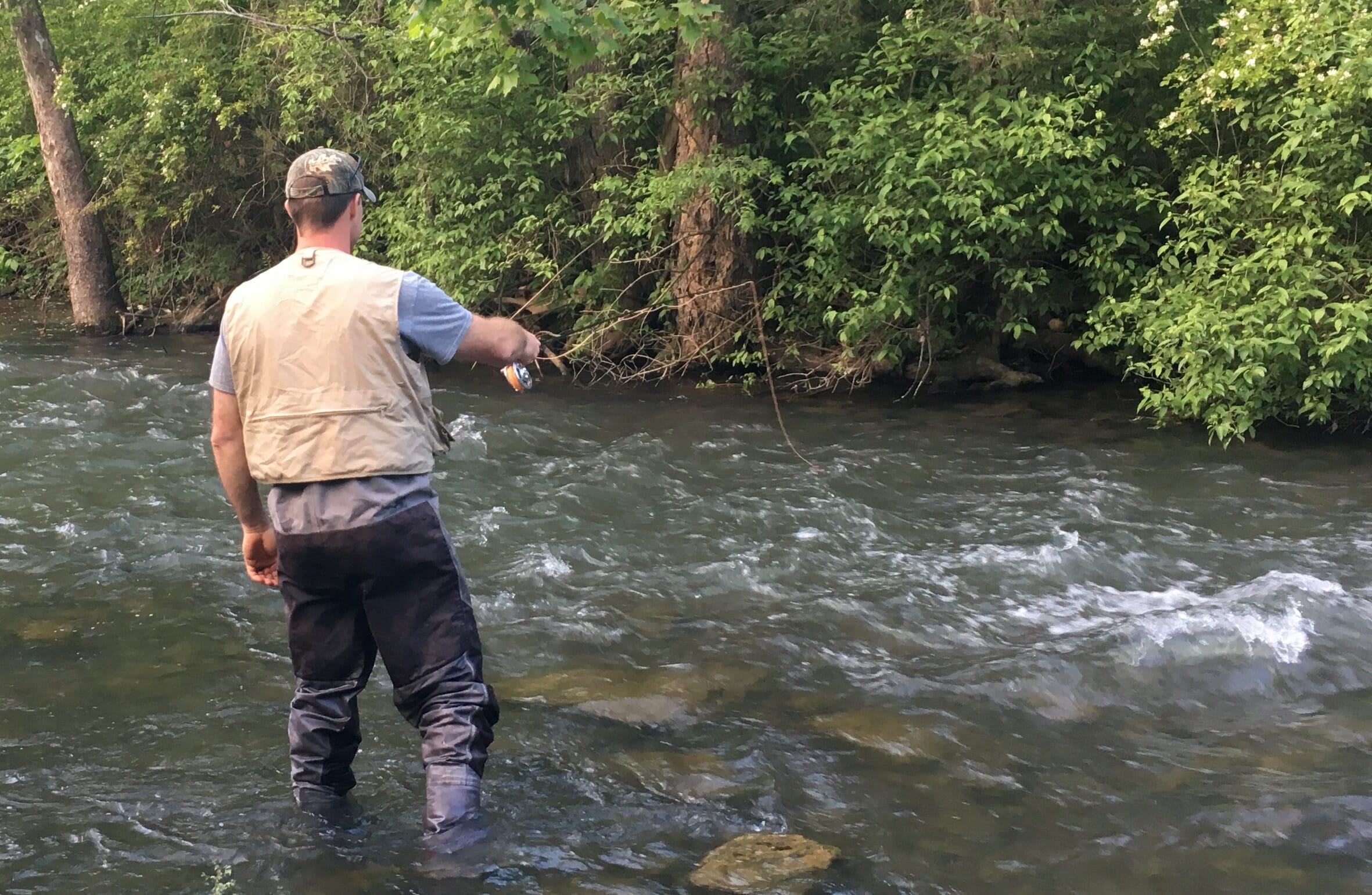 Phil Thomas, a coldwater habitat program project coordinator for TU in Pennsylvania, nymphs a section of Spring Creek not far from Bellefonte, Pa.
Two days later, work obligations taken care off, I stopped by the TCO Fly Shop in State College and got some advice on stretch that probably wouldn't be too crowded. In exchange for what I hoped would be solid advice — and a dozen flies — I let them swipe my credit card for a fair sum and I headed to the creek near one of the many sections where the Spring Creek chapter of TU has completed restoration and habitat enhancement projects.
The advice was, indeed, good.
I met fellow TU staffer Phil Thomas (who lives just a few miles from the creek, that lucky you-know-what) at the designated spot. We could see only one other fisherman, and he was well downstream. For Spring Creek, that's pretty much being alone.
We nymphed, and picked up some fish. It wasn't silly like it had been during that sulphur spinner fall, but it was good enough for the stream to prove itself deserving of is reputation, and to ensure that next time I'm back in the region I'll be back there pounding the fish.
Mark Taylor is Trout Unlimited's eastern communications director, and lives in Roanoke, Va. He is trying to learn how to catch trout while nymphing without a strike indicator.