About 800 miles from the ocean, high on the western slope of Lolo Pass, king salmon cling to life.
By Warren Colyer
You never know quite what to expect at a project site. And that's one of the things I love most about my job.
Granted, I don't get too many field days anymore. It feels like I spend way too much of my time in meetings and on the phone. But on a recent Tuesday morning, I left Missoula early with two colleagues to drive over Lolo Pass to a project site on a small tributary to the Lochsa River in Idaho. Last time I made the drive — about a month ago — a gray wolf crossed the highway about 25 yards in front of the truck. I figured that was about the coolest thing I'd see while working on this project. Turns out I was wrong.
On Tuesday we had an uneventful drive to the project site, where our plan was to install a logjam habitat structure and return a small stream to its historic channel and away from what remained of the Forest Service road it had destroyed during run-off last spring. A large tree had come down sometime over the winter and re-routed most of the stream into the adjacent road.
When flows came up during snowmelt, most of the road material was carried downstream in the torrent. Road removal was not an option, so our intent was to ensure that the stream would not be buried when the engineers come in to rebuild the road later this fall. We parked the trucks and unloaded the excavator, and then we looked into the water. And we saw fish. Really big fish.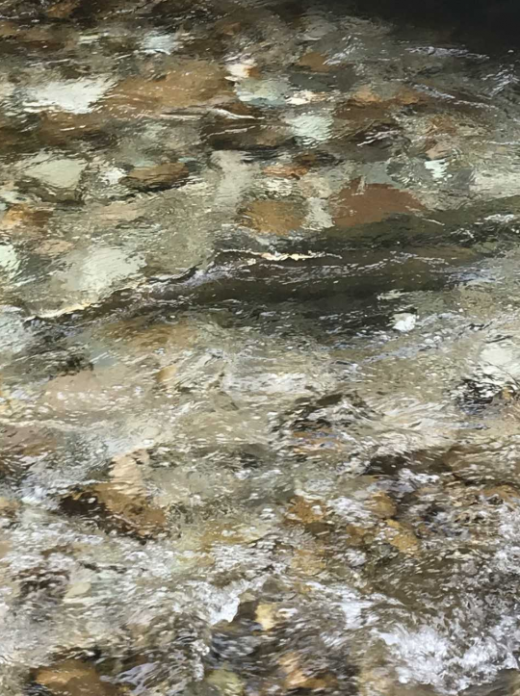 Bigger fish than had any business being in a stream that is ankle-deep and no wider than a bike path. The tribal biologist put it together immediately.
Look at those chinook!" he exlaimed.
But I confess that my own thinking was not so clear. We were standing on a tiny creek an hour from my home in Montana, with eight major dams and close to 800 stream miles between us and the Pacific. And we were looking down at king salmon? Really?
I also must confess that I had been told that the stream we were standing next to supported salmon and steelhead. In fact, our project was designed to benefit those fish by restoring the natural river processes that create healthy habitat. It was even funded by programs that specifically target those particular fish. And yet, all of that was somehow theoretical – until now.
These fish were very real, and very unexpected. And so very cool. Needless to say, we did not do any stream work that day. Instead, we watched those fish. After a while we packed up and headed out. Now we are working with partners to ensure that the road is not rebuilt this year. But next summer, when we do start our work to restore that stream, it will be different for me—and not at all theoretical.
Warren Colyer is the director of TU's Western Water and Habitat Program. He lives and works in Missoula.