By Sam Davidson
Nowadays there is no age limit, apparently, for quarterbacks. Or for fly fishing.
Last weekend, my eighty-year-old mother joined legends such as Lefty Kreh and Frank Moore in providing more proof of the latter, as she waded up and down the banks of t
he South and Clark forks of the Stanislaus River, tossing a line on limpid Sierra streams.
It was her first time fly fishing.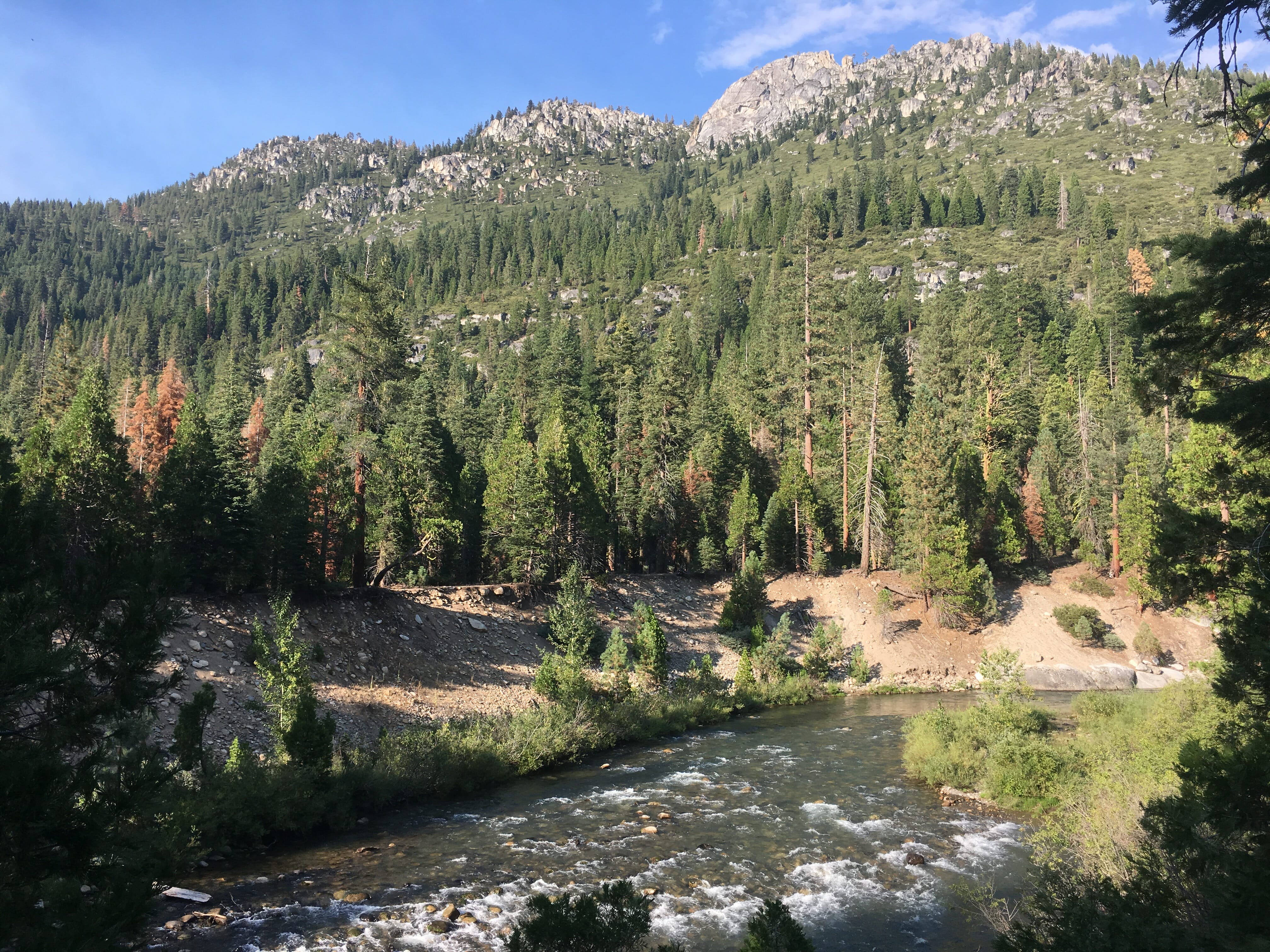 (L) The upper Stanislaus River.
My mother bore the curse of having three rambunctious sons—and no daughters—reasonably well for many years, but as she accumulated more wisdom with advancing age she began to realize there was potential for payback. In April of this year, as the family celebrated her eightieth birthday, she made a move to collect on some of it.
"I want you [three grown sons] to take me camping in the mountains. Just the four of us," she said.
Satisfying such demands is inevitably fraught with peril. Moms, even the most beloved, can be alien, inscrutable creatures. There is often very little certainty in whether responses to their solicitations will be met with a Hall of Fame embrace or at least temporary banishment to the alternative place.
As the summer wound down and my mother's reminders of her requested "birthday present" became more frequent, my brothers and I finally huddled via text message.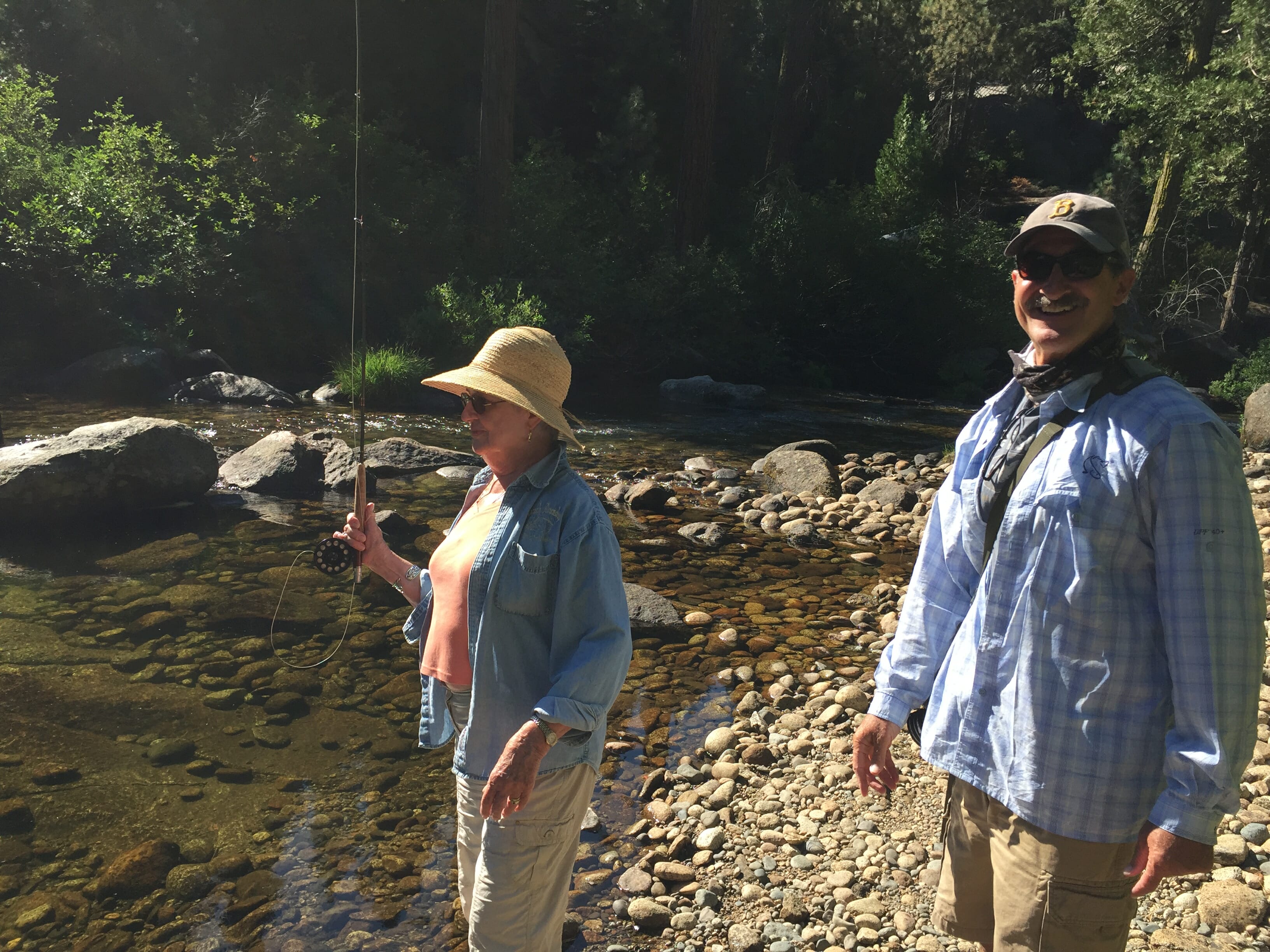 (R) Mom and some guy posing as a fly fishing instructor.
True bag-in-the-dirt camping, the kind my brothers and I still prefer, was not an option. Neither was some high-end resort or cabin—that wouldn't be "camping." Renting a motor home seemed promising, until we checked the cost. Enter VRBO.
With a little online digging we found a place near the historic town (if you can call it that) of Strawberry that met our requirements: a decent bed and bathroom for mom, available for only two nights, reasonably friendly on the wallet—and, a palette of fly fishing opportunities nearby.
Strawberry straddles the south fork of the Stanislaus River below Pinecrest Reservoir, in the middle of a mother lode of trout fishing. This part of the central Sierra offers scintillating headwaters creeks, trophy trout tailwaters, and miles of freestone streams offering a savory blend of pocket water and riffle-pool structure.
My mother has never been much of an angler. When my brothers and I were young and would come back to home or camp with stringers full of trout, she would obligingly fry them up. But she rarely, if ever, threw a line herself. Nonetheless my middle brother and I, avid anglers both, figured we would propose an agenda for the weekend that included "hiking" along the various forks of "the Stan." If fly rods happened to be found in daypacks when we would come upon a promising reach of water while hiking, well, perhaps some fishing could worm its way into the program.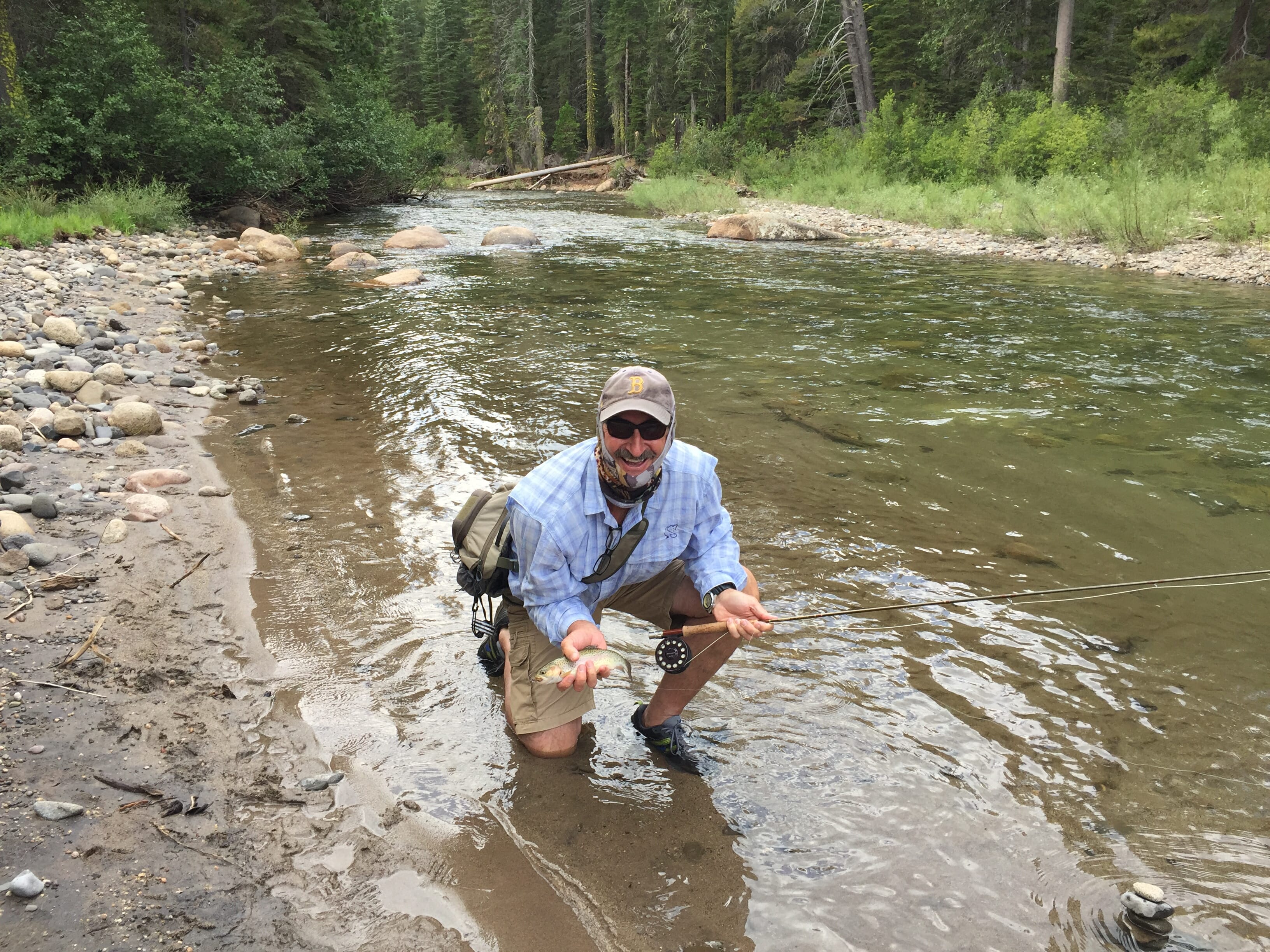 (L) Mom's eldest son on the Clark Fork Stanislaus.
And so it went. While rigging up at our first stop, I had the brilliant insight—the kind that can easily put you in Purgatory—to announce that my mother's birthday present included instruction in fly fishing.
My mother is nothing if not adventurous. She not only capitulated to this idea, she seized on it with gusto. My satisfaction in her doing so was immediately accompanied by the realization that I was now at the mercy of the Law of Good Intentions and that my proclamation would directly result in reduced fishing opportunities for yours truly.
I swallowed hard and beckoned Mom to the edge of a sandy bank where a riffle poured into a luscious bucket. The water glowed a glorious jade green in the flat light of wildfire haze.
Meanwhile my brother ran a nymph rig through the run. A nice trout flashed at his yellow strike indicator. I obligingly tied on a yellow Stimulator with a caddis emerger dropper.
My mother muttered something in the general direction of my brother. I thought I heard the words, "Stand aside, sweet child o' mine, or I'll bust your chops." But I could have been mistaken.
Then my mother took my trusty Sage SLT 5-wt from me and said, "If you don't put me on a hog trout in the first few drifts I will have to reconsider my estate planning."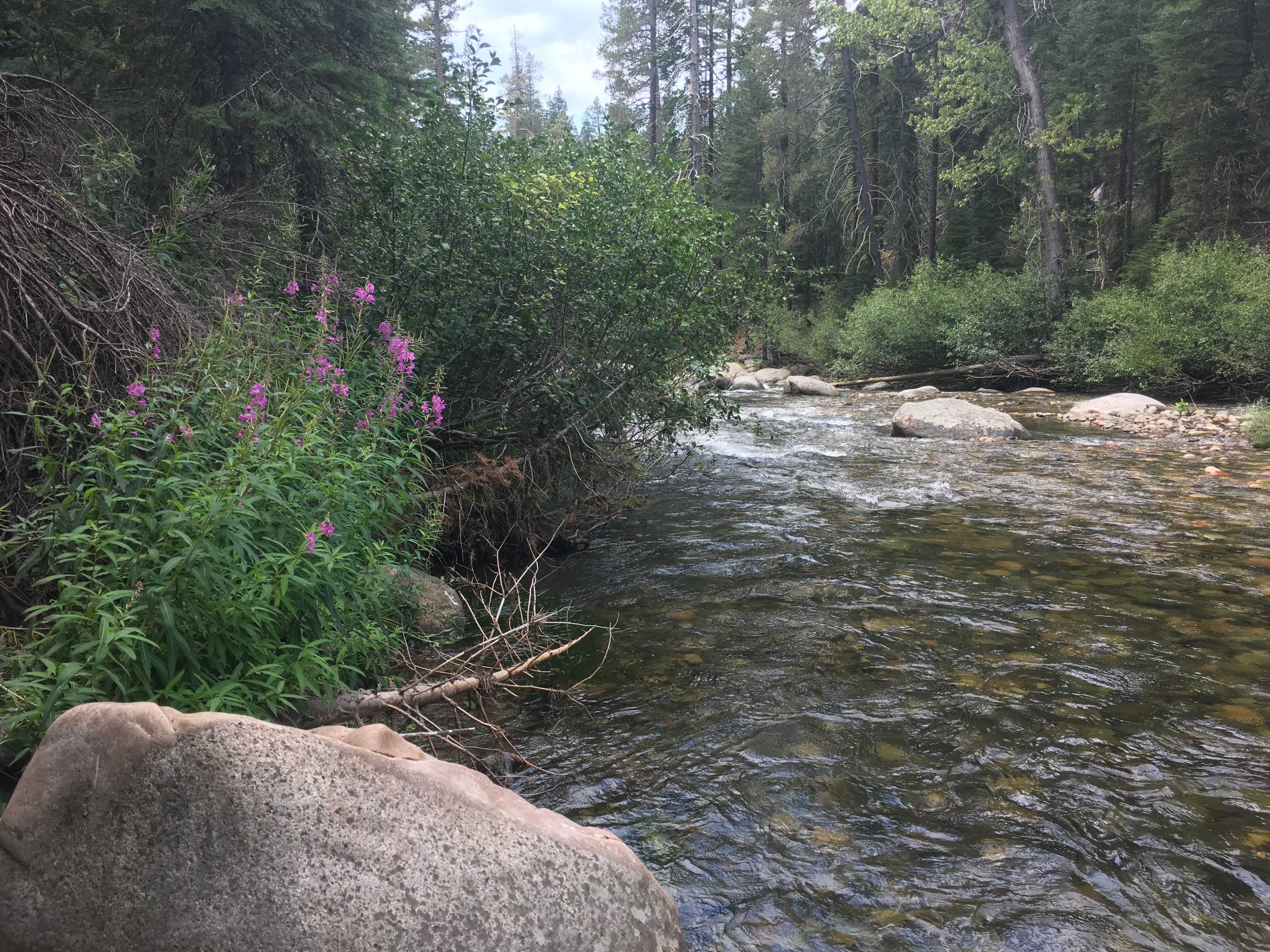 (R) Mom's 80th birthday present.
Well, perhaps she did not actually say that. But I felt as if the occasion had that kind of gravity. What if the act of fly casting did not produce the same state of rapture in her as it did in her eldest son? My brothers would accuse me of ruining the entire birthday enterprise. I might be persona non grata at family functions for years.
I need not have worried. Within a few minutes of shadow casting and help with body mechanics, my mother was executing decent roll casts and overhead false casts. Putting a mend in the line and keeping the rod tip low were a little trickier, but pretty quickly she was getting serviceable drifts through the run.
Alas, no trout obliged.
And so it went for the next two days. My eighty-year-old mother tromped energetically through fragrant montane forest and along cobbled streambanks, using a pair of hiking poles, and eagerly stepping to the water's edge when I would say, "Okay, Mom, you're up." In one nice run on the Clark Fork, I exchanged a few notes with a fellow angler on the far bank, then said, "Hey, how about this, eighty years old!" and pointed at my mother making one quirky but effective cast after another. She raised her arms in triumph and he responded, "Never stop!"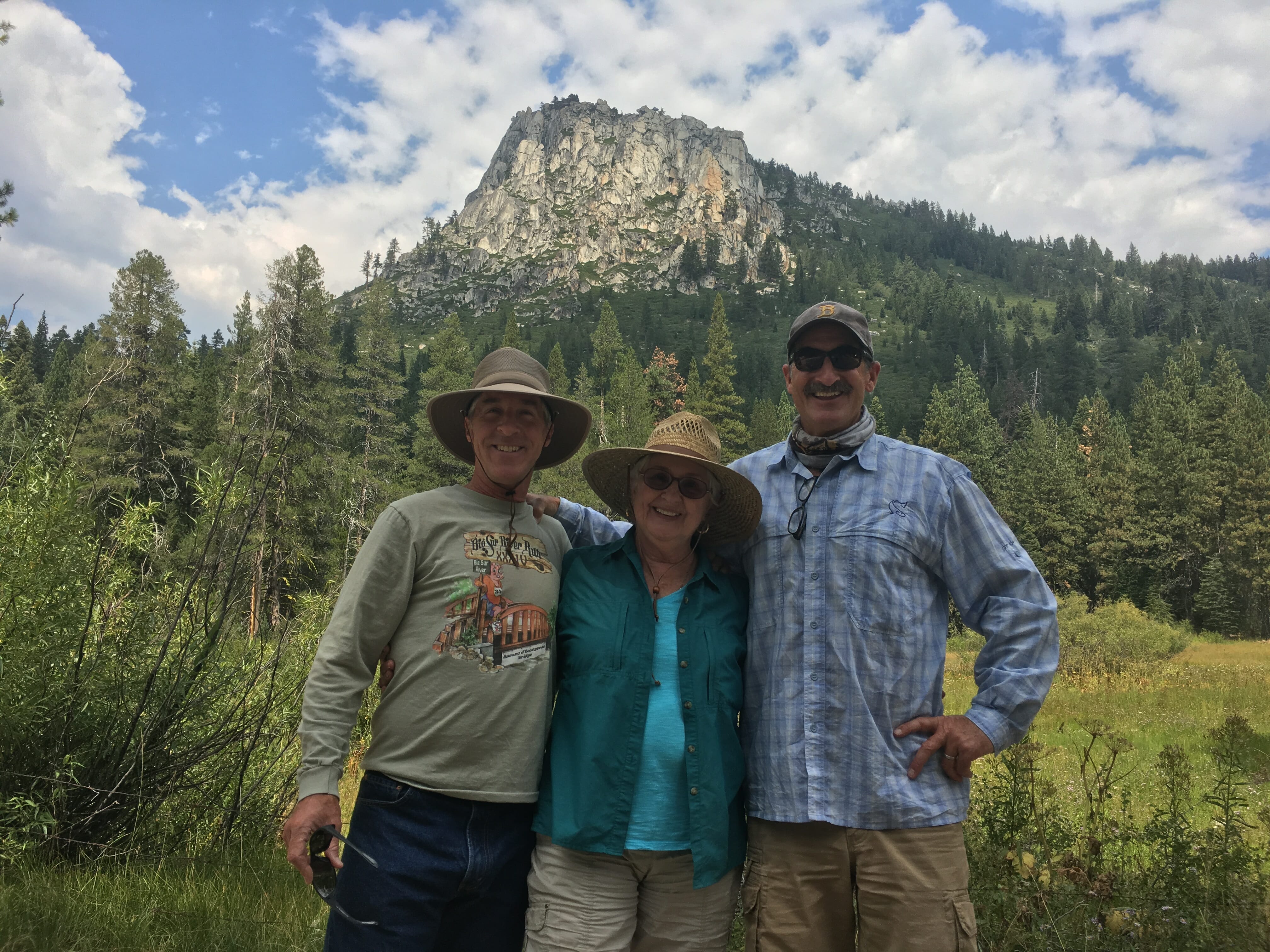 (L) Mom and the two fly fishing brothers.
There were several trout feeding actively in that run and my mother did get a few grabs on the dropper there, but she couldn't quite set the hook fast enough. She seemed genuinely happy for me, though, when I did.
My brother and I caught plenty of beautiful, healthy wild trout—and a few stolid stockers—as we delivered my mother's birthday present over two days in the upper Stanislaus River watershed. My mother, who did not get a hook-up, was nevertheless not displeased with her inaugural efforts, or those of her sons. As we drove back down the west slope of the Sierras into the Central Valley furnace, my brothers and I were both gratified and sobered when she made clear that we had fulfilled her birthday hopes for this year—and had set the expected standard for all birthdays henceforth.
Sam Davidson is California/Klamath communications director for Trout Unlimited. He presently lives and works from the banks of the Carmel River.