A Firehole River brown trout caught on a small soft-hackle.
By Chris Hunt
For years and years, fly fishing for trout, for me, was a three-period game, not a four-quarter contest. It was hockey, not football (even though I'm not much of a hockey guy).
Depending on the season, the time of day or the weather, I'd go to my fly boxes and choose a fly from one of three categories: dries, nymphs or streamers. These were my choices, and I divided my flies into three boxes and carried them with me on the water.
About five years ago, I was in Craig Mathews' Blue Ribbon Flies store in West Yellowstone in early June. The weather in the area was still pretty blustery, and I had come up to fish the Firehole while cool weather hung on (when it gets hot, the Firehole gets hot, too, thanks to the thermal inflows from the geysers and hot springs along its banks). I was meandering around the shop's fly selection, picking out a few of the "usual suspects," like small black Woolly Buggers, a handful of Copper Johns to drift under a Ginked-up caddis … the "normal" stuff.
Mathews walked over, and we chatted a bit. I asked him about the Firehole, showed him the little cup of flies I'd collected, and he graciously nodded and said something to the tune of, "Yeah, those might work."
And then he took the cup from my hands and started putting all those flies back. I watched as he started refilling the cup with small soft-hackle wet flies (like I said, I didn't even have a wet-fly box, let alone really know how to fish them). These flies weren't terribly remarkable or gaudy. They were small—size 14 to size 18, generally, and they were basically wet versions of popular dry-fly patterns. When he handed back the cup, it had a dozen or so soft-hackles in it (although he did leave me a couple of black 'buggers, which speaks volumes, in my mind, about how the easiest fly to tie is also likely the best streamer for trout). There were soft-hackle Pale Morning Duns. Soft-hackle Blue-winged Olives. And there were "attractor" soft-hackles, adorned with purple collars and sparkly, orange bodies. Some had names like "Hornberg," or "Rio Grande King."
"Cast up and across and let them swing right under the surface," he said. If that didn't work, he explained, I could slowly start to add some weight to get the fly down in the water column. So I bought some lead-free shot, too.
Since that day, I'm now a four-quarter fly fisher. I love my dry flies and, like any angler who giggles at the sight of a trout rising to a dead-drifted bug, this is my preference. And nymphs just work—trout do most of their damage below the surface, so dead-drifting or Euro-nymphing a bead-head caddis or a Prince Nymph is often your best call. And I enjoy fishing streamers, particularly in the fall here in the northern Rockies when big browns are on the move, or, in the backcountry when bull trout are about to start pairing up for the spawn.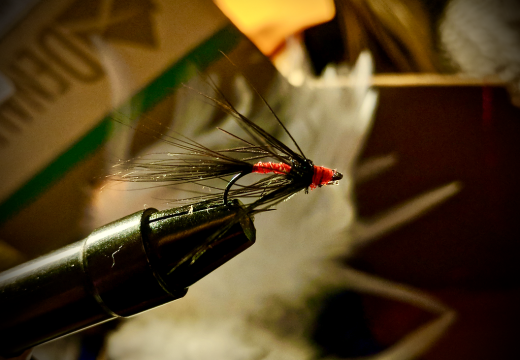 But, thanks to Mathews, I've developed a soft spot for swinging soft-hackles, and my favorite stretch of the Firehole is a soft-hackle honey-hole. The river's browns, in the spring just after opening weekend through about mid-June are keying in on emerging dry flies, and the smaller wet flies work really well on the swing. In the fall, I like to go with bigger soft-hackles, and I like to add a bit of color (usually red or orange, because I think these colors attract the rainbows that are looking for eggs during the brown-trout spawn—but I've had just as much luck with predatory browns).
In recent years, soft-hackles have become a year-round choice for me. I'll even tie some small attractor versions, like a Royal Coachman soft-hackle, and swing them in high-country creeks for brook trout. In the fall, on the South Fork of the Snake, BWO soft-hackles swung over deep water often bring fish up for a look. And, while you don't get the full satisfaction of the dry-fly take, most soft-hackles are right under the surface, so a good hit is usually accompanied by a pretty lively splash.
And, here's the kicker, at least for me. Trout often "sip" dry flies. They "hit" soft-hackles. There's no mistaking a solid take on the swing. It can steal your breath.
With October just a few days away, it's the fourth quarter. And I now have four fly boxes with me on the river. Who am I to argue with Craig Mathews?
Chris Hunt is the national digital director for Trout Media. He lives and works in Idaho Falls, Idaho.