By Mark Taylor
BALDWIN, Mich. — My fellow passenger was friendly.
"What is that?" she asked, looking at the 3-foot-long, cordura-covered tube in my grasp.
"A fishing rod," I said.
"You're going fishing in Michigan in February?" she said, raising her eyebrows. "Like, ice fishing?"
Actually, I was going to a meeting with TU's Great Lakes team. The fishing — a half-day of chasing steelhead on the Pere Marquette — was a bonus. Although as I walked out of the Traverse City airport into the frigid February air, I wondered if "bonus" was the right word.
"There are fish in there," said Brennan Sang as we drove south toward the Pere Marquette the next morning. "Now, I can't promise how active they will be."
Story of my life. When you don't live in steelhead country, you take what you can get. And what I almost always get is, "It's been pretty slow."
Sang, TU's director of online communications, lives in Traverse City. He doesn't get to fish the PM as often as he'd like, but he knows some spots.
After stopping at Baldwin Bait and Tackle and picking up a few flies, we headed to the river. We were donning waders when our co-worker Taylor Ridderbusch, TU's Great Lakes advocacy organizer, pulled up.
"It feels pretty good out here," said Ridderbusch, who lives near Lansing.
Good?
It was 19 degrees and it was taking my Virginia winter-soften hands 20 minutes to tie up my two-fly rig. We trudged to through foot-deep snow to the river.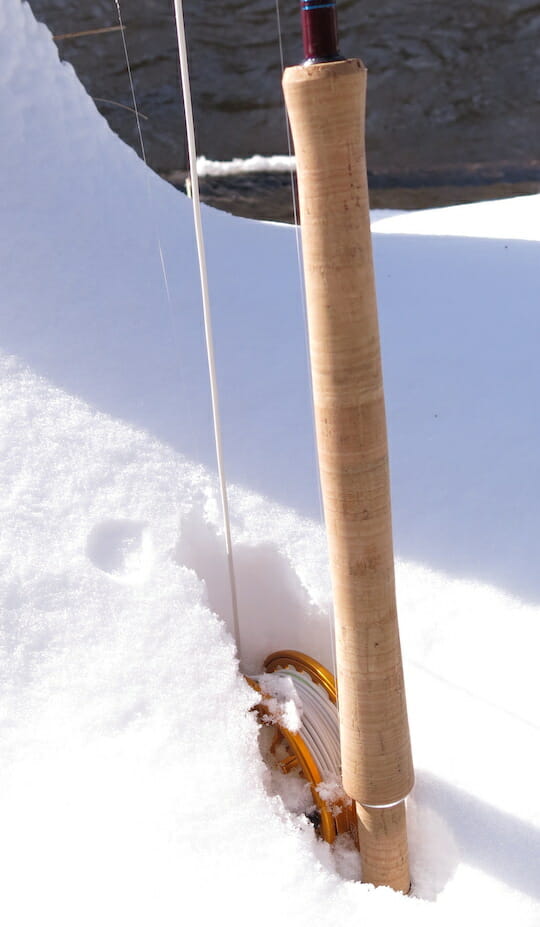 The PM was gorgeous, the slightly tannic water rolling through riffles, runs and deep pools. I was using a recently acquired Redington switch rod to toss the clunky rig, and liked how the extra length was helping with my suspect mending skills.
There was a lot of woody cover, which is great for fish and great for losing flies. At least a couple of the snags gave me a half-second of excitement when my float plunged.
Sang and I hop-scotched holes, and I noticed he spent about as much time as I did bent over his gear, re-tying flies with frozen fingers.
We had a group dinner back in Traverse City that evening so had to pack up before sunset. Before hiking back to the cars Sang tried one more spot.
He made a great cast and his float bobbed down the run, completely drag free. He fed line. I waited for the float to dive and for a silvery torpedo to rocket into the fading afternoon light.
But the drift ended like most do in steelhead fishing, without a fish but with just a glimmer of hope that the next cast could be the one.
Mark Taylor is TU's eastern communications director. He lives in Western Virginia, a day's drive from the nearest steelhead water.