Fishing for steelhead at the mouth of the Carmel River in the 1960s.
By Sam Davidson
For most of the past year we have been living next to a river. This has changed the way I think about streams, and fishing.
Every angler knows that rivers are dynamic (where they are not dammed, anyway). That is especially true for rivers here on the central coast of California. These coastal streams, often with relatively short lengths and steep downstream gradients, are inherently "flashy," their flows spiking quickly after storm events. Over the course of a few days their character can range from monstrous to amiable. They alternately rage and croon. They are constantly adding or enhancing habitat for trout—or rendering habitat unsuitable for anything.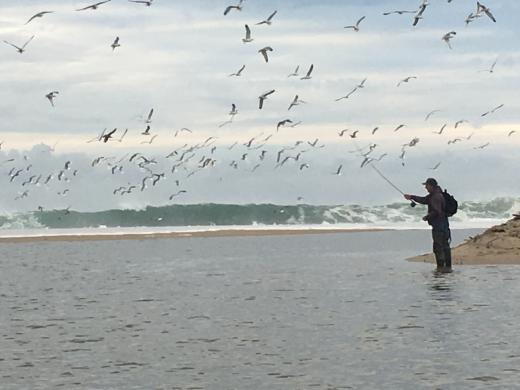 alt="" title="" />The river that runs next to our residence is the Carmel, a stream that John Steinbeck famously called "everything a river should be." And for anglers it really used to be. Until the mid-1970s the Carmel had a substantial wild steelhead run each winter, and was a popular trout fishery during the regular trout season. Since then, it's been the usual sob story: dams in the headwaters, a steady increase in diversions and pumping for human use, and droughts have brought the once-robust steelhead run in the Carmel to its current state—adults returns are now 10 percent, and in some years much less, of their historic numbers.
The principal streamflow gage on the Carmel River is located at Rosie's Bridge, about 12 miles inland. It's been in operation since 1957, and is a key tool in flood forecasting and response. For nearly four decades, this gage has also been used to help manage the steelhead fishery on the Carmel. After an intense drought in the mid-1970s, the steelhead run on the Carmel all but disappeared, and California changed the steelhead angling regulations for the river, creating a minimum-flow requirement in 1982—if streamflow fell below a certain level, the river would not be open for fishing. By 1984, this flow standard had been adjusted to 50 cfs during the winter steelhead season, and the next year the California Department of Fish and Wildlife established a phone line that anglers could call to determine if the river would be open for fishing the following day or weekend.
That's when I started paying attention to streamflow gages. And in those incandescent years of my third decade, when I moved frequently, that's how I kept a sense of connection with my "home" river—I would call the CDFW hotline for Central Coast steelhead angling between December and March, and listened to the most recent streamflow numbers.
Nowadays the Internet makes it easy to keep track of things like streamflows. The United States Geological Survey maintains an excellent website and database for this purpose. And I have become something of a stream gage junkie. Flows are a key determinant of angling opportunity. Now an app on my smart phone tells me what my fishing options are, on all of my go-to fishing waters. No more guesswork. Once you learn the range of optimum flows on a river for the type of fishing you want to do, you are good to go. Or not go.
For the past five winters, as California has withered under an exceptional drought, my favorite stream gages offered up spectral numbers. There were barely any fishable days during the steelhead season on rivers like the Carmel and Big Sur. This winter has been a different story. In the Western U.S., climate science predicts longer and more severe periods of drought will be interspersed with years of much higher than average precipitation. That's what we have this winter. Storm systems have been stacked like boxcars across the Pacific, delivering rain in biblical proportions. Big dams have flirted with catastrophic failure. Levees have busted. Rivers like the Carmel have crested their banks, once, twice, multiple times. And folks like us have kept a week's worth of wardrobe and valuables stowed in ready-to-go bags and boxes, waiting tensely for advisories to evacuate.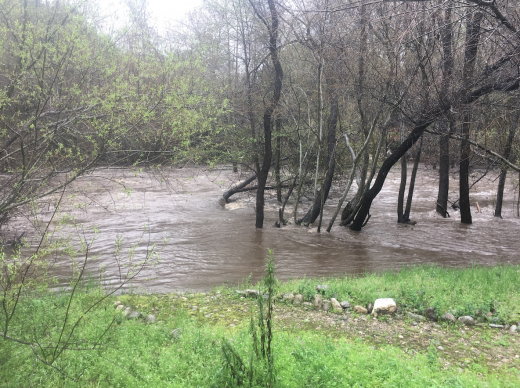 alt="" title="" />On the Carmel, that notice came this past Monday. Another storm had swung out of the Gulf of Alaska and into the tropics, picking up moisture as it did so. By the time it hit the California coast, it had become an "atmospheric river." It parked over the coast between San Francisco and San Luis Obispo—and unloaded.
During such events the county sends messages via phone, text and email to all residents who live in areas where flooding is probable. Ours came mid-afternoon. Mandatory evacuation.
The streamflow gage at Rosie's Bridge relates that at about 2 am the next morning, the flow in the Carmel a mile or so upstream of us reached 10,000 cfs. It's one of the higher peak flows ever recorded on this river (for reference, the mean annual streamflow is about 150 cfs). A number of homes flooded. The river crept to within about 15 feet of our house, but never quite reached the sandbags I had stacked under the doors that open to the back yard.
The river was still roaring at nearly 6,000 cfs when the county lifted the evacuation notice the next day. Whole trees blasted by like ICBMs. Flows have continued to drop, slowly, since then.
Ironically, for much of this winter season, the Carmel has been open for steelhead angling (the current flow requirement is 8o cfs at Rosie's). As a practical matter, on only a very few days could one actually fish any part of the river (mainly at the mouth). And I have not heard of any steelhead being caught so far. Two adults made it upriver, early on, to the sole remaining dam on the Carmel. But in all likelihood the run this year will be minimal, due to an extravagance of water rather than too little.
If you think about it, fishing involves a lot of numbers. Hook sizes. Line weights. Rod lengths. Fish size, in pounds and inches. For me, this disposition to being measured is somehow appealing. Not so much in defining success—more in terms of providing a rational basis for thinking about how to fish better and to expand the requisites for a satisfactory experience. But sometimes numbers surpass the rational and change one's world view.
That is what happened to me over the past few years, as first drought and then 100-year storm events have alternately starved and violently overfed California streams. Watching the streamflow gages became much more than a way to forecast fishing conditions—it became an exercise in marvel at the power of nature to deprive or saturate. It became a way of appreciating the dynamism of the landscape, and for the talents of those able to reside there. It became a way of empathizing with the trials and tribulations of my fellows, human and piscatorial, in other parts of the state.
We are always trying to glimpse the future, so we may better prepare for it. Streamflow gages, as forecasting instruments, have no doubt saved many lives. What I could not have predicted, when I began to rely on them for my fishing purposes, is that they would also record the pulse and ebb of my emotions.
Sam Davidson is TU's communications director for California. He lives and works on the banks of the Carmel River.