Taking a break for a warm coffee on a dreary day on Virginia's Smith River. (Sam Dean photo.)
By Mark Taylor
My friend Aaron reached out the other day with an invitation.
"Got a seat in the boat for you."
A couple days later we were floating down Virginia's Jackson River in Aaron's new Boulder Boat Works Pro Guide.
After the morning chill wore off it was a gorgeous day, a bright sun warming us as we glided along on the crystal clear river.
We were casting big stuff for big fish and ran into a few players during the 10-mile trip. But it was one of those days when you're glad you're in good company with plenty to talk about.
In their great book "Modern Streamers for Trophy Trout," Kelly Galloup and Bob Linseneman write about how some of their best action comes on bright, sunny days.
I don't doubt that, but haven't experienced it myself while fishing streamers on the mid-sized tailwaters here in Virginia.
Cloudy is good. Rainy is better.
A couple years ago my friend Sam and I did that same Jackson float on a warm-but-rainy day in early May. We tangled with probably 40 fish, including some good ones. It was the best day we'd had on that river, which can be stingy.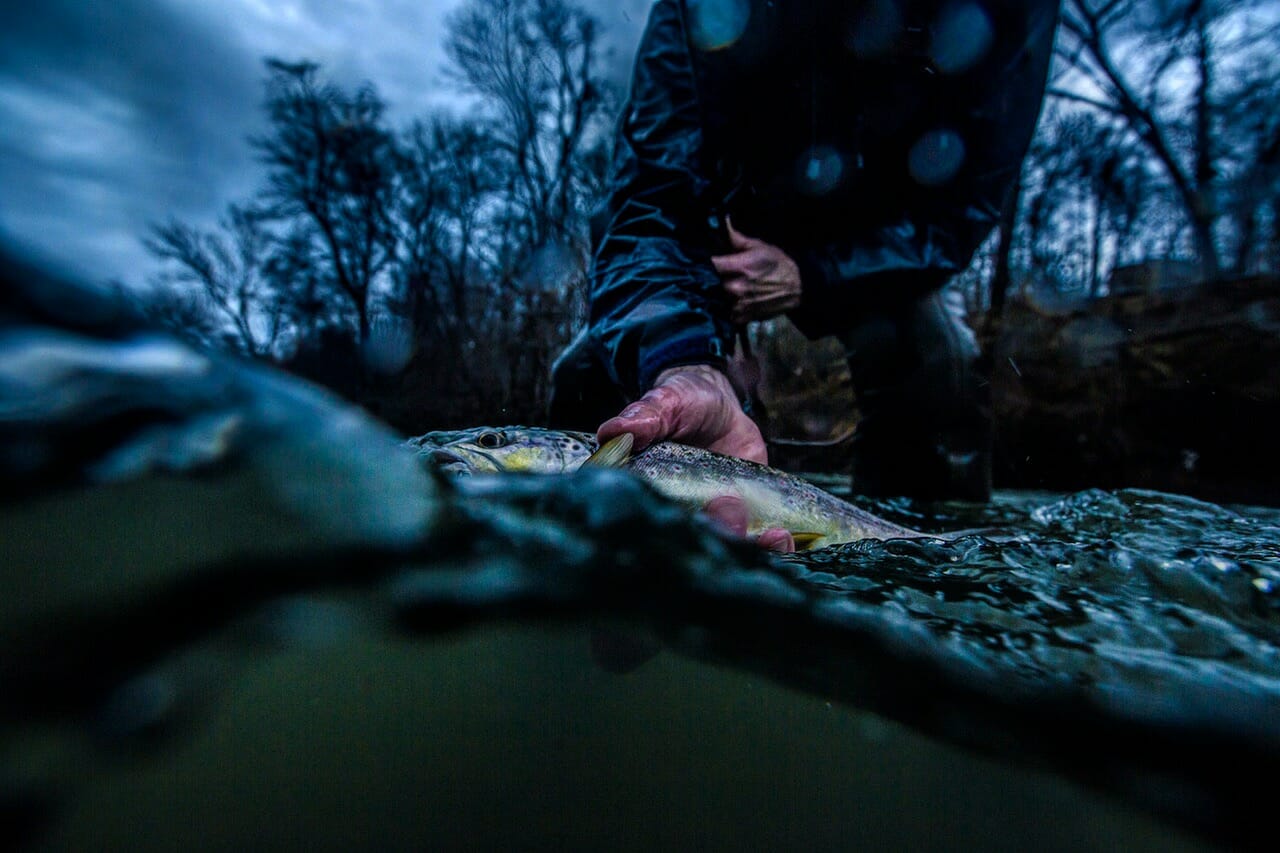 When the sun's away, the browns will play. (Sam Dean photo.)
It's hard to not let a day like that shape your approach. Since, we actually try to time our streamer trips with similar conditions and it's worked well for us.
It's not always comfortable.
Sam and I were about three hours into a float on the Smith River this winter when the persistent cold rain finally got to me. I had underestimated how many layers I'd need, my 15-year-old Gore-Tex rain jacket was leaking and I was shivering. We beached on a sandbar, Sam pulled a small camp stove out of his pack, brewed a small pot of hot coffee and life was good again.
Physical discomfort is easier to ignore when big browns and rainbows are drilling your offerings at regular intervals.
Not that it always happens.
Sam and I were back on the Jackson for a float the other day and had high hopes. It was cloudy and rain was coming. But the fishing was even tougher than it had been on that sunny day a couple weeks earlier.
If there is one certainty in fishing it is that there are no sure things.
Another thing is that we can't always be too selective about our fishing days. We tend to take them when we can get them.
There is a lot of sun in the current 10-day forecast. But if get a window I'll still go.
And hope the forecast turns out to be wrong.
Mark Taylor Trout Unlimited's eastern communications director. He spends enough days fishing in the rain that he recently sprung for a last-year's-model fishing rain jacket that doesn't leak.