A handful of the large crew that fished Virginia's Smith River prior to TU's national meeting in Roanoke.
By Mark Taylor
As Trout Unlimited's annual meeting drew near, a few of us involved in the meeting anxiously watched weather forecasts.
We wanted rain.
Not during the meeting itself, understand. But prior to it.
It's been really dry here in Roanoke, Va., and some of the streams we hoped to show off during the meeting-launching fishing day were bonier than an Olympic marathoner.
The fishing day committee, led by TU staffer and head cat herder Rob Shane, already had faced a significant challenge spreading out the nearly 50 anglers who signed up for fishing day.
It eventually became clear that the weather was going to fail us. We'd have to divert from most of the mountain streams we hoped to hit, but at least we had two robust tailwaters.
Until we didn't.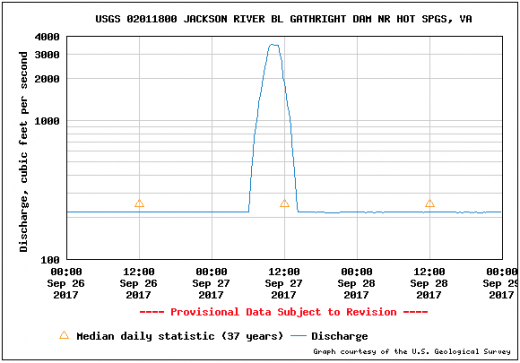 The Smith River, near Martinsville, was going to be fine. The other one, the Jackson, was not.
A few years ago the Virginia departments of Environmental Quality and Game and Inland Fisheries teamed up in an effort to try to flush algae that can coat the stream bottom in a stretch of river starting about 20 miles below Gathright Dam.
About a half-dozen times per year, dam operators send a big slug—not flood level, but not far off—of water for a short time down the river. With flows up to 3,500 cubic feet per second, the river isn't even close to fishable.
As fate would have it, a release was scheduled for our fishing day.
More scrambling ensued.
Having already diverted anglers from several too-low mountain streams to the Smith we were reluctant to throw even more onto the river. But what choice did we have?
Several visitors happily turned their focus to smallmouth rivers (and enjoyed great action, as it turned out). The rest went to the Smith.
All told we ended up with about 30 anglers and hosts on the Smith. And it was just fine.
The upper tailwater section is nearly 20 miles long. Because access is pretty good, that's a lot of water. Heck, plenty of us have fished in rivers where we can see 30 anglers in one stretch!
We spread out as best we could and, despite hot, clear weather that made things tougher than we would have liked, we still managed to catch some fish.
And that is hardly a surprise.
One can't be an avid trout angler and not be flexible. Nature and man don't always cooperate with our best-laid plans. And when that happens we don't give up.
We go with the flow and go fishing.
Mark Taylor is Trout Unlimited's eastern communications director. He lives in Roanoke and still hasn't decided if the Smith or the Jackson is his favorite Virginia tailwater.