If you're on social media, I'm confident you have noticed that #vanlife has swept the nation. Powered by social media, modern day van life is inspired by the romantic excursions of previous generations who loaded up
VW Westfalias and Transporters to chase down their favorite musical acts, post up at the river in a trout bum style, or simply see where the road (and their engine) would take them.
This day and age, any sort of VW van is expensive and the affordable ones come complete with high mileage, a file cabinet full of mechanical issues and unending uncertainty about whether your trip may suddenly come to an untimely end. Sprinter vans are simply out of the question unless you intend to cash in your nest egg. And, though more affordable, no one wants a creeper van. Ever. However, the market for used mini vans is off the hook.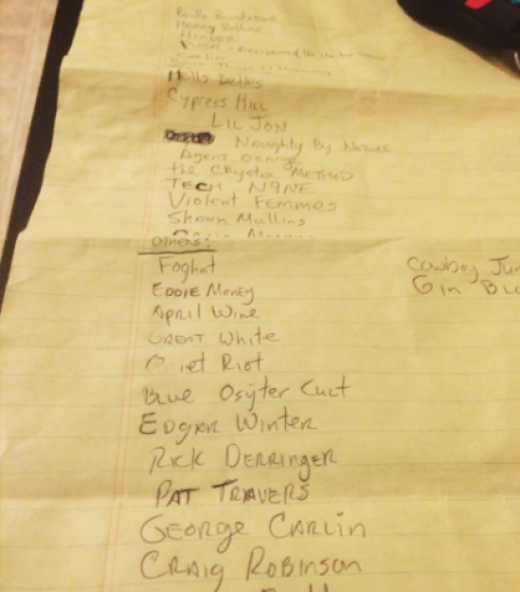 The confirmed list of artists who have traveled in Ivy Van during her days as a music venue transport vehicle.
Having made the move from the climatically dry and mildly tamed Colorado Rockies to the wet, wild, and expansive final frontier of Alaska, the idea of a fishing rig of sorts immediately sounded appealing. The utility of a camper van or similar traveling basecamp in the far north is ideal. Added benefits of it being a water-proof, bear-proof and mosquito-resistant shelter makes the whole operation borderline luxurious.
We aren't true vanlifers. We are the weekend warriors of the van life. We live for 3-day weekends. We ditch work early on Fridays to beat you to the river, and we take our sweet time coming home on Sunday because if it's a late night, or traffic is bad, we can always camp on the side of the road and roll into work in the morning with only the mild scent of fish on our shirts.
With the quirks of our personal "craftsmanship," I find our homemade camper van to be a rolling expression of our combined creativity and adventure. Originally the transport vehicle for a music venue at Alaska's state capital, she once lived a life of fame, fortune and unending rain; now she navigates double track, wears the musk of moist waders, and is perpetually dirty. She has met the likes of the Misfits, Blue Oyster Cult, Lil Jon (and many more); now she primarily shuttles dirty trout bums and poorly conceals evidence of no less than 9 hounds who've contentedly napped inside while their owners chase fish.
She came with a name, and we kept it; this is Ivy Van.
Being the non-stop daydreamers we are, my wife and I have cooked up quite the list of road trips to fully explore the furthest reaches of Alaska, numerous destinations in Canada, and into the heart of the wilder places of the U.S. West Coast. Her adventures are just beginning, and while we continue the countdown for warmer days, we are curious where her four wheels will take us next.
Eric Booton is the sportsmen's outreach coordinator for TU's Alaska Program. When he's not camping in Ivy Van, he's living in Anchorage.