By Kyle Smith
Jim Rogers first came to Elk River over 50 years ago as a forester and was tasked with logging off the watershed for its heralded Port Orford Cedar. Following a short time in the Elk basin, it quickly became clear to Jim that the river was special and that his true purpose wasn't to log the Elk, but to preserve it in perpetuity. Jim is unassuming and down to earth, and sports a wispy white hair and beard and piercing blue eyes.
I first met Jim in the parking lot of Elk River Salmon Hatchery eight miles up from Highway 101 on an unseasonably warm January day. We loaded into his "elderly" Toyota pickup and headed out for a day exploring the Elk River. Jim regaled me with the many stories and insights he has collected from a lifetime living on one of Oregon's most pristine coastal rivers (in a house which can only be accessed by canoe or cable car). Over world-famous hot dogs and cold beers from Langlois Market, Jim regaled tales of cougar stalkings, appearances alongside Robin Leach on "Lifestyles of the Rich and Famous," unconfirmed Bigfoot interactions, tours with U.S. Senators, and hard-fought conservation victories—all within this 92-square mile drainage on the Southern Oregon Coast. Recent rains had clouded many local rivers, but during our drive up the Elk, the river was crystal clear and we could see river-bottom in astonishing clarity in pools over 20 feet deep.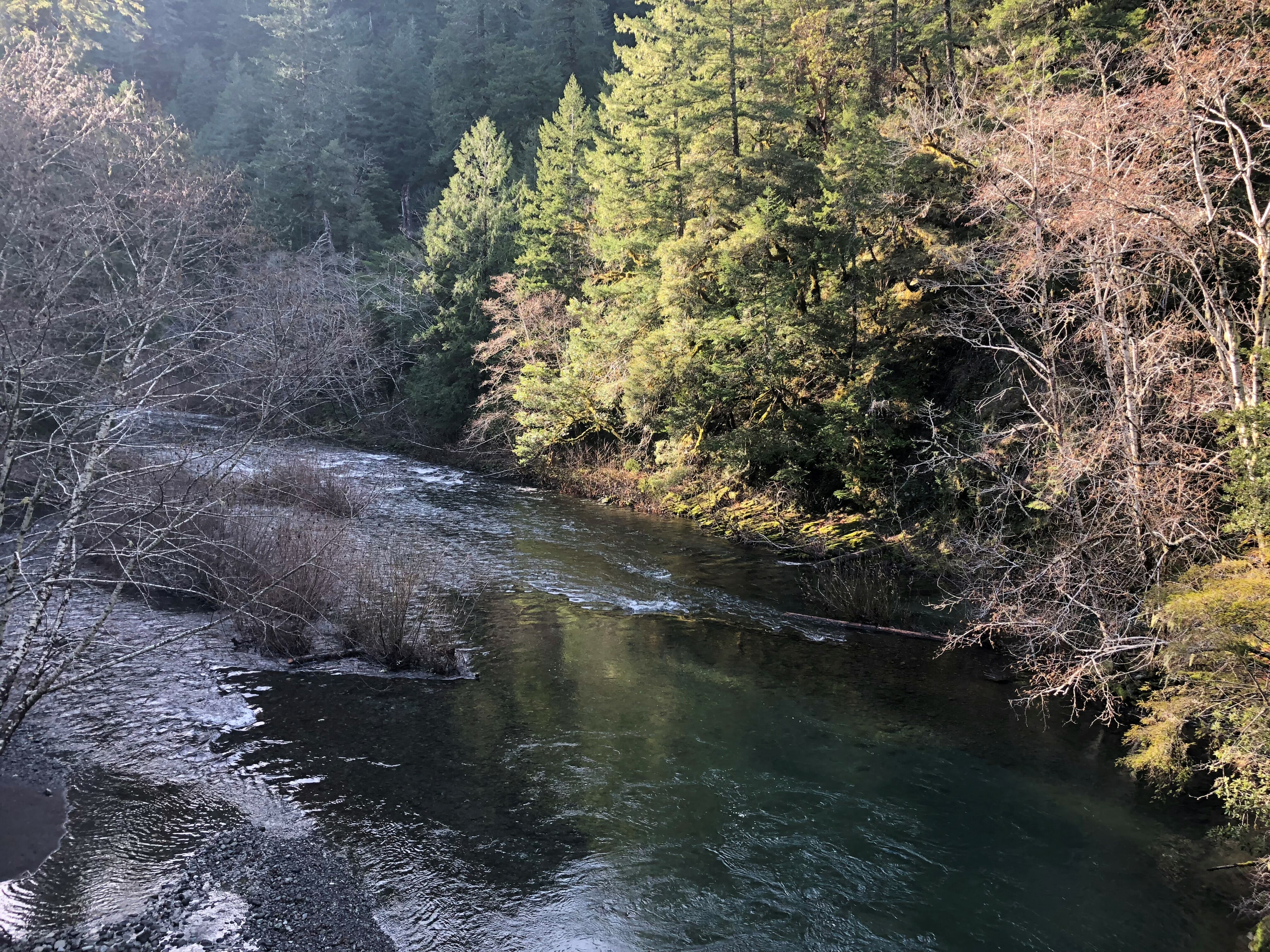 When I was still in diapers, Jim led the effort to preserve the Elk River Watershed through designation of the Grassy Knob Wilderness. Then in 2009, working with TU, the Kalmiopsis Audubon Society, American Rivers, Wild Rivers Land Trust, local businesses, government, guides, the fishing industry and ranchers and farmers, Jim was an integral part of preserving the Copper-Salmon Wilderness. All in all, Jim has spearheaded preservation of nearly 31,000 acres in the Elk River Watershed.
Surefooted and spry at 75 years old, Jim still spends his days hopping logs and hiking trails along Elk River at a speed this 34-year-old had a tough time maintaining. With a lifetime of advocacy and stewardship under his belt, he isn't giving up anytime soon on further protections for Elk River. It's a good thing too, as the south side of Elk River remains without any special designation and susceptible to future development.
Jim, TU, and a number of partners are working with Oregon Sens. Ron Wyden and Jeff Merkley, and Rep. Peter DeFazio to secure permanent protection for the south side of Elk River. Current protection efforts include Wild and Scenic designation for the tributaries of the Elk River included in the Oregon Wildlands Act, introduced by Sen. Wyden in July 2017.
The Elk River is as good as it gets, and we owe it to both Jim and future generations of river-, beer-, and hot dog-lovers to protect this special place.
Kyle Smith is TU's Oregon Field Coordinator.