By Nelli Williams
I frantically dug through a pile of clean laundry that had been sitting on the recliner all week (OK, maybe more). I was searching for two kid-sized wool socks—we had at least a dozen, so why I couldn't find two was beyond me. Victorious, I found one in the pile and the other peeking out from under a box of Legos (it was clean enough) and threw them in a bag by the door.
It was Friday, the sky was a bright blue, the leaves were starting to change and the air was crisp with a bit of heat still in the sun. For my husband and I, it was a clear choice when work wrapped up for the day—head to the river, camp, fish, and hope to pitch in on the annual Kenai River cleanup happening the next day. For our family, a weekend on the river is heaven—especially a nice fall day in southcentral Alaska.
But, sometimes the best-laid plans (or in this case the best impromptu Friday evening ideas) get flipped upside down…. especially when kids are involved.
We were so close to packed. I bounced quickly through my mental list, "Raingear? Diapers? Wading boots? Snacks? Yep, yep, yep and no….oops." I grabbed some snacks for the road and asked the kids to get their shoes on. We were inches from being out the door when the double melt-down hit from out of nowhere. Suddenly instead of being in the truck heading south to the river, we were sitting by the front door wondering what had happened to now have two screaming kids on our hands. The two typically eager-to-go-fishing kids had had enough of the week, and were inconsolable— even the promise of roasting marshmallows couldn't stop the tired tears.
After a few minutes of our putting our best parenting tricks to the test, my husband sensibly with bit with disappointment said, "Let's not go tonight. We can still go tomorrow." At first I wanted to object, there was nothing I wanted more than to be around the fire in a few hours, watching the sun set and helping the kids roast marshmallows, but after looking at our newly minted Kindergartener, exhausted from his first week of school, and fussy 2-year-old clearly not 100 percent after a booster shot, I knew he was suggesting the right thing.
After the kids were calm, fed and sleeping—we collapsed on the couch exhausted. We sipped a hard-won beer and while I was still a bit disappointed that we weren't roasting marshmallows, after six years of adapting to river adventures with young kids we had learned a couple lessons.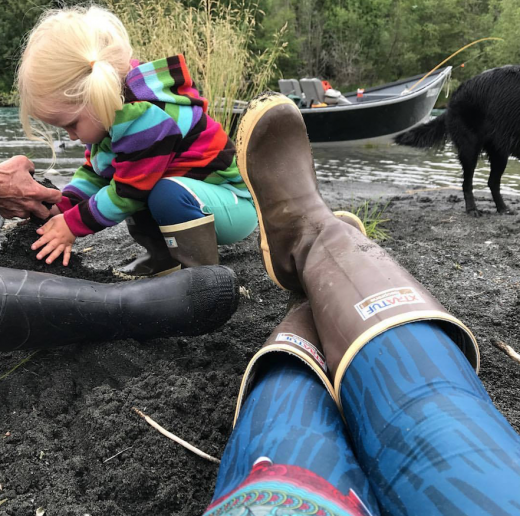 Recailbrate your expectations—you'll fish less, but find more gravel-bar treasures. As a recent brave boat companion pointed out—you might catch fewer fish but even the teeny tiny ones, or in the case of my son a big toothy spawned out sockeye, will bring as much excitement to the boat as a 30 inch rainbow.
Go with the flow—you have to embrace the fact that there will be times (many times) where your plans get unexpectedly derailed and all you can do is live the moment, have a beer afterward and try again tomorrow.
When you are open to it, you will see the river in totally new and enlightening ways. You also have to celebrate the smallest of victories—like enjoying a quiet urban evening on the couch while your exhausted kids sleep, knowing the river will be there tomorrow…
Nelli Williams is the Alaska Program Director of Trout Unlimited. She and her family live in Anchorage.