by Sam Davidson
Maybe the most difficult thing about being an avid winter steelhead angler isn't the guaranteed frigid digits, abominable weather, mostly blown-out rivers or the challenge of actually hooking one of those transcendent slabs of muscle. For me, anyway, it is coming to terms with March 7, and the increasing probability of wearing eau de skunk for two months until the general trout season opens.
Every sportsman is intimately familiar with limits. Limits in how many of our furred, feathered and finny brethren can be taken, how many precious hours of daylight there are in a season. Such limits are necessary and are part-and-parcel of the sporting experience. In my neck of the woods, the winter steelhead season is three months and one week in length. If streamflows reach or exceed certain levels (mostly pegged to estimated ability of fish to pass over "critical riffles"), you can fish on Wednesdays, weekends, and holidays, plus the opening and closing days of the season.
Opening day is Dec. 1, and the season closes exactly one week into March. That sounds like a good chunk of angling opportunity. But the way things have changed here on California's central coast, in most years, it's become nigh on impossible to convert that opportunity into success.
This has nothing to do with the fact that there are no hatcheries on most of my local streams. It has everything to do with how little water has coursed through them for the past half century. Too many straws in the drink, coupled with too many rainy seasons in which the lead actor declined to show, sending instead a poor stand-in who botched his performance.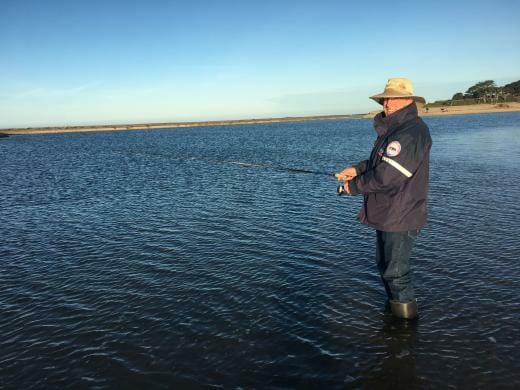 alt="" title="" />
Josh Davidson at the mouth of the Carmel River.
Last year, for example, there were almost no fishable days on my "home" river, the Carmel, because, after five years of drought, streamflows never came up enough to reach the trigger that opens the river for angling.
In the eastern Pacific, steelhead once were found from Ensenada to Kodiak Island. Now 70 percent of wild steelhead populations on the West Coast are listed under the Endangered Species Act, or are nearly there. In this region, native range of the South Central California Coastal Distinct Population Segment of steelhead, a few dozen adult returns (and several hundred in a "good" year) have become the norm for once-famous fisheries such as the Carmel River.
Carmel River steelhead are knocking on Heaven's door. So is the opportunity to fish for them.
Thus, as we approach December each year, I feel determined to get as many hours on the water during the season as I can. This year the drought gave up the ghost in a big way and we had rain in biblical proportions until recently. The Carmel and other rivers in these parts were blown and pretty much unfishable for the entire season, so there were few opportunities—and these were more or less confined to the rivermouths.
The Carmel River's mouth is a glorious place to fish. Surf crashes on the sandbar, and on the incoming tides little pulses of swell sweep across the lagoon. Coastal hills draped in chaparral preside over the setting. When conditions are good you can watch steelhead, at times of low light, rest or roll just off the current next to the small granite outcrops that form the southwest corner of the estuary.
This season, conditions were never good. The river ran high, hard and dirty as soon as it rose enough to breach the sandbar and connect to the Pacific. When wading, you could not have seen a fish if it punk-slapped you in the knee as it swam by.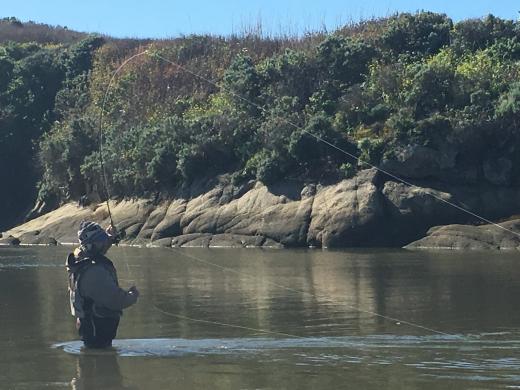 alt="" title="" />
TU's Tim Frahm on the Carmel River.
Nonetheless I fished the rivermouth at least a half dozen times over the past two months—mostly swinging mid-size buggy flies in olive or black with sinking leaders. But I saw no steelhead, or any other fish, until March 7, at the season's close.
It's a reflection of how degraded the Carmel River fishery has become that in recent years, at least in the rivermouth, anglers are more likely to catch a striped bass than a sea-run O. mykiss. And on March 7, after I spent the first hours of the day with my brother strafing the main channel with flies, spoons and spinners and got nothing but the pleasure of each other's company, I was staring down the barrel of a season-long schnied on my home water. I shamefully swore to come back that evening and try for stripers.
I returned as the day approached dusk. The flows and the tide had dropped enough to allow wading across the channel to the sheltered south arm of the lagoon if I was careful. I made it on tiptoes to the gravel bar shielding the aperture of the arm. I stood on the gravel bar, tied on a big ol' Clouser and started hucking it into the placid south channel.
Bang. A 17-inch striper came to hand. A few casts later, bang, another followed suit. I worked my way along the reeds and mud to reach other segments of the channel. Bang. Bang. Two more in that same size class. The sun set and I slogged back across the river.
I breathed deeply. The skunk was off. No steelhead, but no skunk.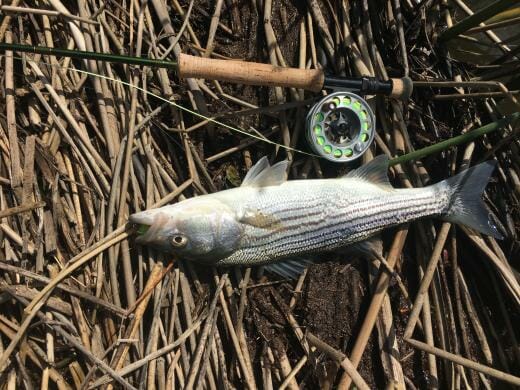 alt="" title="" />
Carmel River striped bass.
In fact, striped bass may be a problem for native steelhead in this area. There is little doubt stripers are eating juvenile steelhead in the mouths of coastal rivers such as the Carmel. If steelhead runs were not already depressed from other factors, this impact might not be too serious. But as it stands now, anglers are encouraged to keep and kill any striped bass over legal limit (18 inches).
By my estimation none of the stripers I caught that evening reached that length. Did they somehow take up residence in the reeds, after I unhooked them, instead of swimming away? I can't remember.
Here's the thing about steelhead: they have always been as much phantoms as fish you might coax to hand. Sport fishing for steelhead has always been as much about the experience as the catch. Even in my youth, when the Carmel River run was still robust and anglers would line the main holes ass-to-elbow, few fish were caught. It remains a grievous wound to my pride that in those early years the only steelhead we ever sniffed was a big bright buck caught by my younger brother, at about age 8, on a Daredevil spoon in the old quarry hole just upstream of Hitchcock Canyon—with some help from a couple of gruff older anglers.
It was always possible to wear skunk cologne after a season of steelhead angling on the Carmel River. Nowadays, it's just much more possible. With their numbers so depressed in this area, we are blessed to have a steelhead fishing season at all. So I don't expect too much when the season kicks off on Dec. 1. But if conditions haven't allowed for much fishing, and I haven't yet gotten a tug as March 7 looms, double duty that day becomes mandatory.
Even if it means chasing stripers.
Sam Davidson is the communications director for TU's California program. He lives and works on the banks of the Carmel River.