Luck, or skill? In the case of exceptional anglers like the Steelhead Whisperer, it's mostly the latter.
By Jim Burns
Consider how much of your fly fishing is skill, how much is luck.
This summer I excitedly boarded a plane with my fly tube and
sat down, expecting nothing more than a peaceful flight, but within minutes a guy in the next row asked me where I was going to fly fish.
Even with interruptions from his two kids and the flight attendant, he'd soon recommended several sites to explore, as well as several fly patterns I'
d never used. Call it luck that out of all the passengers who saw my fly rod, this guy actually knew what it was and wanted to be helpful. He said he spent some nights until 2 a.m. tying up new patterns in size 22 on his own fishing obsession.
For me, this is good luck. And I suspected as much not just because of the guy on the plane with his phone full of tiny nymphs and big fish photos.
When I landed at the airport, I inadvertently got on the wrong courtesy bus, mixing up "Dollar," where my car waited, and "Budget," where they'd never heard of any Jim Burns. The luck of this situation came when I asked a worker in a neon vest where Dollar was. He looked at me thoughtfully and pointed left at the busy highway in front of us, one that within a few minutes would be soaked in an oncoming summer storm.
Then he said, "Don't worry, I'll take you."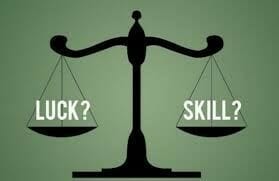 Once on the water the next day, my luck held true – I landed plenty of fish, including a cuttbow, but on the unlucky side of the equation, I also lost a trophy brown in shallow water. No broken knots on him, I simply pulled the No. 16 caddis nymph out of his soft mouth. Still, I felt an unlucky tremor in the force after losing that fish, which turned out to be nothing, just an unfortunate blip in an otherwise fine day.
Like other sports, fly fishing merges skill – what you can control – with luck, all those other elements you can't. Were you casting just perfectly with the rises coming on strong until a sudden gust blew your fly off course, alerting the fish your bug wasn't the natural it claimed to be, and spooking him and his brethren? Bad luck, friend. Or, just the opposite, when that one fly you forgot in the back of your box turns out to be just the right one and you get into fish, after fish, after fish. Good luck.
To formulate: observed outcome = skill + luck.
That's the formula author Michael Mauboussin uses in his fascinating book "The Success Equation: Untangling Skill and Luck in Business, Sports, and Investing." Pure luck holds down the far-left end of the graph line, while pure skill occupies the far right. According to his formula roulette sits left at the far end of luck, while chess occupies the highest skill game to the right. Every other sport sits somewhere in between, depending on its mix of luck and skill.
Fly fishing wasn't included, but I wonder where it would fit on the spectrum between luck and skill. Once you can cast, read water and drift a good fly without drag, fishing fits into the formula, especially if you know a water well, or you hire a guide.
That's exactly what I did the first day of my trip. The entire day was filled with varying sized trout, which is what you hope for in a guided trip. The logic is simple: the guide knows the local water, you don't. You improve hopefully your luck and most likely your skill.
The next day, I tried to retrace my steps from a few years back to a no-pressure lake – unsuccessfully. The terrain didn't look at all right; I was at altitude, puffing away, when a stranger gave me a look and said, "You're not going up there, are you? There aren't any fish. But," he continued pointing downhill, "I did see a small lake down there."
Happy for the tip, within thirty minutes, I was seated on a rock, unwrapping my sandwich, two brookies already caught and released. Then, he happened.
The guy, the dude, the local who always fishes this spot.
We talked for a bit and he asked if he could join my private party. I nodded, and we were the only two on the water. I thought "Isn't this pleasant, to be here and not stuck in L.A. traffic."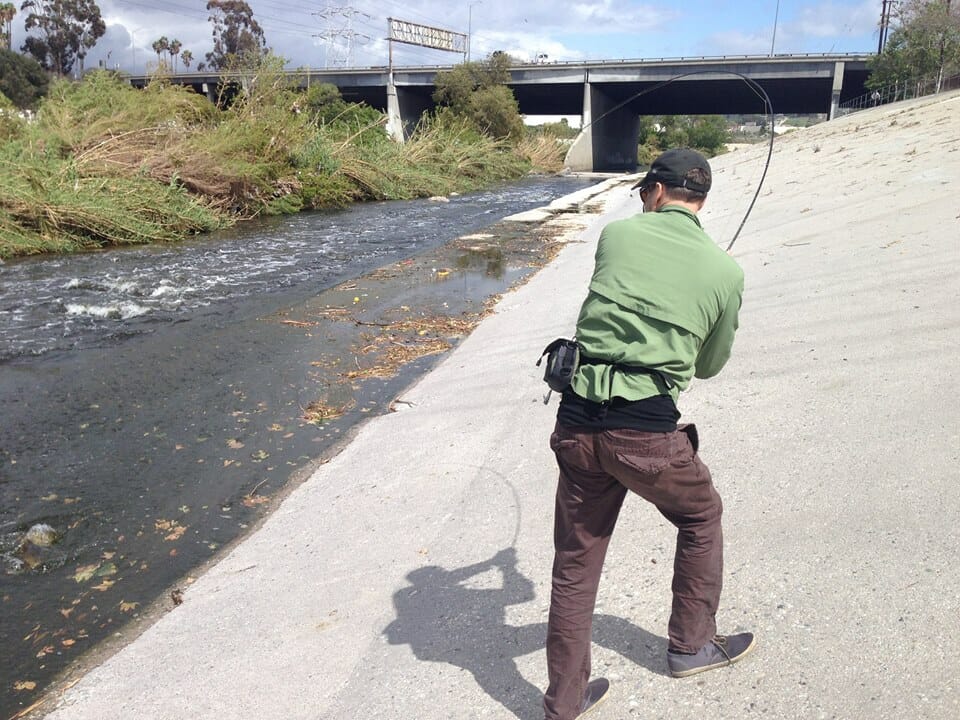 Carp tug, Los Angeles River.
But … as soon as he cast his line, my dry spell began, punctuated only by missing fish.
"Hey, bro, fish on," he called cheerfully after a few minutes, "and I didn't even bring my net." And then another. And another.
I began to brood, dark clouds forming around my casts like a toxic rush-hour tail pipe smog.
"Hey, bro, fish on!"
Next, his girlfriend showed up with their medium-sized happy dog.
I cast and wham – fish on! —at the same time as the local. But … he landed his and mine got away. And, gentle reader, I can tell you what it was, what I dreaded the most, what I feared had rubbed off on my rod, fly box, maybe even on my boots that now got stuck in all sorts of sucking mud where none had been before lunch – bad, awful, rotten luck.
I began furiously casting to brookies that would no longer rise: I switched from dries, to dry droppers, to straight-up nymphs. I fished through the plane guy's recommendations that had been so successful the previous day. Nada.
"Well, bro, gotta go."
And, just like that, the threesome was off, and I supposed, dejectedly, I'd better be off as well. I bushwhacked to the dirt road and after a bit heard a lone vehicle grinding up the slope.
You'll never guess who it was.
"Later, bro," he said with a smile, a cute girlfriend and a happy, wet dog as his nubby tires blew dust into my face. Not that he was going fast, just that, you know, when you've lost your luck, dust just comes to you naturally as the successful getaway vehicle makes the hill rise without you in it.
Back at the rental, I reasoned with myself that not all humanity is vile, evil, or better fishermen than I, but I admit to having a hard time making myself believe it in the moment. Optimistic by nature, I felt sure my luck would return to help out my skill. My mind leapt to water plans for the next day and I felt a modicum of happiness return.
That was until I was back on the highway when the tire warning light on my rental's dashboard popped yellow.
I had an out-of-the-blue flat all the way down to asphalt, not a whoosh of air left. And a donut in the trunk where a spare might have been.
A donut that will not get you to your fishing holes and back to the airport dozens and dozens and dozens of miles away. And a phone call, "No, I didn't take your auto insurance policy back at the airport, so what do you mean I have to get the flat fixed myself?"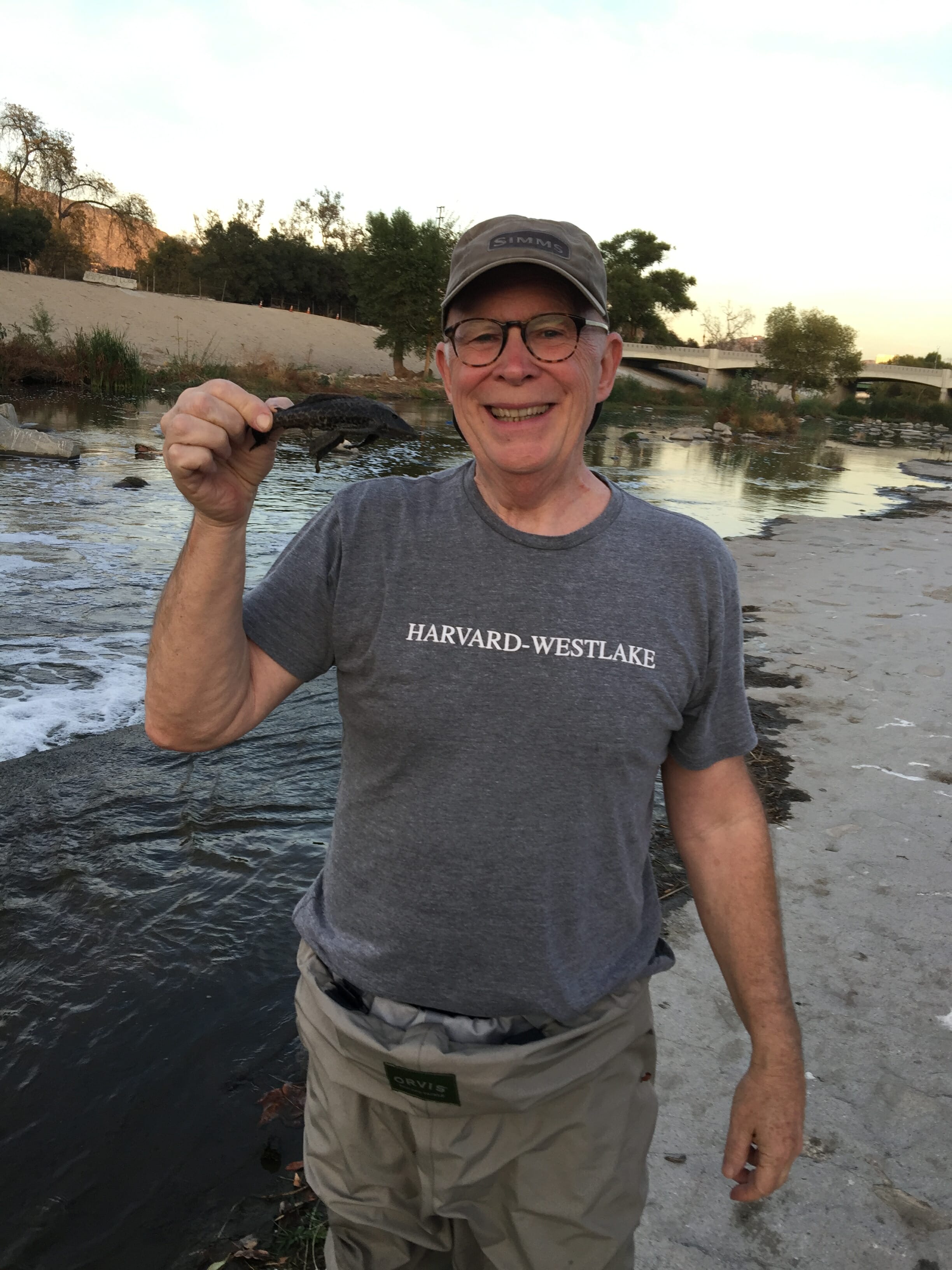 Jim Burns doing research on the luck-vs-skill equation, Los Angeles River.
Of course, if you've had your own experience dealing with the vagaries of luck and fly fishing, you already know that the tire was so severely damaged I had to buy a new one for my rental and spend the next half-day dealing with that instead of fishing.
It all worked out, sure it did. At the airport, the company did pay for the tire, even though the anonymous person on the 800 number the day of the unlucky flat who asked me first, "Was I safe?" said it would be at the "discretion of the manager."
And, yes, my luck-skill combo did return, as I managed to catch one more rainbows on my birthday, thank you very much.
So, my question to you is this: Did the bad luck that rode in on a stranger, ride out on my tire? Naw, that would be pure superstition to think that way.
Jim Burns is one of the leading angler-conservationists in California and works closely with TU's South Coast Chapter on efforts to restore the Los Angeles River and its historic run of southern steelhead. His long-time love affair with the LA River and his discovery of its fly fishing opportunities spawned his blog, LA River Fly Fishing (motto: "Fishing for carp, waiting for steelhead").