By Wes Johnson
Sometimes the most effective volunteer Trout Unlimited projects might seem like they have nothing to do with fishing.
Such was the case with a recent work project by the Weber Basin Anglers Trout Unlimited Chapter out of Ogden, Utah.
Higher than normal precipitation throughout northern Utah during the 2016-2017 winter gave rise to abundant spring grasses and shrubs. The lush environment, however, started wilting late this past summer in dry and hot conditions.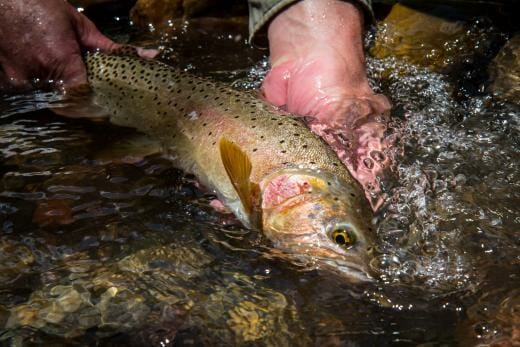 Fish like this cutthroat trout caught during a survery conducted by the Utah Division of Wildlife Resources and Trout Unlimited are common in the Weber River. Paul Burnett/Trout Unlimited photo.
The landscape was ripe for wildfire and in early September strong winds gusting to 50 mph out of Weber Canyon caused power lines to arc and the once lush vegetation quickly became a raging inferno.
The rapidly spreading fire consumed five homes and burned hundreds of acres of riparian and upland vegetation along the Weber River. Included in the destruction was the buck and rail fencing surrounding the Fisherman's Point Angler Access in South Weber.
Officials responsible for the fence said it would take a while to be replaced so the chapter reached out to see what could be done to make it happen in a timely fashion.
The Utah Division of Wildlife Resources Northern Region office had the fencing material available, but no time for staff to dedicate to the project. Weber Basin Anglers asked for volunteers at the next chapter meeting and two dozen members committed to the project.
We arranged for delivery of the 12-foot poles by the Division of Wildlife Resources and on Dec. 2 our volunteer team showed up to build the fence. Five hours later the chapter members had completed the project.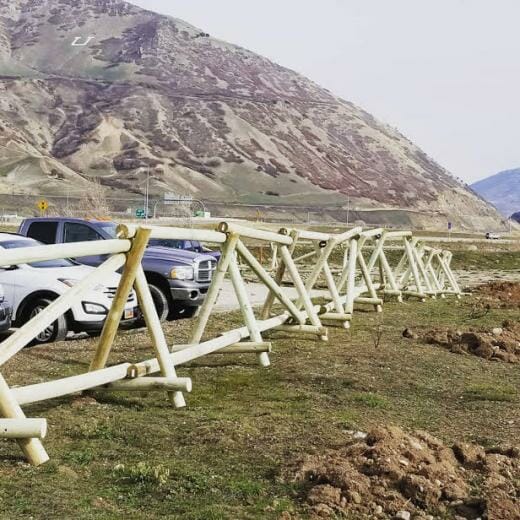 The nearly completed buck and rail fence members of the Weber Basin Anglers TU Chapter recently worked on near the mouth of Weber Canyon. Trout Unlimited photo.
The fence provides protection to the upland and riparian habitats from motorized vehicles and functions as a public access point to the Weber River trail system for anglers and other recreational users of the Weber River. It is always good to help out partners when the situation allows.
As spring arrives next year and vegetation begins to come back DWR will conduct a survey to determine if any replanting or reseeding will need to be done. Reseeding is often important after wildfires to prevent erosion for muddying rivers. This will present another great opportunity for our TU members to get their hands dirty.
Wes Johnson is a member of the Weber Basin Anglers Trout Unlimited Chapter based in Ogden, Utah. He helped create the chapter and is also a former president of the Utah Council of Trout Unlimited.