/wp-content/uploads/2019/05/blog/Screen-Shot-2019-03-26-at-1.11.06-PM.png
A nice Dolly Varden caught thanks to energy provided by peanuts. Photo by Eric Booton.
By Eric Booton
For better or worse, my wife and I are trying a diet. We aren't the "diet type," in that we don't jump around from diet to diet or generally adhere to a strict diet. Currently though, we are aiming for a Paleo diet, though it's better described as a "soft Paleo diet" to allow wiggle room to cheat (often) on the weekends or at the routine fishing events featuring beer.
The benefits have been noticeable. Cheaper trips to the grocery store, less waste and smoother digestion. Losses have been noticed as well, chiefly in the department of snack foods. Unsurprisingly, the most craved snack foods are not allowed on the diet.
Recently, I was set forth on a trip to Costco with a strict mission to sniff out some Paleo friendly snacks. Paleo has been described as a caveman diet comprising of foods that were historically hunted and gathered and eliminating processed foods, dairy and sugars. Cruising the rows of shelves at Costco, looking for appropriate snacks, I stumbled upon the mother lode — a 6-pound bag of shelled peanuts for less than $5. I do the mental math… one heck of a deal, plus diet friendly snack, equals success.
I didn't grow up at the ball game with peanuts and Cracker Jacks, but peanuts and I do have fond memories, and not the high school days bussing tables at Texas Roadhouse where my primary duties included sweeping soggy peanuts of the floor after having eaten said peanuts for the entirety of my four-hour shift. No, my admitted affection for shelled peanuts is more recent, and in my opinion, much more marvelous.
Screen Shot 2019-03-26 at 1.12.12 PM.png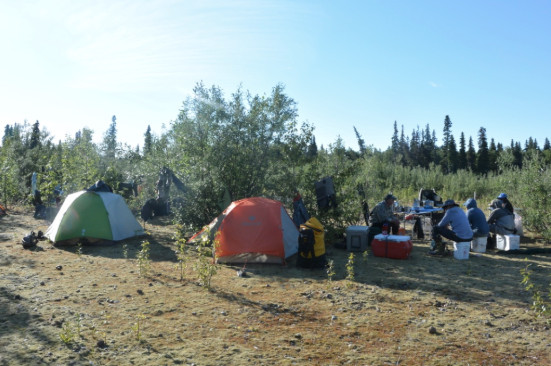 Enjoying some peanuts before a meal on the Koktuli River. Photo by Eric Booton.
Last summer I spent eight days in Bristol Bay, an anglers' paradise, rowing a raft and exploring the Koktuli River with four students from the Trout Unlimited Costa Five Rivers Program. The days were long and fulfilling. Eight to ten hours in the raft, swatting bugs, catching Dolly Varden and Arctic grayling, netting chum and chinook salmon, and pulling into camp late and starving.
The five of us were fortunate to experience this remote river trip with the guidance of Chuck Ash, a retired Anchorage teacher and fly fishing guide who has been frequenting this river with clients for more than 35 years, and knows a thing or two about appeasing hungry anglers. For being hundreds of miles from the nearest grocery store, we ate like royalty, but one of the most appreciated items of food Chuck had in store for us was the Costco-sized bag of shelled peanuts to hold us over while waiting for the dinner bell.
Peanuts… they're not just a snack, they are an experience. As I crack the shells open, harvesting the nuts inside at an alarming rate (I only eat peanuts one way—ravenously), I am back on the banks of the Koktuli River, feasting on peanuts whilst sitting on a bucket, swapping tales of fierce salmon, acrobatic grayling, and gluttonous Dollies with Anthony, Libby, Kylie and McCarthy or consuming my handful of nuts as politely as possible while eagerly listening to one of Chuck's stories from adventures past.
Recently, after observing me dispose of numerous bowls of peanuts, my wife laid a bit of knowledge on me and fully burst my sense of accomplishment in providing a diet friendly snack as directed.
"You know peanuts aren't nuts right? They are legumes," she informed me.
To which I naturally responded, "What the heck is a legume?"
The short answer is legumes are not Paleo friendly. I still have approximately 4.5 pounds of peanuts, and by golly I am eating them because a trip to Bristol Bay is only a bowl of legumes away.
Eric Booton is the sportsmen's outreach coordinator for Trout Unlimited's Alaska Program. He lives and works in Anchorage.