The Steelhead Whisperer cradles the object of his affection on his home water during the recent steelhead season opener.
By Sam Davidson
It was
with some trepidation that I paid my respects to a stream with a heavy reputation on the recent opening day of steelhead season.
I should have had no worries, as I was in the company of the Steelhead Whisperer, and this stream was his home water. But fishing in the presence of supreme local talent comes with its own sort of performance anxiety. Ugly casts, poor line management, and unfunny vocalization of one's emotions under such circumstances could quickly cause banishment from the kingdom.
Not to mention the implications of failing to generate any hook-ups, or blowing an engagement with a nice fish. The latter, of course, is exactly what I did. But that came later, after other missteps.
The short stream we had targeted for the opener, like a handful of others, drains a rugged range of low-elevation mountains on the California coast between San Francisco and Watsonville. Despite frequently poor habitat conditions, largely due to a half century or more of development and excessive diversions, many of these streams still have steelhead runs—and most of these are wild.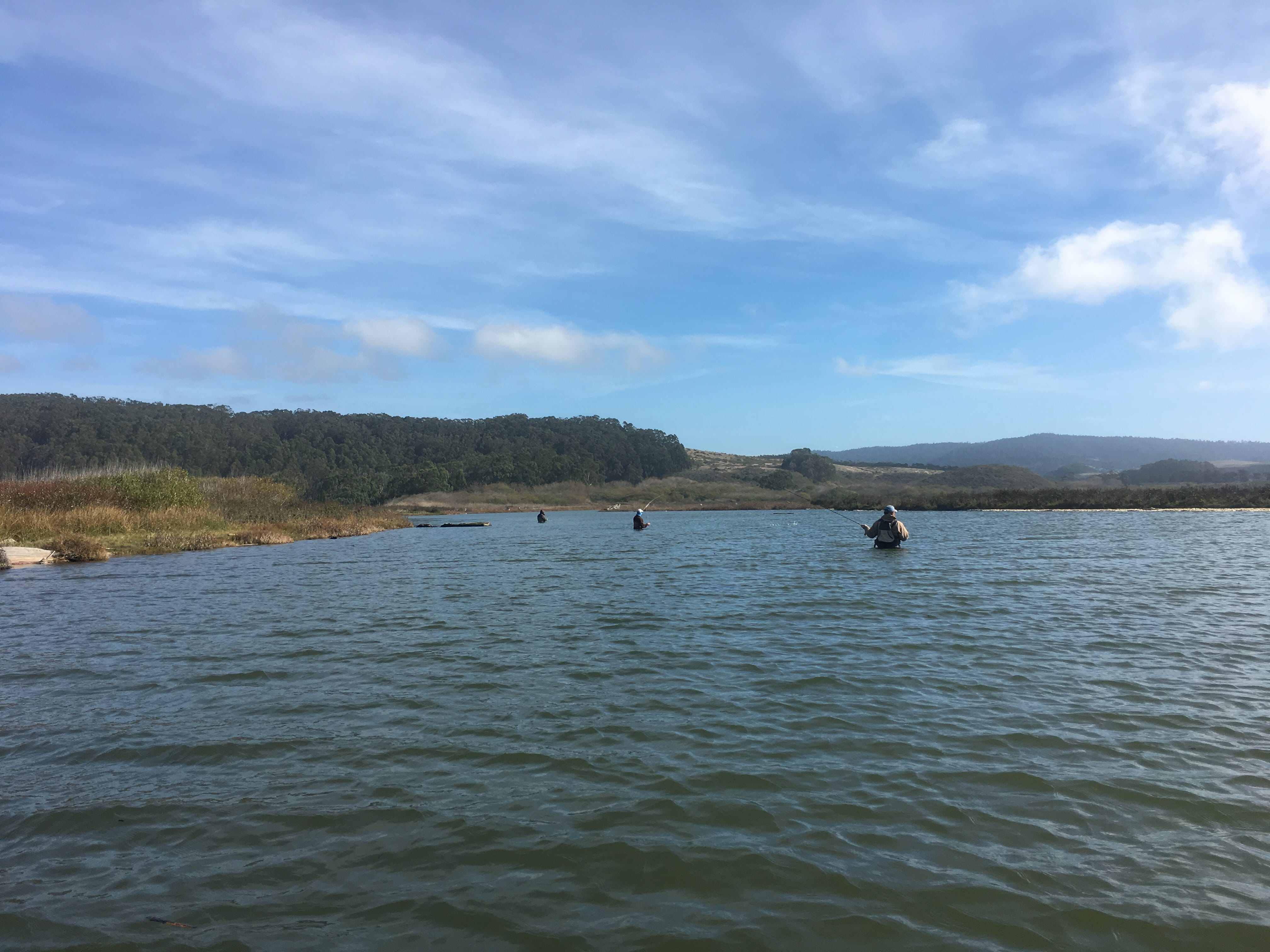 As with steelhead populations up and down the West Coast, these runs are shadows of their former selves. It is testament to the biological efficacy of the complex life history of sea-run O. mykiss that they persist at all.
Thanks to some enlightened management by the California Department of Fish and Wildlife, a limited winter steelhead fishery persists here, as well. There are two reasons for its daunting reputation among anglers. The first is that it produces relatively large numbers of big, hard-fighting fish. The second is that this fishery has a small force of hard-core local anglers who both steward and police it.
Woe betide the visiting angler who should fail to allow enough "elbow room" to one of these locals, or seek to establish cordial relations by inquiring as to the current fly or lure of choice for that water.
As we pulled into the parking area after a two-hour drive up the coast, a big, long-period northwest swell detonated on the near-shore reefs and sandbars. The Steelhead Whisperer grumbled about how this could affect the tidally influenced reach of this stream.
In fact, the swell had moved so much sand along the beach that the mouth of the stream was now closed. There would be a lot of water in the lagoon, and more pieces of kelp and other ocean detritus.
The Steelhead Whisperer handed me a few of his time-tested flies for that water. One was a variant of the Drano, and the others basically stubby buggers in black and olive. By way of instruction, he said "Strip-set, or you will never fish here again."
On that helpful note, we prepared to get wet. But not before the CDFW fish biologist for that district, an energetic, bearded man named Jon, came along. "You should have been here an hour ago. The guys were really getting into them," he said.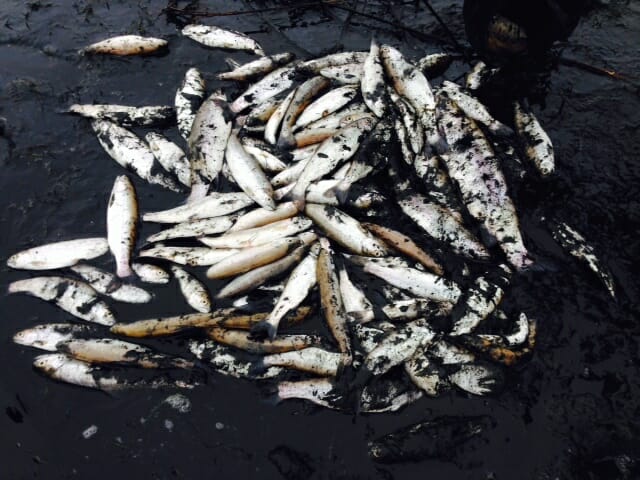 (L) Fish kill, 2014
The Steelhead Whisperer got a pained look on his face, which slowly dissolved as he exchanged work notes and other pleasantries with Jon. The Whisperer, after spending much of his career as a surveyor and consultant to a county farm bureau, now works for Trout Unlimited. TU has been working for years to help address thorny water quality and water supply challenges in this watershed. We have made some progress, but much remains to be done to better protect and enhance this remarkable underground fishery.
Eventually Jon wandered off, and the Steelhead Whisperer waded in to his waist and began covering water with the effortless and efficient casts which are his hallmark.
I had just shuffled out to the casting zone a respectful distance upstream of him when one of the locals, a robust septuagenarian named Jack, made his way down to us. He flung what I later learned was his trademark orange plug across the stream and retrieved it surgically, with a flourish every now and again.
Jack hailed the Steelhead Whisperer, saying, "Boy, the action was pretty good a little while ago. There's nothing going on now."
I thought I might be implicated, somehow, in the blame for this discouraging fact, so I cowered in the background as the two local boys exchanged banter. At length the Steelhead Whisperer introduced me. I made so bold as to ask if I could take a photo of them.
Jack reacted as if he had been asked to change a dirty diaper. The Steelhead Whisperer's features contorted with outrage. I hastened to reassure them that I would never, under any circumstances, reveal the location of the spot or their full names.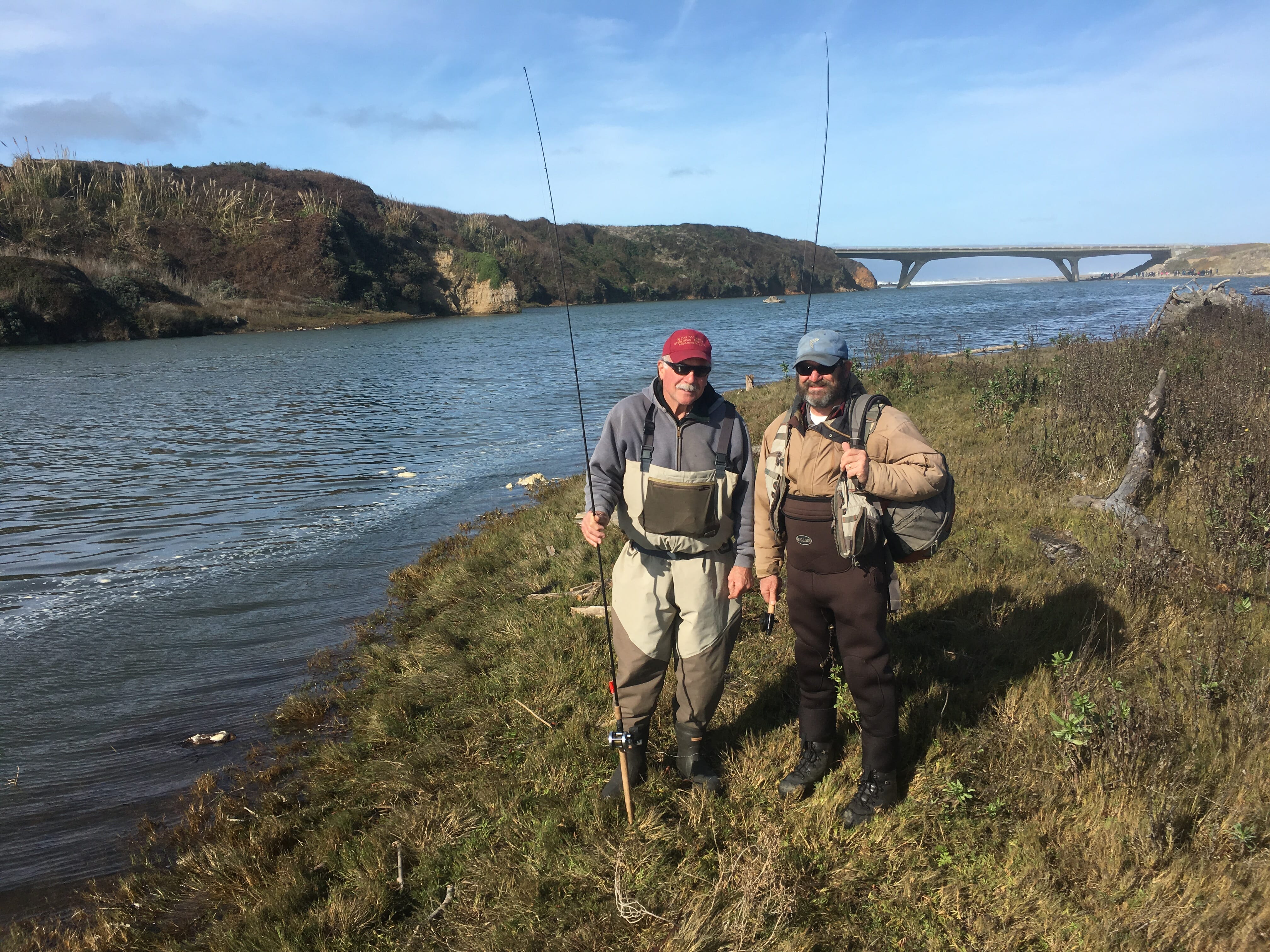 (R) A couple of local boys.
They eventually agreed to pose, but my faux pax lingered like flatulence. Jack left for a lunch break, while the Steelhead Whisperer and I worked our way upstream, where two other locals, John and Steve, were presiding over some prime real estate.
John and Steve kept up a lively conversation. They recounted memories of fishing with the Steelhead Whisperer and other, even more colorful locals over the years, with emphasis on episodes of incompetence or humiliation. They lathered opprobrium on visiting anglers who had defiled their fishing experience with their mere presence. For those visitors who had had the temerity to try to make conversation, they reserved particular disgust.
About that time the fishing turned on again.
I watched in awe as the three local demi-gods hooked up with and landed, one after another, feisty 10 to 16-inch juveniles that erupted repeatedly from the water, until a soft woo-hoo from the Steelhead Whisperer indicated that he was into a more substantial fish.
Eventually he coaxed a bright 20-inch sub-adult to hand. He regarded it lovingly, and said, "Guess I'll have to fill out my Steelhead Card today, after all." He proceeded to bring to hand at least three other steelhead in that age class over several hours on the water, losing nary a one.
Meanwhile I wedged myself between Steve and the Steelhead Whisperer, trying not to do anything too offensive. I managed to land a couple of juvenile fish. They were beautiful, almost spotless trout, and incredibly vigorous. The takes were subtle.
I glanced over at Steve to see if he had noticed that I had gotten into a few fish. Perhaps he would acknowledge my success with a nod. Instead, he gave me the Stink Eye.
On the next cast my fly got hung up on some obstruction and I had to break it off. Steve and the Steelhead Whisperer immediately got bent on either side of me.
On the first retrieve with the new fly I felt the telltale resistance, and set the hook.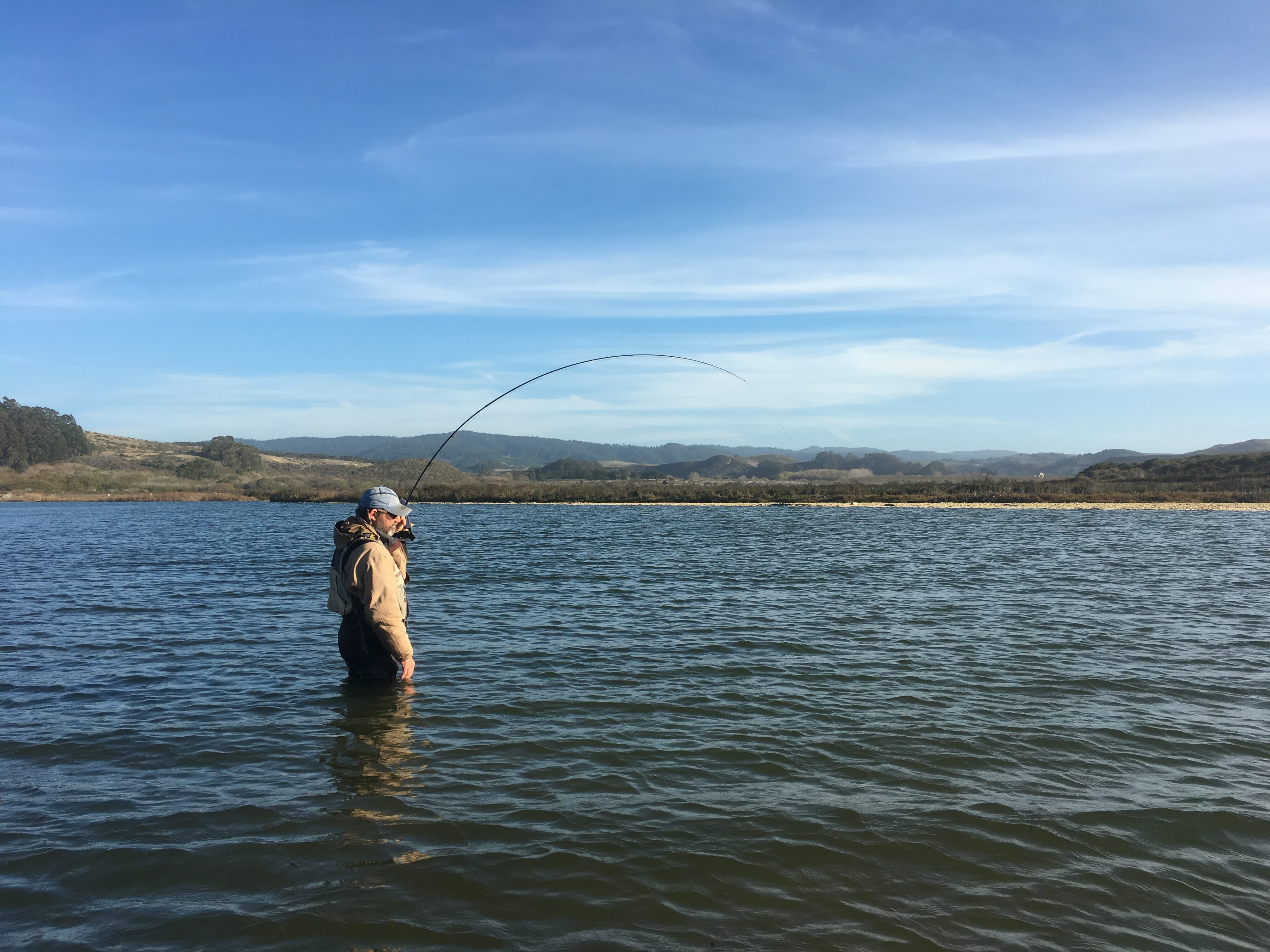 (L) The Steelhead Whisperer, in his customary pose.
It was hard to tell how big the fish was. It moved slowly sideshore, giving little indication of its heft. Then the Steelhead Whisperer, who had a better visual angle, cooed, "Nice fish."
As if on cue it made a run, taking back thirty feet of line. Whoa.
After some more give-and-take I started wading to the bank. The fish obliged. I thought, "I'll just get him on the reel so I don't have any problems with all this line floating around me like some sort of hoop-skirt." And I nearly did, too, before the fish decided he had toyed with me enough and spat the hook.
The Steelhead Whisperer clucked. "A twenty-inch fish, for sure," he said brightly. Steve and John, from their stances upstream of me, paused in their vilification of visiting anglers long enough to chuckle.
Then Steve said, "We're only laughing 'cause we've all been there." And just like that, the opener was a smashing success.
Sam Davidson is TU's Communications Director for California and the Klamath Basin. He has been blanked while fishing steelhead season openers more times than he cares to admit.