Great scenery, prolific hatches and beautiful wild brown trout combine to make Penns Creek one of Pennsylvania's most iconic trout streams. (Rob Shane photo.)
By Rob Shane
Penns Creek in central Pennsylvania has something for every type of angler. The bug life is outstanding, producing what might be the most prolific green drake hatch in the East. Riffles and pocket water offer a perfect drift to the nymphing crowd. And, of course, the healthy population of large brown trout gets every streamer junkie pumped up for the next root wad and undercut bank.
On top of that, it might be the most scenic fishery in the Keystone State. The lush green forest and steep mountainside are a sight to be seen, and the many miles of bike paths following the stream offer the ability to escape the crowds and find a truly wild experience.
At its July quarterly meeting, the Pennsylvania Fish and Boat Commission designated a fifth section of Penns Creek as wild trout water, raising the total Class A mileage on the stream to nearly 30 miles. This stretch was one of 104 stream sections added to Pennsylvania's list of officially designated wild trout waters, which grants them special water quality protections under Commonwealth regulations.
At the same time, the Commission moved forward with its plan to make this 3.8-mile stretch of Penns Creek a Catch & Release, Artificial Lures Only fishing section (see page 38). The public has until September 19 to comment on this proposed change, after which the Commission plans to approve the regulation at its October meeting, with an effective date of January 1, 2019.
Meanwhile, a new Wild Trout / Enhanced Waters Voluntary Permit (page 24) will be offered starting in 2019. Along with purchasing your Pennsylvania Fishing license, you will now be able to make a $25 donation to the PFBC and do your part in encouraging the future of our wild trout fisheries by supporting research, as well as habitat restoration on some of our most valuable waters. In addition, the Commission will sell $10 musky, bass, and habitat improvement permits.
Trout Unlimited applauds the commission on taking these steps and looks forward to working with them to ensure Penns Creek and other blue-ribbon trout streams in the state receive adequate protections. We encourage you to click through to PFBC's web site and support this change in management.
Given the current financial status of the PFBC, and the ongoing debate in Harrisburg over its future, we are pleased to see that some creative fundraising measures have been adopted to ensure the well-being of this critical independent agency moving forward.
I was fortunate enough to fish Penns Creek for the first time this summer with a good friend from Philadelphia. Having both spent most of our lives in cities, we were both in awe of how wild this place truly is.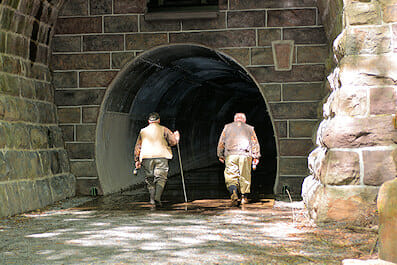 One of the first things we noticed after passing through the Poe Paddy Tunnel (above; photo courtesy of Pennsylvania DCNR) to get to the river were large trash cans along the trail, courtesy of the Penns Creek Chapter of Trout Unlimited.
A few minutes later, after hiking through the dense, endless forest to find our fishing spot, we were graced by a bald eagle soaring right over our heads. It didn't take us much longer to start finding fish, and lots of them. Unfortunately, we were a few days late for the green drakes hatch, but that didn't stop dozens of wild trout from eating our flies, including one that taped at 19.5 inches.
After a full day of fishing, we found a pool to ourselves as the sun was setting and waited for the bugs to pop. I looked at my friend, both of us exhausted, and we each knew what the other was thinking. This place was truly special and worth protecting at all costs.
For up to date stream reports, hatch charts, and information on fishing, check out Penns Creek Angler or The Feathered Hook.
Rob Shane is the mid-Atlantic organizer for Trout Unlimited. He needs little encouragement to conduct trout-related research on the region's streams.