(Above) The Lost River Range rises in the distance. Photo by Rachel Andona. (Below) The campfire, where winter washes away. Photo by Cameron Hunt.
By Chris Hunt
I've been known to push the season. As a newspaper reporter some 25 years ago in Buena Vista, Colo., I showed up to cover an April town council meeting in shorts and flipflops. It was snowing outside.
That same year, I and a buddy of mine visiting from Cleveland got my old Isuzu Trooper stuck in a snowbank in mid-May, trying to get into Elbert Creek to do some fishing. The snow bank was what was left of a winter drift across the road and it looked pretty solid. Until I sunk in up to my axles.
We left the rig stuck in the snow and hiked the rest of the way in to go fishing. Thankfully, another early bird arrived just as we were hiking out, and he helped us dig out so we could get home in time for dinner.
Like that winter in the upper Arkansas Valley, this winter has been a bit brutal here on the Snake River Plain of eastern Idaho. Storm after storm has swept in from the Pacific, piling snow up in welcome amounts in the mountains that either feast or starve based on the water locked up in the high-country drifts. And, up until last week, there were still patches of snow on the grass here in town, particularly on the north sides of the houses and under some of the bigger spruce trees. And I'm not naive, having survived some 18 winters here in eastern Idaho. Winter's not over, even if it appears to be taking a breather.
But for now, spring is springing. We hit 50 a couple times last week, and cabin fever had us in a pretty solid lather. It was time to get out and sit by a fire. Time to cast to willing trout. It was just time to … go.
There's a little desert "sinks" stream about an hour or so from the house. It's lined by willows and alders and it's a classic "put-and-take" fishery. Every year, Idaho Fish and Game stocks it with rainbows, but this time of year, before the hatchery truck shows up, it's got a good population of holdover trout hanging around in some of its slower riffles and deeper runs.
It's a "sinks" stream because, farther downstream, it literally sinks into the Arco Desert and helps fill up the Snake River Aquifer beneath the Idaho National Laboratory. This same water that soaks into the sand will one day bubble to the surface again a couple hundred miles away near Hagerman, Idaho, where it will eventually flow into the mighty Snake as cold, crystal-clear springwater.
But, where its flows still grace the desert, it's a good early season fishing and camping spot. On clear, sunny days, it offers views of the Beaverhead and Centennial ranges to north and east, and to the west, the Lost River Range climbs to the sky in all its snow-crowned, purple-mountain majesty. My gosh, the crowns of snow.
Like I said, I'll push the season now and then.
We pulled off the highway and onto the little gravel road that leads into the creek and realized that we might be a bit early for an in-earnest camping trip. The road was a muddy mess, at least where it wasn't covered with a foot of rotting snow and slush. The sagebrush sea was pocked with patches of white, and off in the distance, the willows and alders along the stream were totally naked. I looked at the thermometer in the dash of my SUV. It read a nippy 38 degrees.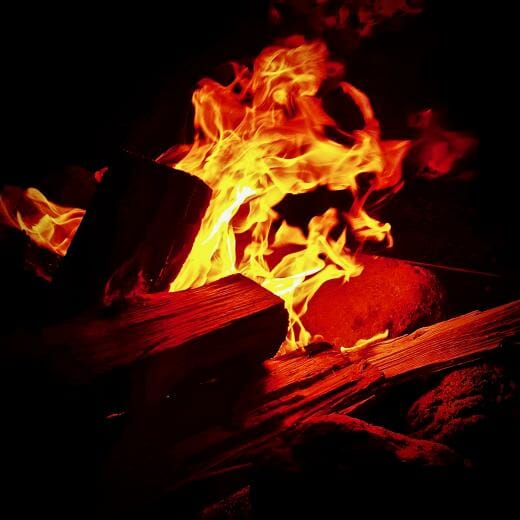 alt="" title="" />We followed the ruts of an even earlier trailblazer into the creek, and found a spot that wasn't covered in snow and, more importantly, wasn't a mudhole, either. I set about detaching my little camper from my bumper and leveling it out within sight and earshot of the water. Cameron and Rachel arranged the firepit. A few minutes later, we had the awning out, a mat down and camp chairs situated around the fire ring. Flames were licking the split logs. Cocktails were conjured up. A bag of hot dogs sprang from the fridge. Sweatshirts and hoodies were pulled on.
We were camping, in comfort, yes, but camping nonetheless. We stared into the flames. We told stories. We told jokes. I could feel winter washing away and, even though it was hardly warm and, judging by the ice dams in the creek and the snow that draped the Lost River Range in feet of white, it wasn't spring yet, either.
But, I'm pushing the season as hard as I can, and it's coming. I just know it.
Chris Hunt is the national editorial director for Trout Media. He lives and works in Idaho Falls.