By Sam Davidson
A man I and many others considered a great American passed away last Saturday: Senator John McCain of Arizona.
I was in the mountains over the weekend, with no cell service, so I didn't learn of his death until Monday morning. I was surprisingly moved by the news. I felt like we had stolen from us something rare and venerable, like a bamboo fly rod used by your grandfather.
McCain's military service record is widely known and acclaimed. But he was as good a public servant. In a time of increasing political and cultural tribalism in this country, McCain was a throwback, one of that vanishing breed of statesmen who would vote their conscience, even if it meant sometimes bucking the party line, and work collaboratively with colleagues on the other side of the aisle to responsibly legislate the country's affairs.
His wit—and bursts of anger—were legendary. He had little or no filter on his emotions or articulations. When, for political expediency, his advisors tried to get him to pander to influential interests, he more or less botched it. In retrospect it's kind of amazing he got as far as he did in politics.
What you saw was largely what you got with John McCain. And one of the things I saw, when I did a little background reading on him, was a photo of him from an excellent profile in Vanity Fair, standing in a stream that flowed through his Arizona property, with his Springer spaniel and fishing rod. He is wearing jeans buried in knee-high wading boots and a fishing vest with a fly patch. The rod is a spinning rig and, curiously, it's lying halfway submerged at his feet.
McCain's five and a half years of imprisonment and torture at the hands of the North Vietnamese during the Vietnam War left him with many ailments, including reduced strength and range of motion in his arms. He could not comb his own hair. But it was gratifying to see that he could still fish.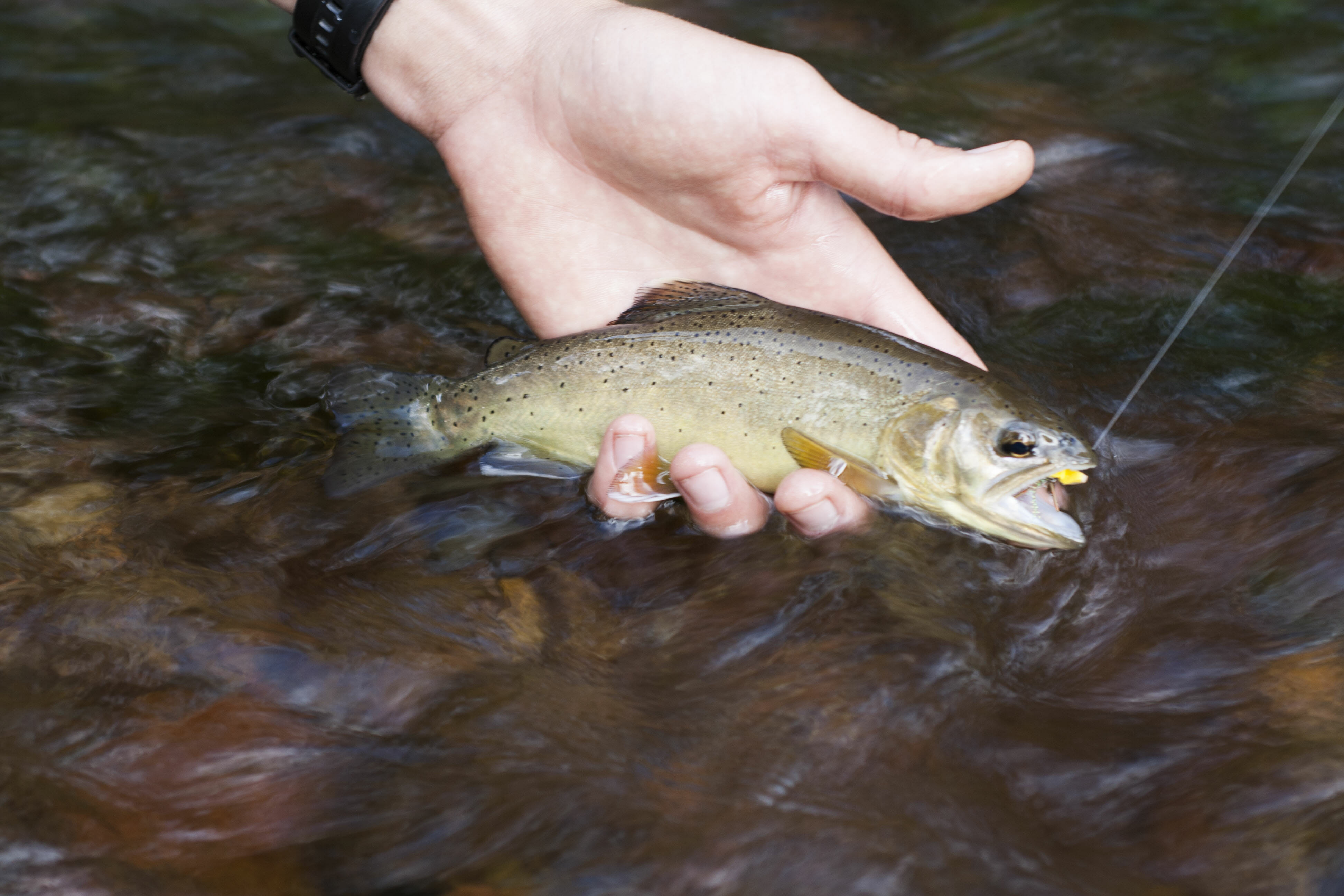 (L) The Apache trout, Arizona's state fish.
It is not difficult to imagine that McCain found in fishing some of what most of us do who spend any time, as John Gierach famously put it, "standing in a river waving a stick." Respite and repair. Quiet satisfaction. Freer breathing. Wonder at the constellation of colors and patterns on the flanks of trout.
McCain was a member of the Congressional Sportsmen's Caucus and a strong supporter of fishing and hunting, even though he never got into the latter. He believed in conserving public lands and the sporting and outdoor recreation heritage these lands have fostered. In 2015, McCain received the Federal Advocate of the Year Award from the Arizona Game and Fish Commission.
He advocated for reauthorization of the Land and Water Conservation Fund (LWCF), one of the nation's most successful programs (funded by royalties from offshore oil and gas development, not the taxpayer) for conserving open space and intact habitat and improving access to outdoor recreation opportunities. LWCF will expire on September 30 if not reauthorized by Congress. One good way to honor McCain's service to the nation would be for Congress to permanently authorize and fully fund LWCF.
And now one of the leaders of this country for whom I had real respect—even if I did not agree with his stance on all issues—is gone. Our country is the poorer for his departure. I give thanks for all John McCain did for America, and that we shared a bond, even though I never met the man, over a love of fishing. I like to think that now he is spending a lot more time on that stream in his back yard, his body no longer broken, casting and retrieving slowly, putting the rod down from time to time to simply listen.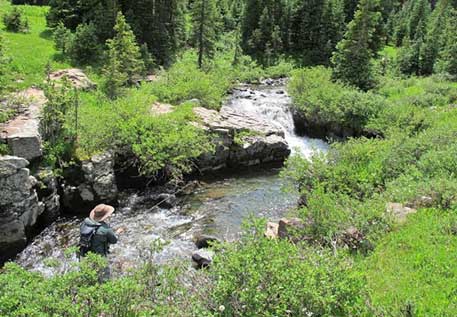 (R) Fishing an Arizona trout stream.
Trout Unlimited's Veterans Service Partnership is dedicated to bringing the healing power of trout streams to those who have served our country, and works with veterans across the country through our local chapters. Contact Dave Kumlien, TU's Veterans Service Partnership Coordinator (406.570.0023; dkumlien@tu.org), to learn more. TU also is working to restore Apache trout populations and habitat — click here for more information.
Photo: Senator John McCain/Wikimedia Commons