Longtime advocate for fishing and hunting and TU grassroots leader Geoff Malloway re-opens the Central Coast Fly Fishing shop.
By Sam Davidson
To Geoff Malloway, inaction, and its frequent companion inertia, are like poaching. They are a violation of the sportsmen's code. He can't abide them.
You can see it in his face at meetings of the board of directors of the local Trout Unlimited chapter on California's central coast. All this talk, this process stuff—let's get out in the field, get our feet wet and our hands dirty, and actually do something.
Malloway knows that the "process stuff" is important. It's just that his father told him, as he gave thirteen-year-old-Geoff his first fly rod, along with a .22 and a 20-guage, that such tools come with an implicit contract. To use these keys to the kingdom, one must accept the responsibility for taking care of the realm.
Geoff has been honoring that contract ever since. Through his work. Through his play. Through his social life. And, since 1996, through his business, the Central Coast Fly Fishing shop in Carmel, California.
***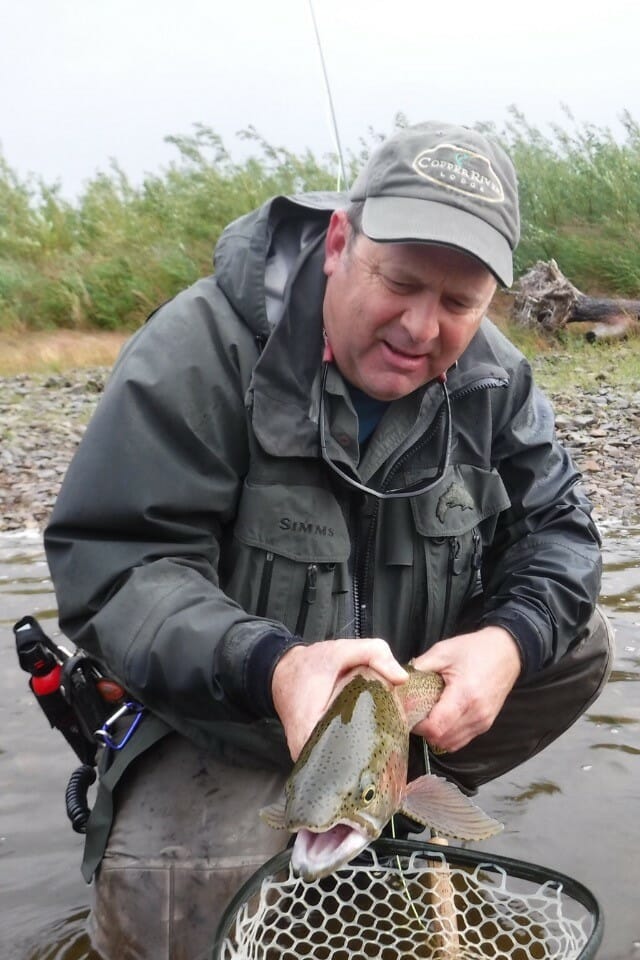 (L) Geoff Malloway on the Copper River, Alaska.
Geoff Malloway was born and raised on the Monterey Peninsula, an area known more for golf courses than sporting opportunities. That was all right with him. Once he had the keys to the kingdom, he could leave the tourists behind and get lost in the willows along the Carmel and Big Sur rivers, chasing steelhead, and roam the sere South County hill country for doves.
In those days there was little law enforcement presence on the Central Coast to support the Fish and Game Code. Poachers gaffed steelhead from the Carmel with impunity. Malloway felt he could fully honor the contract by becoming a game warden. He enrolled at Humboldt State University—training ground for many a natural resource professional—as the first step toward that goal.
The problem for Malloway there was not the usual college temptations. It was that some of the best steelhead waters in the world were basically in his back yard. He spent more time on the Mattole River than hitting the books. After two years he repaired to San Luis Obispo, where surf perch were a tolerable stand-in for steelhead, and completed his degree in fisheries and wildlife management at Cal Poly.
After graduation he applied to and was accepted into the police academy, the first step to becoming a warden. Three years with the Santa Clara County Sheriff's Department followed. Then he lost most of the hearing in one ear due to a "work incident" and his plan for caring for the kingdom was off the rails.
But inaction was never an option. In the early 1980s Geoff began teaching hunter education courses for the California Department of Fish and Game—35 years later he's still doing so. He became an NRA-certified firearms safety instructor and Range Safety Officer. He began tying his own fly patterns at age 15 and became a commercial fly tier.
Instruction was another way to honor the contract. He started guiding and teaching fly fishing in 1990. For years he has organized a yearly trip with clients to fish for giant rainbows out of the Copper River Lodge in the Lake Iliamna region of Alaska. It's on such occasions that Malloway's impish humor gets a longer leash. Should his clients commit any sort of indiscretion while there, for example, they inevitably find bear scat in their waders.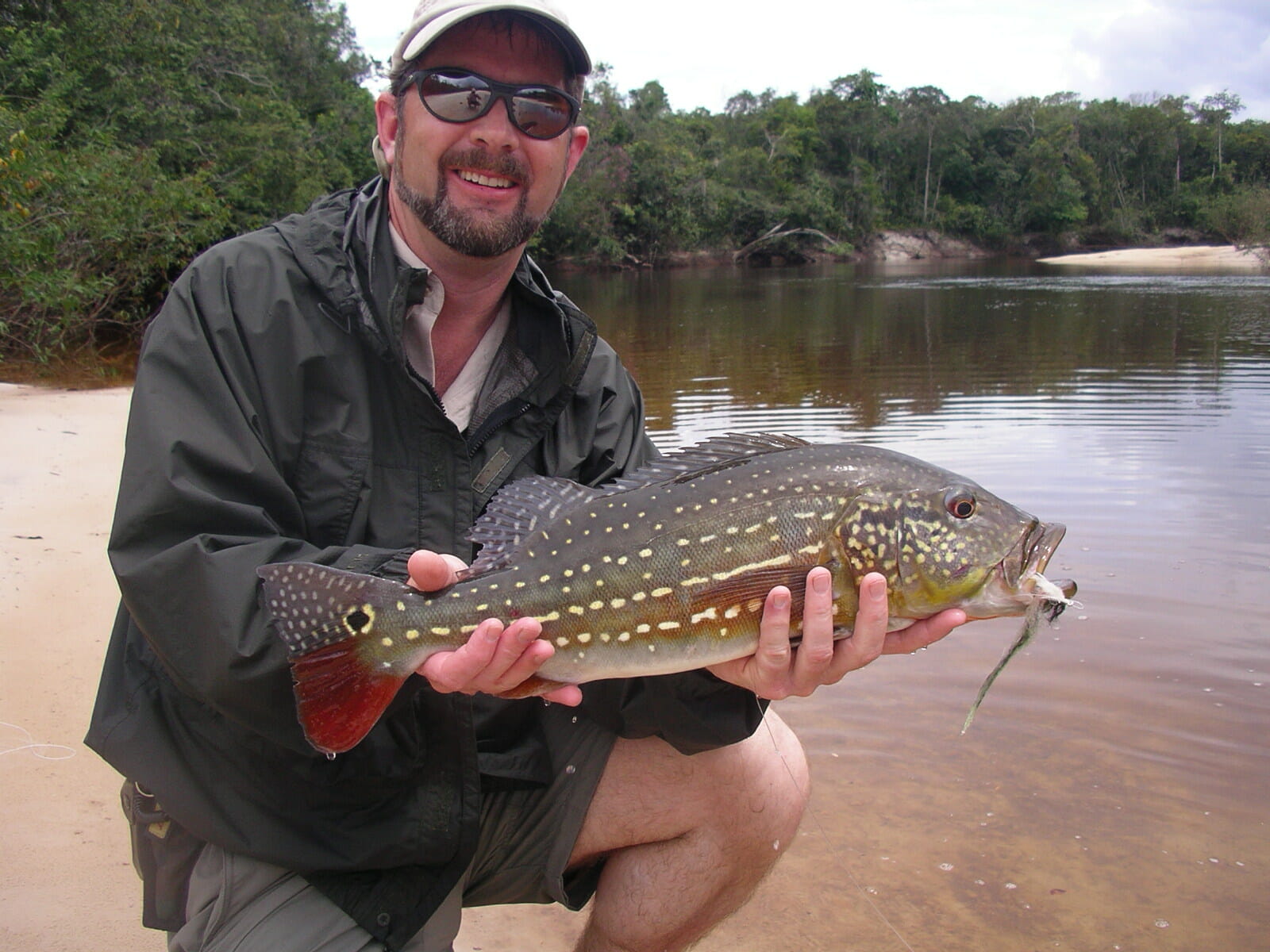 (R) Geoff Malloway, finding adventure, and peacock bass, in the Amazon.
Malloway's foray into the Amazon for peacock bass was "the best adventure" he has had in fishing. "In Alaska, you only have to worry about bears and mosquitoes," he says. "But in the Amazon, everything is trying to kill you."
In 1996, Geoff launched a new retail business, Central Coast Fly Fishing, to provide the tools and setting for giving others the keys to the kingdom. In the face of changing demographics, a decline in sales of fishing and hunting licenses, and a massive, 8.0-on-the-Richter-scale shift in the business environment, he kept the shop running for two decades.
***
Inaction is a breach of the contract— isn't that what his father taught him? So when Geoff Malloway sees something amiss in the kingdom, he steps in to fix it. In the 1980s, when Department of Fish and Game couldn't muster much of a presence on the Central Coast, Malloway began "making friends," as he calls it, with poachers. Malloway is built like a linebacker and doesn't worry much about diplomacy, so miscreants get the message. He's continues to support local wardens as a freelance citizen monitor of poaching and pollution incidents today.
During that same period, as the Carmel River steelhead run nearly winked out from drought and increasing diversions from the river, Malloway worked with a local advocacy group, the Carmel River Steelhead Association, to expand a fish rescue program. As tributary streams dried back in the late spring or early summer, Malloway led teams of CRSA volunteers to rescue stranded juvenile fish and relocate them to the mainstem or a fish rearing facility.
In 1997, when CDFG (now the California Department of Fish and Wildlife) didn't have the resources to distribute, collect and analyze angler surveys on the Central Coast, Malloway honored the contract by regularly visiting the angler survey boxes on the Carmel and Big Sur rivers, restocking the boxes, collecting filled-out forms, and compiling their data into spreadsheets for the agency. He did this, single-handed, for six years.
Malloway's commitment to the contract makes it difficult for him to say no when friends or good causes call for his help. When a couple of Trout Unlimited members approached him in 2013 about starting a new chapter on the Central Coast, he agreed to help get the chapter off the ground by serving as its inaugural president for two years. He used the shop as a clearinghouse for chapter communications, helped recruit dozens of his customers for the cause, and thus the Steinbeck Country Chapter was born.
***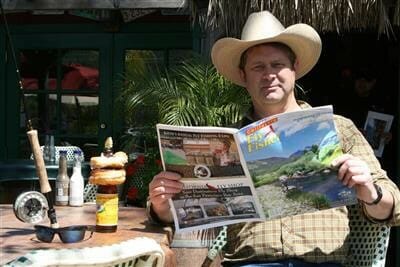 (L) Malloway's quirky marketing savvy on full display in this former ad for the shop in California Fly Fisher.
Small retail shops catering to sportsmen are now an endangered species. The loss of their corollary function—serving as social hubs, dispensaries of information and arbiters of opinion for the hook-and-bullet community—is as great as the diminishment of their market function.
In 2015, frustrated with California and the erosion of brick-and-mortar commerce to the Internet, Geoff closed the shop and moved to Montana. The plan was to do more guiding and less wrangling with the "process stuff."
But the long dark winters north of the 45th parallel were tough, and Geoff missed his family and network of friends in California. A couple of years later, he was fully moved back to the Monterey Peninsula and doing fly casting instruction on the beach once again.
Central Coast Fly Fishing, version 2.0, re-opened in April of this year after a nearly three-year hiatus. Even before he rebooted the business, Malloway re-upped with the Steinbeck Country Chapter, and resumed his place on the board. Just part of honoring the contract.
***
There are many heroes of conservation among Trout Unlimited's ranks. Most do their good work in relative obscurity. Geoff Malloway is one of them—and he prefers it that way. In 2005, he was awarded a Regional Manager's Conservation Achievement Award from the Department of Fish and Game. Malloway dismisses the importance of this with a shrug. He's just been doing what his father told him he had to do, if he wanted to accept the keys to the kingdom.
Sam Davidson is TU's communications director for California and Oregon.