Volunteers walk along railroad tracks in Provo Canyon, Utah, after participating in an organzied river cleanup by Brighton Anglers. Courtesy Brighton Anglers.
By Brett Prettyman
The sudden jolt backwards almost made me fall out of the boat. After my less-than-graceful fall into the dory seat I turned to witness what I was sure was going to be our collision with a rock. But there was nothing in the river to avoid.
My buddy Pete, who was a guide on the Green River in Utah at the time, was digging in hard to get us across the river. Given the smile on his face I assumed he had a special hole in mind we were about to pass.
Then I saw it. Perched on a rock on the far bank was one of those Styrofoam containers anglers buy filled with nightcrawlers. I knew exactly where we were heading.
"I hope there aren't any worms still in it," I joked.
Pete's broad smile widened, and he pulled against the current again. He angled the boat appropriately, and I stretched out to grab the trash.
He turned the dory and started to row back across the river.
"The other side is better," he said.
This had become common during our trips. Pete called it "River Karma". He said he did it because it would turn ok days into great days and great days into epic days. In reality, I think he just hated seeing trash along his beloved river. We didn't even talk about the fact that the river we were fishing was under artificial-only regulations.
Sandals are one of the most common finds during river cleanups. Courtesy Brighton Anglers.
Pete isn't the only guide, or angler, to go above and beyond to clean up trash while fishing. Many anglers I know carry trash bags when they head out in case they come across trash – which happens more often than it should. Fishing groups across the country hold cleanups. It is a great opportunity to give back to the resource by cleaning up after others. This seems to be an increasing necessity to keep our wild waters from feeling like vacant lots in big cities.
On another Green River float with Brad, also a guide, I had a chance to meet the culprits. It was early March and we had the entire 7-mile stretch from Flaming Gorge Dam to the Little Hole take out ramps to ourselves – until about the last 2 miles. I was focused on the streamer I was stripping back to the boat when I heard Brad.
"That's weird," he said.
I turned around and he was pointing in the middle of the river. There was a beer bottle floating with the drinking end straight up. Brad rowed over and I netted the bottle. There was just enough water in the bottle to allow it to float upright.
We shrugged our shoulders and went back to the fishing. It wasn't long before we spotted another bottle floating in the same fashion. And then another. And another. Eventually we had a six-pack of empties.
When we spotted a dory downstream, the only other boat we had seen on the float, we assumed that was where the bottles were being released. Brad rowed to catch them. Guess what was sitting in two of the cup holders on the boat.
"Hey, we found some things you left behind," Brad said, in friendly enough voice.
The anglers played innocent at first, but we called them out by pointing out that the bottles we found matched the ones in the holders. Then they got angry and said it was none of our business. And what did we care anyway?
One of them stood up and acted like he was going to come into our boat. My friend pulled out his camera and started taking pictures. The guy sat back down.
"This river is my sanctuary and my office," Brad told them. "You trash my river and you trash my home. Why do you think it is ok to trash this place?"
No answer was provided, but there were some choice words thrown in our direction.
They wouldn't take the bottles we had collected for them, so we wished them a good rest of the day, seriously, and caught a few more fish before the take out.
There was only one other vehicle in the parking lot and it had an empty boat trailer attached. We put the bottles in the truck bed.
On a trip to the Green earlier this week I found myself in a familiar setting as the guy on the oars spotted something on the bank and immediately aimed the dory in that direction. The junk was a little high on the bank, so I stepped out of the boat to retrieve a pair of long shorts. Bryan and I joked about how they ended up there for the rest of the float.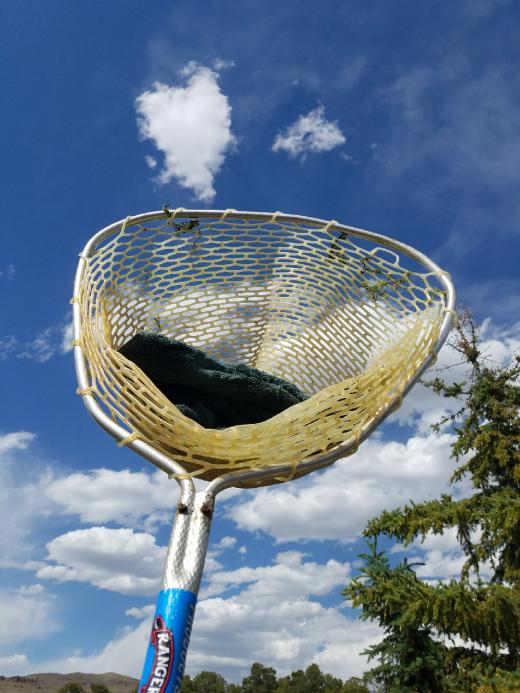 The net and pair of shorts collected during a recent trip to the Green River in Utah. Colby Crossland photo.
The next day with another guide we spotted a net on the bottom of the river. It was about 6 feet deep and weighed down by vegetation. With Colby using two oars and me trying to help with an extra oar, we somehow managed to pry the net off the bottom and get it to the boat.
He later used it to land a double.
River Karma? I think so.
Brett Prettyman is the Intermountain Communications Director for Trout Unlimited. He is based out of Salt Lake City and considers the Green River below Flaming Gorge Dam as his home water. He can be reached at brett.prettyman@tu.org